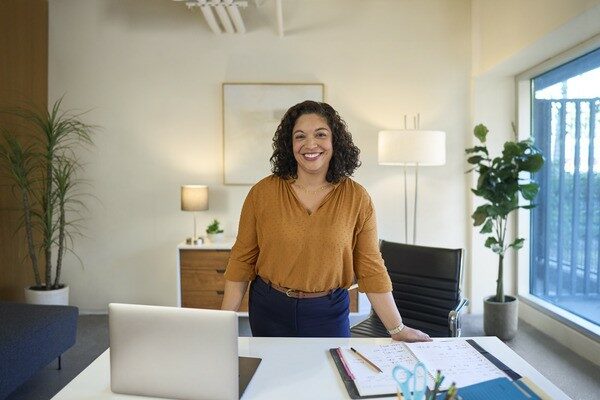 Small business owners rarely have the luxury of waiting for new hires to get acclimated and start delivering. About 54% of CFOs give new hires less than three months to prove themselves, according to a study by Robert Half Finance & Accounting.
But for employees to be successful, their onboarding has to involve more than filling out forms and getting a tour of the break room. Small businesses need to make sure new hires become acclimated to how the company does business and know where to go when questions arise.
"You want to make sure new hires are brought in on understanding what the culture is," says Kathy Downs, senior vice president of Robert Half Finance & Accounting. "That way, they can be engaged and productive from the beginning." Here's how to onboard a new employee.
1. Onboarding begins before the job is offered.
The hiring process should include an introduction to the company culture and expectations for the position. Interviews also provide an opportunity to get a sense of whether the person will be a good fit before he or she is hired.
It could be that "you're putting in a lot of time and effort to bring this person on board, only to find out a week later they're not a good match for the company," says Sabrina Son, senior marketing manager and managing editor for online human resources firm TinyPulse. "You can evaluate that with behavioral questions during the interview."
2. Focus on the first day.
New hires should be welcomed with a functioning workspace and an introduction to their new surroundings, but 54% of workers say that has not always been the case when starting a new job.
Instead, these workers encountered missing supplies, inaccessible computers or non-functional phones. Some didn't receive an overview of company policies or a tour of the office. More than one in 10 weren't even introduced to coworkers, according to a survey conducted by temporary staffing service company OfficeTeam. Ensuring that the basics are ready when a new hire starts and that they feel welcomed is an important initial step to onboarding. "It's important that they feel that the company is prepared for them," Downs says.
3. Assign a mentor.
Small business owners and managers are often busy, so selecting a peer on the new hire's team to serve as a mentor is a way to make sure that someone is always available to answer questions, in particular questions about culture or expectations they may not be comfortable asking their managers.
Mentors can also provide a more informal way to introduce new hires to teammates and peers on other teams.
At the same time, owners or manages can't leave everything to mentors. They should plan to have lunch with new hires within the first week to see how things are going and to make sure the mentor selected is a good fit. The new hire should also know who he or she can ask basic day-to-day questions, such as when most people go to lunch or the code for the copier, without overloading the manager or mentor.
4. Develop a plan.
While 90 days has almost become the default timespan for onboarding, many companies split that time into clearly defined segments that ratchet up a new hire's responsibilities. For example, the first 30 days could be spent on a variety of smaller tasks as the employee acclimates to the culture. New hires could then be asked to take the lead on smaller projects over the next 30 days, followed by larger projects that cut across departments or functions for the last 30 days.
5. Watch for warning signs.
Fit is especially important in a small business, so watch for signs a new hire may not be acclimating. Failing to interact with coworkers, showing up late to work, showing limited enthusiasm or making mistakes on initial assignments all point to the need to follow up.
But don't always assume the worst: Introverts may take more time to warm up to new colleagues, and self-motivated workers may be reluctant to ask for help if they're struggling. The key is consistently touching base with your new hire. "That puts both of you in a position to get questions asked and answered," Downs says.
6. Go by the book, or write one.
Small businesses are particularly vulnerable to employment claims because often they lack policies and procedures to guide hiring, disciplining and terminating employees. Consider developing an employee handbook outlining these policies and set the expectation that they are followed. Employment practices liability insurance, or EPL, is another option that can protect your small business.
7. Recognize excellence.
Be sure to recognize new hires as they pass milestones. Recognition by coworkers can be a particularly powerful way for new hires to feel like they've become part of the team.
For more tips on small business success, check out how coworking spaces can help your business thrive.