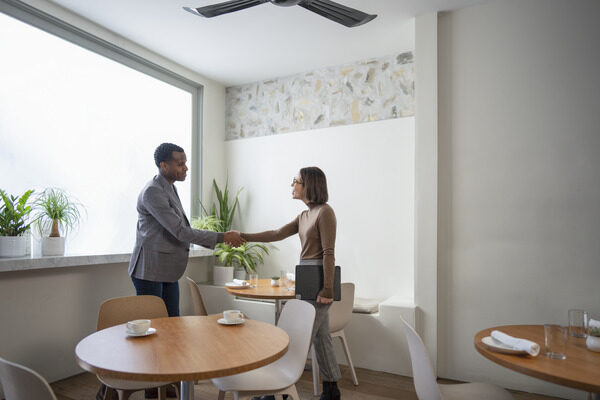 Starting or expanding a business requires a lot of hard work and money to get off the ground. Finding ways to finance your venture can include everything from applying for loans to getting investors to using your own savings.
For minority groups, another option is to get minority grants to start a business.
What are minority-owned business grants?
Unlike loans, grants are funds to use for specific purposes that you don't need to repay. In most cases, minority small businesses are funded by corporations or special interest groups that have created goals to facilitate business growth among minority groups.[1]
Minority groups can be based on race, gender, personal status or even location. To qualify as a minority business, at least 51 percent of the business must be owned or controlled by a minority.[2]
How to apply for minority small business grants
Follow these steps to make sure you have everything you need for your application.
1. Get certified
One of the first steps you can take is to get certified as a minority business. The Minority Business Enterprise, or MBE, offers different types of certifications for minority businesses.[3] While there are other certification programs available, the MBE is one of the largest in the nation.
2. Gather documentation
After researching the different options and finding the certification that fits best for you, it's a straightforward process to become certified. You fill out an application and submit it, along with supporting documents; keep in mind that the number of documents required can vary. You'll want to make sure you are completely prepared when you begin the application process, because the documents you'll need to submit typically include—but are not limited to—the following:[4]
Commercial tax returns (past three years)
Financial statements that correspond to those tax returns
List of debts, including loans, lines of credits, leases, promissory notes and others
Resumes of all key personnel, including owners and directors
Proof of citizenship or legal residency
Partnership documents
3. Have a business plan
It's also important to have a business plan in place because entities that award grants often want to review a complete business plan. Be sure to include information in the business plan that states you are a minority-owned business.
The next step is to do some homework and find the grants for which you might be eligible.
4. Find the right grant
Once you are certified, you're ready to start looking for grants that are a good fit for your business. Here are three places to look for minority business grants:
SBA 8a Development Program. This is the U.S. Small Business Administration's program to help economically and/or socially disadvantaged businesses. To qualify, you get certified as an 8(a) business through the SBA government website; benefits of the program include the ability to compete for contracts earmarked specifically for this program. While the SBA doesn't give grants directly, it does provide opportunities to help you locate the grants you qualify for and to work with a mentor who can help you navigate the application process.[5]
Grants.gov. This government site is a tremendous resource for finding minority small business grants, and it also has many tools and resources to help you create a thorough application package.[6]
Minority Business Development Agency (MBDA). The MBDA is part of the U.S. Department of Commerce and helps both existing minority businesses and people who want to start small businesses. In addition to having locations across the country where you can visit in person to get help, it also offers ways to help identify available grants that are a good fit for your business. You can get assistance with the application process, too.[7]
5. Apply for grants before the deadline
After identifying which grants could be a good fit, it may take some additional work to gather all the documentation required for specific grants. Always allow yourself plenty of time to make sure that you can meet the deadline. It's a good idea to get your grant application in as early as possible; this not only shows your eagerness to participate in the program but also reflects on how well organized your information is. It gives the review committee more time to spend with your application, particularly if it arrives well before other applicants' packages.
Always double-check your application and documents before submitting to make sure you have followed the guidelines to the letter and are including everything required. If possible, consider hiring a grant writer to review your application or help you draft answers to the application questions.
While finding the right grant to apply for can take some time and effort, it can pay off for minority business owners and provide much-needed funding. Learn more about how small businesses can get help from the government.
Disclaimer:
The information included is designed for informational purposes only. It is not legal, tax, financial or any other sort of advice, nor is it a substitute for such advice. The information may not apply to your specific situation. It is the reader's responsibility to comply with any applicable local, state, or federal regulations and to make their own decisions about how to operate their business. Nationwide Mutual Insurance Company, its affiliates and their employees make no warranties about the information nor guarantee of results, and they assume no liability in connection with the information provided. Nationwide, Nationwide is on your side, and the Nationwide N and Eagle are services marks of Nationwide Mutual Insurance Company. © 2020 Nationwide.
[1] "Minority Small Business Grants: What Are They and How to Get Them," FitSmallBusiness, https://fitsmallbusiness.com/minority-small-business-grants/, Dec. 20, 2017.
[2] http://www.nmsdc.org/mbes/mbe-certification/
[3] https://www.mwbe-enterprises.com/minority-business-enterprise-mbe-certification/
[4] https://www.mwbe-enterprises.com/minority-business-enterprise-mbe-certification/
[5] "8(a) Business Development Program," U.S. Small Business Administration, https://www.sba.gov/federal-contracting/contracting-assistance-programs/8a-business-development-program, downloaded Jan. 26, 2019.
[6] https://www.grants.gov/web/grants/home.html