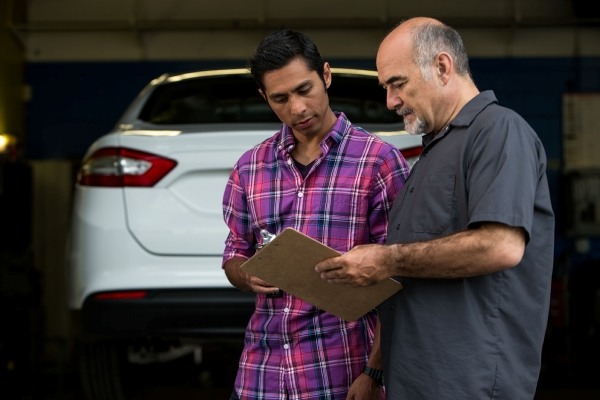 The sticker price doesn't have the final say on how much you should plan to pay for your new car.
You've found the car of your dreams and figured out what your monthly payments should be – but if you haven't totaled up the actual cost of owning that car, you might not be ready to buy.
"You need to do all your research up front, and show up at the dealership with a folder of information," recommends Jeff Ostroff, president and CEO of CarBuyingTips.com. "That way, you have all the numbers and information in front of you, so you know if they're throwing good numbers or bad ones at you."
In addition to looking at the cost of the car itself, Ostroff says to consider how much gas the vehicle will use. When gas prices drop, as they have recently, sales of less fuel-efficient cars increase. But what goes down will come back up, and too many consumers find themselves in a bind after they purchase a gas-guzzling behemoth. Avoiding that pain at the pump can be done by planning ahead and factoring in gas mileage.
Ostroff says that calculating average costs at $3.50/gallon and then looking at how much you drive and what kind of mileage the vehicle gets can help you decide whether or not it's as affordable as you first thought.
Of course, you'll also want to factor in the cost of regular maintenance such as oil changes and car washes, and you should know what kind of costs you'll face if you need to replace a tire (or four).
Do your own research
Be diligent in your research. Before walking into a dealership, Ostroff says you should have the following, so you'll have a better idea of what you'll be paying:
Pre-approval for financing: Consider getting financing approval from your bank or credit card company, which might give you a better interest rate than the dealership. If the dealership gives you a better rate, take it – but this way you won't be held hostage to the dealer's rate.
Insurance: "People don't think about how much their insurance will jump when they get a new car, so you should already have an idea of what kind of car you're interested in buying, and have quotes on what it will cost to insure it."
Extended warranty: Dealerships often make money with extended warranties, so shopping online for a deal can help you save money. "A warranty from a dealer doesn't cover as much as you think, but it can affect the price of your car and control how much you're paying over time."
Knowing all of these things in advance will give you a clearer picture of the overall price you're paying up front. However, there are still more to consider.
As time goes by
Gregg Fidan, founder of RealCarTips.com, says depreciation is a major consideration when it comes to buying a new car.
"Some vehicles depreciate a lot quicker than others, so it's important to take that into consideration before buying," he says.
Depreciation is highest during the first few years of ownership, and it's important to research how your potential new car fares in terms of its rate of depreciation. (To find out which cars have the lowest depreciation, go to ALG.com).
For used cars, it's repairs, not depreciation, that play a primary role in the cost of ownership.
"Especially on a car that is more than 10 years old, repairs can be the biggest cost," Fidan says, adding that it's hard to predict specific problems for a car. However, some makes and models may be notorious for having a certain problem – and doing a little homework before you buy can save you time and money down the road.
"If you're buying a used car, you can call a mechanic that specializes in that brand and ask what kind of repair problems they typically see. They are on the front lines and can tell you if you should stay away from that particular model or if it's reliable."
He adds that sites such as carcomplaints.com can also be a useful research tool and allow you to see the biggest beefs and most common repair problems for specific models of used vehicles. Consumer Reports also provides ratings and cost estimates on repairs.
Knowing what repairs and replacements you might expect to make can also affect your decision to buy, as you will probably want to avoid hefty repair bills shortly after purchase. Timing belts typically last 60,000 to 75,000 miles, and a timing chain lasts about 100,000 miles. So if you're looking at a car with mileage nearing the 100,000 mile mark, research what potential repairs might be needed and find out what work has already been done on the car.  Taking into consideration how often – and how far – you're going to drive this car can also help determine if it's in your budget.
Consider donating your car
When you're ready to get rid of your car, you have various options to consider: trade it in at the dealership, attempt to sell it to its next owner or sell it to a used-car dealer. While selling the car yourself is generally considered the best way to get the most money, donating your car is also another viable option. Some key points to know about donating your vehicle:
Make sure your designated charity maintains current 501(c)(3) tax-exempt status with the IRS. Any legitimate charity will be able to provide the necessary, supportive documentation to you to validate this.
If the car sells for less than $500, you can claim a deduction of fair-market value or $500, whichever is less.
Be cautious about for-profit companies that help charities get donated vehicles, because they often take a pretty sizable cut of the sales price for themselves. This, of course, reduces the amount that ends up supporting the cause.
If you pick a charity that uses the vehicle for operational purposes or gives it away to the economically disadvantaged (as opposed to selling it), you can deduct its fair-market value, which may turn out to be a better deal.
Be mindful that non-cash donations may trip up an audit alert within the IRS, which means proper documentation is essential.
To learn more, visit the IRS donor information guide.
Finally, it's good to know when you can no longer afford the car you currently own. When repairs start adding up, it's a good time to re-evaluate your ownership.
"If you're shelling out more than $1,000 for a repair, it's a good time to go to eBay and see the recent sales for your model," suggests Ostroff. "You have to look at, if I spend $2,500 to get my car fixed, will I make that money back – or would I be better off spending that kind of money to get a newer, more reliable car? That's definitely something you want to consider."