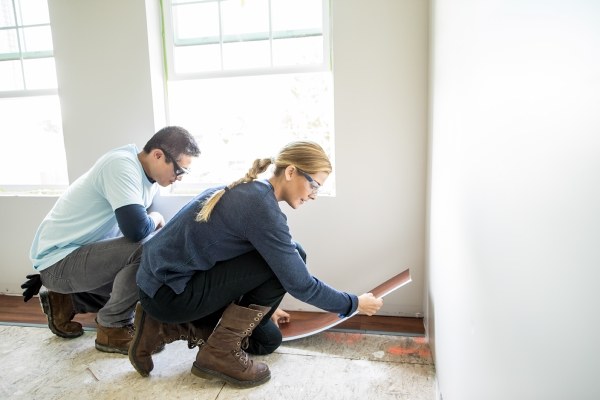 You've watched people flip houses, transform fixer-uppers into modern gems and polish dated decors to the epitome of modern style and comfort. You turn to the love of your life and smile. "We can do that!" Fateful words but you are optimistic, and so you continue.
They transformed that entire house in just a few weeks. We only want to update one room. It should be easy!"  And it can be, except for the two undeniable rules of remodeling: Nothing is ever as simple as it seems, and projects invariably grow.
Here are some common house flipping mistakes – and some tips to help your remodeling projects go smoothly.
House painting fails
Katie Reynolds, a design expert for Ace Hardware, says the most common painting mistakes are not sampling the color in your space and painting too small of a test area. "Always paint at least a two-foot square to see what it looks like in your light," she says.
Others errors include not harmonizing the colors within the home to create natural flows from room to room, and using too many shades of white or cream. "That can make some shades appear dingy," Reynolds says.
There's more to paint than color. Satin finishes are popular for interior walls, while flat finishes are best for ceilings. Woodwork may have a semigloss or high-gloss finish. The higher the gloss, the more durable the paint and the easier it is to clean.
Exterior surfaces need exterior paints, which are formulated to withstand ultraviolet rays and weather. Also, know what you're painting over. Latex paints tend not to adhere well to surfaces painted with oil-based paints or stains.
Once the paint is chosen, you still need to prep the walls. Spackle any holes or dings and sand the area with a fine grit sandpaper until it's perfectly smooth. Prime and paint the wall. This is a two-step process unless you use one of the new, all-in-one paints with primer.
Cabinet and shelving mistakes
Do some homework before choosing cabinetry. Learn about new features that can drastically improve function.
One of the most common mistakes is not understanding your personal storage and function needs. Cabinets are not a one-size-fits-all element today. For example, trendy open shelving is great if you're neat. If you're not, it just looks messy. Reynolds advises making an inventory of your kitchen and thinking about how you really live before ordering cabinets.
Hang your cabinets at industry-recommended heights, using a level and a chalk line to ensure they are perfectly horizontal. You ought to be able to reach your upper cabinets' lower shelves without a ladder, and the lower counters should flow smoothly to your range.
Also, ensure cabinet doors can open all the way, without interfering with other kitchen features like ceilings, islands or appliances
DIY Plumbing Problems
A simple plumbing project invariably requires multiple trips to the hardware store to find the right part in the right size. "Finally, at 11 p.m., when you're 90% done and run out of Teflon tape, you'll be tempted to make do with what's on hand and hope it holds," says Andy Stauffer, owner and president of Stauffer and Sons Construction in Colorado Springs, Colo.
Don't do it. "Even a $1 valve, installed improperly, can cause slow, hidden leaks that ultimately cause tens of thousands of dollars in damage," he says. To prevent that, finish the project tomorrow. Make that last trip to the store to get what you really need. "Consult experts, use the right tools, check your work and – importantly – test everything," Stauffer stresses.
Deck Disasters
Your deck should be the scene of happy summer barbeques, not "News at 10" footage. Too many do-it-yourselfers focus more on their deck's appearance than on its stability, San Williamson of KB Home Specialists, says.
Build it right, starting with a good foundation. "Soft ground won't support the weight of the deck," he says. So either build on firm ground or create firm ground with broken stone.
Then, Williamson advises, choose bell-shaped piers poured atop concrete footings and connected by rebar. Wooden posts will connect the pier to the deck. This distributes the weight more evenly and increases the deck's stability.
Other missteps include not installing flashing to prevent water damage between the house and ledger (the plank attaching the deck to the house), and using nails to secure the deck to the house. Instead of nails, use lag screws and washers in a zig-zag pattern.
Space and planning mishaps
If you're searching for extra living space, converting the sun porch, garage or patio slab may be an attractive option. Before making any changes, however, you should consider how the conversion will affect your home's resale value.
Transforming your garage into a man cave, for example, increases your livable space but will reduce your home's value to future buyers if it means they won't have a garage.
Converting a patio slab to enclosed space is problematic, too. "Patio slabs aren't structural, Stauffer notes. "To build a room around a slab, you must demolish the slab and pour a foundation and footers below the frost line."
In converting non-livable space to livable, focus on insulation, air handling, exits and ceiling height. For example, garages and porches weren't designed for year-round comfort. They'll need insulation and ducting for ventilation to keep them cool in summer and warm in winter.
Ceiling height requirements in that room or in the space beneath may be a factor in determining where to put air ducts. Before construction, you should check with your local building commission to determine minimum ceiling height for livable spaces.
Basements in newer homes often are designed to be finished. In older homes, that is less likely. Whatever the original plan, before remodeling basements, you should remove any mold or mildew and install moisture barriers between the cement surfaces and the flooring or wallboard. Also ensure that the new project allows access to your sump pump.
When finishing your basement, you must understand that although plumbing may literally be set in stone, it can be moved. "You're not limited to what was initially laid out," Stauffer says. "Cutting out concrete to reroute the plumbing can cost $800 or less."
If your basement remodeling project includes a bedroom, check with your local planning office about specific requirements. For example, in an emergency like a fire or earthquake, the windows must be large enough to allow adults to flee the basement. If you must install larger windows, you may need to install a window well on the outside of your home.
Code mistakes
Not getting a building permit is one of the biggest mistakes homeowners can make. One couple built a stairway from their hillside townhome to the garage beneath. It added immense convenience but had to be removed when they sold their home because it wasn't built to code. Others have had to remove and rebuild additions because they were slightly too close to the property line.
Check with your planning department first to see whether you need a building permit and to determine specific requirements.
Typically, permits are needed for any structural, electrical or plumbing changes but not for cosmetic changes. For example, changing the roof line needs a permit. Adding a kitchen island or building a deck may require a permit, depending on the location of what you have planned.
DIY tip: know before you demo
Before you attack your walls with a sledge hammer as you've seen on home shows, know which walls are load-bearing and what's behind the surface. Make a small hole with a hand drywall saw to ensure you aren't damaging pipes or electrical wiring. If the void space is clear, you can demolish happily with a sledge or reciprocating saw.
Know your lawn, too. Before heavy trucks rumble across, make certain there are no gas or septic pipes or drain fields that may be cracked or crushed. Before you dig, know where your electrical lines run.
Unless you installed them yourself, check their exact locations at your local planning office to see the exact locations of buried infrastructure. Also, before you install hardscraping, ensure you will still have access to sprinkler systems or other features of your home so they may be replaced easily in the future.
DIY tip: plan for surprises
The home shows you love have plenty of surprises during remodeling. You probably will, too. Budget extra time and money upfront to deal with them.
Any mistakes can be fixed, and by doing the work yourself you'll know exactly how it was done. You will gain confidence that makes it easier to tackle other projects in the future.
Remodeling can be imminently satisfying. The demolition, dust and lost function of the space lasts only a short time, but the results – a fresh, functional kitchen, a beautiful deck, a basement bedroom or the perfect man cave – will be yours for years, done just the way you want them.
Knowing what to avoid during your next home improvement project can help you get the right results. But do you still need a contractor? Read the pros and cons of DIY vs. Contractor to find out.