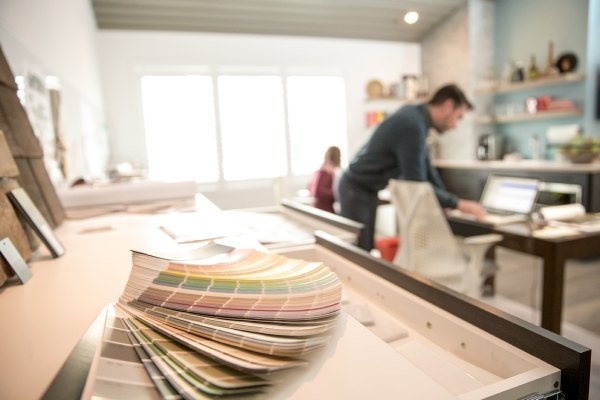 Are you yearning to see something fresh when you step into your home? If you're interested in updating your décor but aren't ready for a remodel, easy DIY projects are the perfect solution. Create unique pieces of furniture or a new look for any room in a few hours or a weekend. With a small investment and a bit of repurposing, you can have an updated space.
Seeing a new view
Painting is a cost-effective way to make a real change in the way a room looks and feels. It's amazing how the power of color can affect your mood. Color changes help to style a room with certain color palettes that evoke design themes like French country or cottage style. Carefully consider the color and the finish, noting that the finish can alter the look of the paint. For living areas an eggshell finish is perfect, while semi-gloss is normally saved for kitchens and bathrooms.
If painting the entire room is too much, you have other options. One quick way to use paint in an easy DIY project is with an accent wall.[1] Painting one wall in your room is quick but offers a big visual impact.
When choosing a color, think about the contrast. You can choose a bold color or something subtler based on your taste. Colors that mesh well are normally the colors close to a color or those on the opposite side of the color wheel.[2] Yellows and oranges look great together, for example, and orange paired with blue creates striking contrast.
Once you choose the color you love, use painter's tape to mask off the adjacent walls and ceiling, along with the baseboards. When painting over deep colors, you may need a primer. You can also choose a paint that includes a primer. For projects like this, it makes sense to think about paints that guarantee just one coat is needed. This allows you to save time and finish the project faster, even if you do end up needing two coats
Reusing and recycling
When you just love a piece of furniture, but it feels dated, it's time to change it up. One way is to swap out knobs and handles on furniture with drawers. This small DIY project can drastically change the style of a piece and bring new life into a room in just a few minutes.
To take it one step further, paint the piece first. Flat black finishes instantly transform and hide imperfections. Or, you can remove cabinet doors and paint them in an accent color. Also think about how to use the unit in a new way. A dresser easily becomes a buffet for your dining room. An old dining room chair becomes the perfect fit for the nook in a bedroom with a coat of chalk paint and a new cushion.
Creating a photo wall
Do you have great photos that you keep meaning to print and hang? Start with a photo wall.[3] Gather photo frames from around the house and remove the backs and glass protectors. Using spray paint, paint all the frames one color. Allow them to dry.
While the frames are drying, start to plot out your photo wall using paper in the shapes of the frames. The frames should create an overall shape such as a square, oval or rectangle. You can also try something more abstract. Once the frames are dry, add your photos and hang them up. Establish the outline of your shape and then fill in with the remaining frames. Swap until you have a pleasing balance.
Re-envisioning the space
Even in the tightest corners, you have room for décor. To create more space, think vertically.[4] Adding shelving is the easiest way to create storage, but take it a step beyond. Simple floating shelves blend easily into your décor and offer a chic way to add function and flair.
Experiment with different types of containers to create a custom storage solution on unused wall space. Square storage containers are easy to nail to the wall through the bottom. This can create an interesting box-shaped shelf for a decorative vignette of keepsakes or neatly organized books. You can arrange your containers to have a custom feel that's useful and stylish.
It's easy to make big changes with these quick DIY projects. Are you looking for more inspiration? See how you can change up your bedroom with other simple décor updates.
[1]https://www.thespruce.com/accent-walls-tips-essential-dos-donts
[2]https://www.bhg.com/decorating/color/basics/color-wheel-color-chart/
[3]https://abeautifulmess.com/2013/04/tips-for-installing-a-gallery-wall.html
[4]https://www.housebeautiful.com/home-remodeling/diy-projects/how-to/