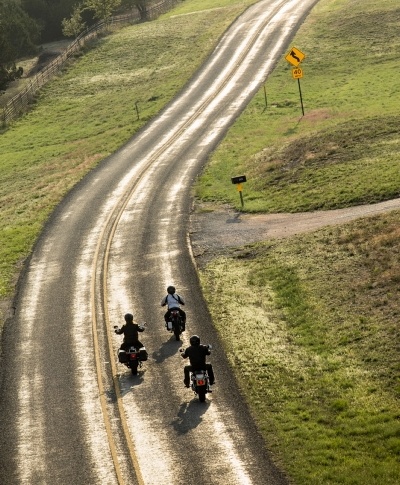 When consumers first began reading about electric motorcycles hitting the market, they were skeptical – and somewhat underwhelmed. With a range of 75 miles but a top speed of just 35 miles an hour, the bikes didn't send customers rushing to the store. Of course, the year was 1911 and the market had a long, long way to go.
In fact, it took nearly a century before riders began to take electric motorcycles seriously. Although various iterations of electric scooters and bikes have appeared through the years, it wasn't until the development of the lithium-ion battery in the early 2000s that electric motorcycles had access to the power they needed to turn consumers' heads. As battery technology has continued improving and the public becomes more familiar with electric vehicles, this two-wheeled plug-in has become more viable for use in a variety of different settings.
From the urban commuter to the weekend warrior, electric motorcycles are getting more attention than ever – and industry watchers say this is just the beginning.
The big three
"The three things that matter most [to consumers] are range, price and charging," says Ben Rich, an expert on the electric motorcycle industry and one of only two bikers in the U.S. to complete cross-country tours on an electric motorcycle.
Today's electric motorcycle hasn't come along as quickly as riders would like in terms of range. In fact, since that 1911 model, the power is greater and speeds are higher but most are still idling in the 75- to 100-mile range per charge. While that's more than sufficient for most daily driving, many riders want cruisers they can take on a cross-country adventure.
The road behind… and ahead
The motorcycle industry, as a whole, has come a long way in the design of bikes in the past 100 years, but hasn't made significant strides in changing how they're powered. That could change as more manufacturers get in the game.
Currently, the market for electric motorcycles is bigger in countries like China, Germany and Spain, but the U.S. could soon be revving up sales, market researchers predict.
"The North American market is still very much in its infancy, but the United States will see strong growth," says David Hurst, a principal research analyst with Navigant. "The market … will grow as manufacturers provide more robust features, including longer range capacity, better performance and higher speeds."
He predicts "a compound annual growth rate of greater than 50% through 2018."
That could boost the sales of two-wheeled electrics in North America to more than 36,000 by 2018. Globally, Navigant reports, the sales of electric motorcycles and scooters are on track to hit six million a year by 2024.
The American e-motorcycle market
The American market is different from other markets in the way bikers want to use their motorcycles.
U.S. riders are typically looking for more power and touring motorcycles, and they purchase them as secondary forms of transportation. In other markets, particularly in Asia Pacific, motorcycles and scooters provide primary transportation because the roads are so congested and the bikes can be purchased inexpensively.
For those who are pinning high hopes on the future of electric motorcycles, the inclusion of such major players shows promise that the industry is about to turn a corner. Although they may not reach perfection, manufacturers are betting they can build a bike that will convince customers to open their wallets.
Both state and federal governments offer incentives in the form of tax breaks and credits for adopting the greener, cleaner bike, and consumers like Rich, who says he was eager to quit spending his money on foreign oil, say the advantages far outweigh any inconveniences created by limitations to the battery.
Charging electric motorcycles on the road
As electric vehicles and e-motorcycles have become more popular, charging stations are cropping up across the country, making longer trips on an electric motorcycle more viable. For riders, that's usually the No. 1 concern.
"The topic of range comes up all the time and, for a lot of people, it's a deal-breaker," acknowledges Rich, who also covers the electric motorcycle industry for Green Car Reports. "It's something that I deal with every day. Right now, I'm riding across the country and I have to do it in 75-mile chunks. But I know that and right now, that's good for me."
Just as with electric car drivers, riders who plan long trips have to map their route by where they can get charged instead of, say, the most scenic or the most direct route. Apps and websites such as PlugShare and ChargePoint provide guides to where charging stations are located and even include such information as what kind of plugs are available. In areas where charging stations are few and far between, riders can turn to RV parks, where plugs are abundant.
Over the next 10 years, the number of charging stations in the U.S. could explode as more drivers jump on board the electric vehicle movement, whether they're riding on two wheels or four.
A recent report from Navigant Research predicts that the growing interest in electric cars is going to drive demand for fast-charging stations that are more readily available to consumers.
With the addition of a few hundred charging stations placed strategically throughout the U.S., says Navigant research analyst Lisa Jerram, the needs of the electric driving public could be fully met.
"This requires collaboration from automakers, charging networks and utilities," she points out. "It is important that individual stations be placed in optimal locations for the greatest benefit, and that they be linked together in a single network for ease of use by drivers."
The best is yet to come
Researchers at QYResearchReports.com released a report in June predicting that the addition of more players will increase the eBike's speed to market, make it more competitive and drive prices down while improving technology. So watch out, you might be seeing more electric motorcycles on the road sooner than you think.
E-motorcycles aren't the only electric vehicle quickly catching on. Electric cars are becoming more popular for many of the same reasons as electric motorcycles.   to learn more about electric cars and find out if one is right for you.