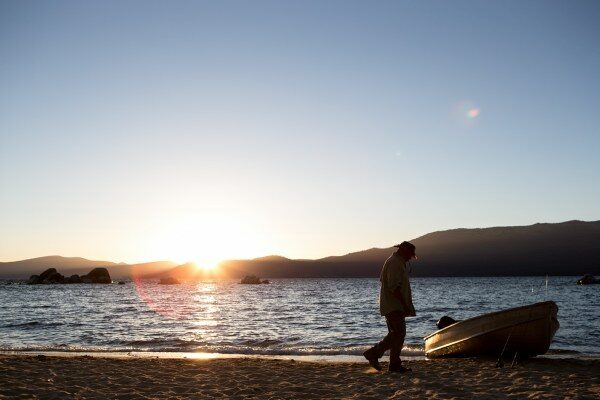 Aluminum fishing boats and pontoon boats provide an affordable, fun way to explore the water. Records show 85,431 aluminum boats were registered in 2021 alone. [1]
Proper maintenance is key to making sure you can get ample enjoyment and use from it for years to come. To keep your aluminum boat in top condition, follow these tips for cleaning, polishing and painting.
Clean and prepare your boat
Prior to polishing and painting your boat, make sure the surface is clean. Follow these steps to clean your aluminum boat:
1. Dry dock your boat
Pull your boat out of the water and prep a work area. This can be in a garage or a larger space that can get wet, such as a driveway or a dry-docking space at your local marina.
Elevate the boat off the ground in this workable space. If you need to use a sander or buffer, dry-dock your boat in an area where you have access to electricity.
2. Sand off loose paint and rust
If the boat has any rust, sand it off so you have a smooth surface. Depending on the sizes of the rusty patches, you might need a power sander and varying grit levels of sandpaper.
3. Wash the boat
You'll want to clean all the grime and dust off. If you've waxed your boat previously, use a dewaxing solvent to remove traces of old wax. [2]
Mix mild soap and water in a spray bottle. Spray the boat and wipe it down with a sponge. This removes dirt but not hard stains. To remove tougher stains, mix a solution of 50% distilled vinegar and 50% warm water. Spray that mixture on the boat, let it sit for 60 seconds and wipe it away.
Mild soap and vinegar are simple DIY solutions, but there are special cleaning products available too. Sometimes a stronger cleaner is necessary to remove oxidation. There are specific cleaners that can handle these dark patches, but they're abrasive. Carefully follow the instructions on these products to keep yourself safe.
4. Rinse the boat
Grab a hose and rinse the cleaner from the boat. Be sure to use fresh water; you don't want to use sea water or lake water. If you have the time, polish your boat once it's dry.
Polish your boat
Follow these steps to polish your aluminum boat: [3]
1. Use aluminum boat polish
There are dozens of polishes on the market, but you need an aluminum-grade polish. You can also use an aluminum cleaner that can clean, polish and protect your boat as an all-in-one option.
2. Apply the polish
To start, rub or paint the polish on the boat. You can do this by hand or with a power buffer. Polishing by hand can be rewarding, but it's labor-intensive and can be more time-consuming. A power buffer can get the job done efficiently and quickly. However, you still might need to hand-buff nooks and crannies.
3. Work in small sections
Apply polish to small sections of the boat, working to completely cover each area before moving on to the next. Results should be instant as you work the polishing compound into the boat's surface.
4. Check the boat
After applying the polish all over the boat, take a walk around it to make sure you haven't missed any spots.
5. Let the polish dry
Let the polish dry completely, which usually takes 5 to 20 minutes. Be sure to check instructions of your polish for the exact drying time. Wipe the boat down with a clean, dry cloth. [4]
Paint your aluminum boat
After your boat's surface has been cleaned and polished it is ready to be painted. Plan for this project to take a few days. Follow these steps to paint an aluminum boat: [5]
1. Find a location for painting
Try to start this project when the weather forecast says there will be a few days of rain-free weather. Pick a work area that's outside. It's important that the work area is away from cars and buildings. Put a piece of plastic down to catch dripping paint. Elevate the boat so you have access to all areas of the hull.
2. Prepare the surface for paint
Before painting, remove rust, dirt, chipping paint, old wax and polish. Depending on the amount of rust present, you may need a power sander to create a smooth surface. Once you've removed rust, clean the boat by following the cleaning steps above.
3. Apply primer
Apply a self-etching, oil-based primer that sticks to aluminum surfaces. [6] Using a brush or a sprayer, apply a thin layer of primer inside the boat. Let it dry and then paint the outside. Let the primer dry overnight, or for at least 12 hours, before moving on to the painting process.
4. Apply aluminum boat paint
Choose a water-resistant marine paint that adheres to aluminum. Using a sprayer or brush, paint the inside of the boat first. Paint in horizontal strokes for an even coat. The inside coat should dry for around 12 hours before you paint the exterior. The outside coat needs to dry for the same amount of time. You may decide to add a second layer of paint to the boat for protection. If so, make sure the paint dries completely between applications.
5. Apply a clear coat
Once painting is finished, apply a clear protective coat. This layer helps keep the paint intact and prevents scratches. Check the product label to determine how long this coat will need to cure before you put the boat in the water again.
A fresh layer of paint will help protect the exterior of your boat, but this is not the only way to protect it. Another component of caring for your boat is having boat insurance. Find out whether you need boat insurance before you put your boat in the water.
Frequently asked questions
Can you paint over old paint on an aluminum boat?
Painting over old paint on an aluminum boat is not advised; however, there are a few key things to consider if you do attempt it.
What type of paint was the old paint? Will the new paint adhere or react to it?
Is the old paint flaking or peeling? If so, the new paint won't have a good surface to stick to.
Are you planning on sanding the old paint surface or chemically preparing it for a fresh coat of paint?
If you know the paint types and there are no conflicts, it's recommended that you sand the hull prior to painting so that the loose paint will flake off. [7]
Should you paint the bottom of an aluminum boat?
While many might think painting the bottom of your boat unnecessary, it's actually an essential part of protecting your aluminum row boat from the elements. When choosing your bottom paint, make sure to pick one that is specifically designed for aluminum boats, as some bottom paints can cause corrosion on aluminum. In general, you'll want to apply two coats for the best results. [8]
How to clean a painted aluminum boat
Maintaining your boat's condition is important to keeping it clean, especially for an aluminum boat, which can be easily damaged by dirt and algae. Follow the steps below to clean your painted aluminum boat:
Remove the boat cover, motor and any other large items
Hose down the entire boat
Scrub the hull with a smooth brush that won't damage the paint
Rinse the hull with clean water at a low pressure
Dry the hull with a cloth
Inspect the hull for any remaining dirt or debris
Let the boat dry completely
Wax the boat
Cleaning a painted aluminum boat isn't difficult, but it does require special care. Avoid using harsh chemicals, and be sure to use the proper detergents and brushes. Waxing the boat will help create a barrier that will protect the paint from scratches and rust. [9]
Protect your boat
You have made this investment in your aluminum boat and carefully painted and cleaned it; now you need to protect it. Why? Boat insurance can be the difference between navigating a crisis peacefully and needing to pay tens of thousands of dollars if things go wrong. It could also protect against third-party liability for damage caused by you and your boat, which may be the bare minimum protection required to moor in your marina. Ultimately, boat insurance will give you the peace of mind knowing you're protected while you're out on the water, no matter what occurs. [10]
Sources
[1] "The Glass is Still Half Full," tradeonlytoday.com/columns-blogs/the-glass-is-still-half-full (July 18, 2022).
[2] "Polishing an Aluminum Boat [Guide]," boatlife.com/boatlife-blog/polishing-an-aluminum-boat-guide (accessed Aug. 4, 2022).
[3] "Cleaning an Aluminum Boat with Vinegar," pontoonopedia.com/cleaning-aluminum-boat-vinegar (June 11, 2018). x
[4] "6 Steps to Painting Aluminum Boats," chiyachtrefinishing.com/blogs/6-steps-to-painting-aluminum-boats (June 20, 2018).
[5] "How to Paint an Aluminum Jon Boat," bottompaintstore.com/blog/aluminum-application/paint-jon-boat (accessed Aug. 4, 2022).
[6] "How to Paint a Boat," boats.com/how-to/how-to-paint-a-boat (April 14, 2021).
[7] "How To Paint Over Your Aluminum Boat (Step-by-Step)," watercraft101.com/how-to-paint-aluminum-boat (accessed Aug. 4, 2022).
[8] "How to Apply Bottom Paint to an Aluminum Boat," bottompaintstore.com/blog/aluminum-application/how-to-apply-bottom-paint-to-an-aluminum-boat (accessed Aug. 4, 2022).
[9] "How To Clean Painted Aluminum Boat? Complete Guide," emozzy.com/how-to-clean-painted-aluminum-boat (April 9, 2022).
[10] "Why Boat Insurance Is Important & How To Obtain It," wavetechpowersports.com/why-boat-insurance-is-important-how-to-obtain-it (accessed Aug. 4, 2022).
Disclaimer:
The information included here is designed for informational purposes only. It is not legal, tax, financial or any other sort of advice, nor is it a substitute for such advice. The information may not apply to your specific situation. We have tried to make sure the information is accurate, but it could be outdated or even inaccurate in parts. It is the reader's responsibility to comply with any applicable local, state or federal regulations. Nationwide Mutual Insurance Company, its affiliates and their employees make no warranties about the information nor guarantee of results, and they assume no liability in connection with the information provided. Nationwide and the Nationwide N and Eagle are service marks of Nationwide Mutual Insurance Company. © 2022 Nationwide