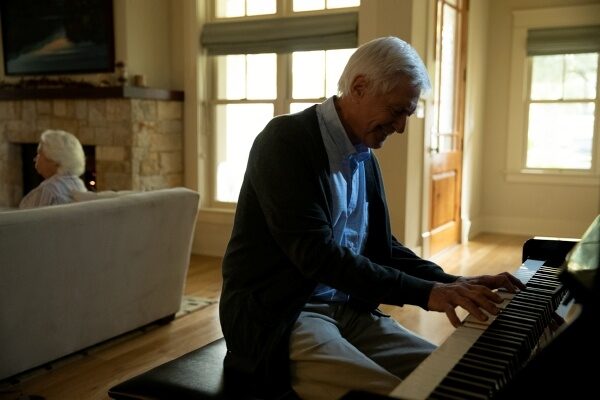 As parents get older, families are often faced with finding new living arrangements. Whether it's to be closer to grown children, to be surrounded by like-minded (and similarly aged) neighbors or to live in a home designed to accommodate physical limitations, there are several reasons parents may need to consider senior housing.
The term "retirement community" has broadened to include a variety of choices. Knowing how to choose a retirement community begins with knowing what options are available, understanding what you're looking for and considering the costs.
Today, there are retirement communities designed for a wide range of budgets and needs. If you're looking at senior living options for your parents, here are some senior living options and tips on how to find the right retirement community.
Types of independent senior communities
1. Senior living apartments
Senior apartment communities provide an environment that's welcoming to older adults but allows them to maintain an active, independent lifestyle. These apartments have many of the features of luxury lifestyle apartments, such as swimming pools, fitness centers and, in some cases, even tennis courts and golf courses.
Just as with a standard apartment, residents only have to maintain the inside of their residences; the landscaping, maintenance and security services are included in rent.[1] Often, these communities allow residents to own a small pet.
2. Active adult communities
The face of aging has changed in recent years, and many of today's "active agers" enjoy maintaining a healthy, on-the-go lifestyle. To keep pace with that change, active adult communities, also known as adult lifestyle communities, have become a big trend.
What makes these communities different is that residents typically buy their homes. They're able to live a resort lifestyle with other older adults. Those homes vary from one community to the next. They may include single-family dwellings, condos, townhomes or even mobile homes. Many of these communities have age restrictions, such as requiring everyone in the residence to be at least 55 years old.
Benefits of these communities include on-site activities like fitness centers, indoor swimming pools, golf courses, nearby shopping and transportation. They can be a wonderful fit for adults who aren't ready to "slow down" but want to enjoy a community of people in their age group.[2]
3. Independent living communities
For older adults who can live on their own but might want help with some of their responsibilities, independent living communities can be a great option. Although people living in independent living environments take care of their daily responsibilities, they have the option of using on-site services for meal preparation, laundry, basic housekeeping and activity programs.
Much like other adult communities, independent living communities typically offer a wide range of activities that can include fitness options, social gatherings and outings like shopping or theater events. Many of these communities also feature amenities like on-site beauty and barber shops. [2],[3]
Some of the most important questions to ask about independent or active communities before making a final decision include:
Learning what activities are provided and how many residents usually participate
What meals are provided and when they're served
What services are included in your monthly costs and what are available but cost extra[4]
Assisted living facilities
When parents begin needing help with their daily routines or you become concerned with their safety at home, an assisted living facility can let them maintain a feeling of independence while also having the reassurance that help is available. Assisted living communities are often connected to skilled nursing facilities. If your parent's health deteriorates or he or she has a medical emergency, care is readily available.
Assisted living facilities can provide some medical monitoring and make sure that your parent is eating properly and getting medications. They'll provide meals and can help with such things as shopping, getting dressed, eating and using the bathroom.
The level of services available through assisted living typically include:
Basic housekeeping
Laundry
Transportation and access to medical care
Social activities to keep residents active and engaged
Fitness and exercise classes[5]
As you consider options for your parents, make sure they're included in the decision and feel good about whatever living arrangement you all choose. Prices can vary dramatically depending on location, size of the home or apartment, amenities and services. Ask questions about costs and make sure there are no hidden fees for services or charges that you aren't aware of.
As you approach this next phase in your life and your parents' lives, learn how long term care insurance can help your family cover the costs of an assisted living facility to plan for the future.
NFW-8060AO