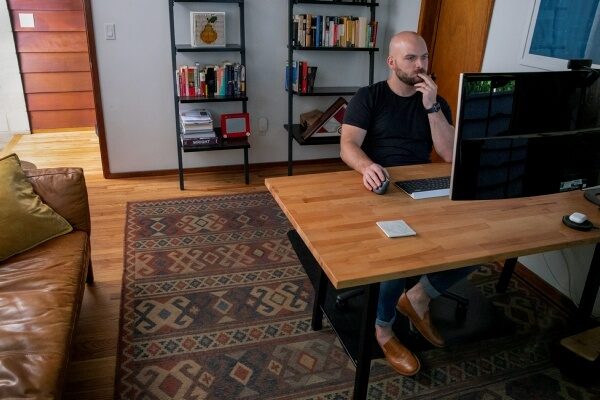 Working from home is the next big thing. According to the State of the Remote Job Marketplace report, in 2018, nearly 4 million people, or 2.9% of the population, worked from home. That's a 115% increase since 2005, and that number is projected to grow even faster in the coming decade. Upwork's Future Workforce Report predicts that as many as 38% of full-time staffs will work from home by the end of the next decade, and nearly 60% of hiring managers are using remote and freelance workers — that's 24% more than were using freelancers the year before.
As more employers and hiring managers recognize the benefits of remote workers, employees have more opportunities to find jobs and enjoy careers with a commute from the bedroom to the home office. Even better, these legitimate jobs may pay comparable wages to what in-office workers are earning.
Most legitimate, professional-level at-home jobs pay the same or similar wage as their in-office counterparts. "We've seen starting salaries range from $10 per hour to over $100,000 annually," says Sara Sutton Fell, CEO of FlexJobs, a site for telecommuting and flexible jobs. At the lower end, jobs include Customer Service Representative, Web Search Evaluator, Administrative Assistant and Travel Counselor, while at the high end, Vice President, Executive Director and Chief Technology Officer."
Finding great opportunities[1]
Certain fields lend themselves to remote jobs; knowing what types of businesses and industries are more likely to have work from home opportunities can help guide your search. According to FlexJobs, the top five fields for working from home are:
Medical/health
Computer/IT
Education/training
Sales
Customer service
If you have experience in any of those areas, you might be a good candidate to find work from home employment. You also might want to seek additional training to improve your skills and help make yourself more marketable to companies.[1]
Of course, these aren't the only industries that offer telecommuting jobs. Define what kind of work you're interested in and have good skills in. Then, you can start looking for jobs that are a good fit. If you want to figure out how to work from home, start by looking at what's available in the area where you live.
Identify work from home job scams
The Internet has made it fairly easy to find work from home jobs, but it has also made it easier for scammers to take advantage of people looking for those jobs. Because of that, you'll want to choose your search options carefully.
Using search terms like "work from home" or "work at home jobs" is more likely to lead to scam sites. Instead, use keywords like "remote jobs," "telecommuting jobs," "home-based positions" and "virtual jobs." When you find a company you're interested in applying with, conduct a quick search for reviews of the company to see what experiences others have had with it.
According to the FlexJobs report, there are about 60 to 70 scam listings for every one legitimate work from home job opportunity. Always conduct your due diligence to make sure you're working with a reputable company. Look for red flags, including:[2]
Claims that seem too good to be true, such as business that claim you can make thousands of dollars a week working from home
Jobs that advertise no experience necessary: most companies that pay decent salaries are looking for at least a little bit of experience
Requests for personal information up front: if the job application asks for information such as your driver's license, checking account number or Social Security number, shut it down immediately
Once you secure work, it's important that you get a contract from your employer and that the terms of your employment are clearly spelled out. This includes what hours you're expected to work, policies on work-related communication and terms of payment. The group Freelancer's Union has a handy online Contract Creator to help freelancers create their own contracts. You'll also want to determine what expenses the company pays for, if any, and what you're responsible for.[3]
If you're working from home, your company may require you to have a homeowner's insurance policy that covers part of your house as a home office. Contact Nationwide to make sure your coverage meets your needs. This is particularly important if you have a significant amount of business property or conduct business in person with customers in your home.