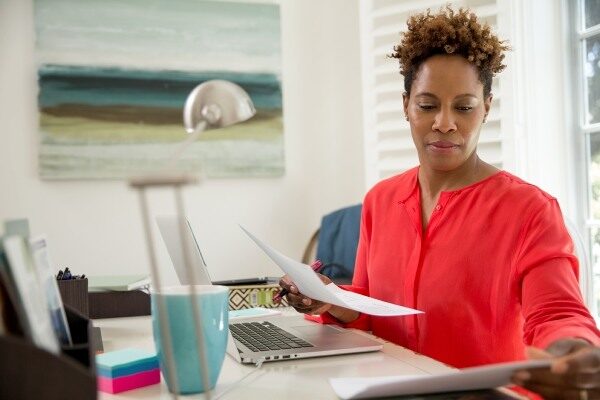 Decorating your cube gives you an opportunity to create a fun, personalized space while following workplace etiquette. Read the desk decorating tips below to learn how to create a space that looks just as good as the one in our video.
1. Banish bland walls
Beige, gray, white. Chances are your new cube walls are one of these three colors. The good news is that with a pair of scissors and some peel and stick paper, they don't have to be that way for long.
Perhaps the most important thing to consider as you're wallpapering your cube is your office culture. If you're at a creative firm like an advertising agency, you likely have a little more room to spread your wings as far as wall color and pattern choices. If you're somewhere corporate, it would be best to choose a neutral color—but don't worry, there are tons of patterns and textures available in basic colors, like marble, weathered beach wood and faux brick. The possibilities are endless.
When applying your new wall coverings (and any of your cube or desk modifications) be sure that your cube décor won't create lasting damage to your cube. It might be your cube, but all equipment is company property, and it's wise not to damage it.
2. Coordinate office supplies
Coordinated office supplies, like scissors, pens, a stapler, containers and more can help create a cohesive and productive workspace. You don't have to go all out. Even a simple desk set can make a huge difference in pulling your cube space together. There are plenty of DIY tutorials online showing how to create pen cups, paper organizers, memo holders, keyboard stands, magnetized clip holders, custom pushpins and more.
3. Add some green
Office air can get as stale as it is cold. Adding plants is a simple way to bring some nature indoors, and can be especially heartening if your cube blocks any views of the outdoors.
Get as involved as you want—some people tackle delicate plants at their desks, like orchids, and others choose low-maintenance options like cacti, succulents, ivy, bamboo and the easiest living plant of all, air plants. If you're truly convinced you don't have a green thumb, even fake plant life can provide a fresh feel.
4. Get comfortable
Offices are notorious for being cold. Keep a cushion on your chair for some extra coziness, or use a cute throw to wrap around you like a shawl.
You might also consider a rug. A cozy carpet in bright color protects company carpeting and feels much more warm and welcoming than the plastic floor coverings offices used to use.
5. Lighten up
Cube decorations like lamps or strings of lights warm up your space. A bright cube can be a welcoming sight, especially if you're working late or dealing with short winter days. You can even consider a bulb that mimics natural sunlight—it's said that they may be able to help boost your mood .
6. Make use of vertical space
You'll likely learn early that a cubicle is not the roomiest place to work. Cubes are small, especially if you're just starting an entry-level job. As your work your way up to the corner office, learn how to make do with the space you currently have.
A great way to do this is to take advantage of vertical cube space. Hang paper organizers, to do lists, calendars and more, leaving your desk space free and clear.
7. Bring monitors to just below eye level
Bringing your monitor to the right level can improve your posture and reduce strain on your eyes, neck and back . You can do this several ways. Office supply and online retailers sell useful laptop and monitor stands that provide a place for cords, your hard drive (as long as it's not a tower), and other papers and items. You can also use any solid rectangular item, like a ream or paper, a book or a box. To create a seamless look, you can tie your monitor stand in with other supplies, like your mouse pad.
8. Organize with style
There are countless ways to get your desk space organized, and almost all of them are stylish. You could go for an industrial look with wooden trays, metal stands and sleek, minimalist computer equipment. Or, you could create an eclectic look with mixed textures and materials, bright colors and patterns.
Chances are you'll find file folders, supply trays, drawer organizers, trash cans, pencil cups and more to fit almost any style or need.
9. Change your desktop background
Even if you do nothing else, changing your computer or laptop background can go a long way to making you feel personally invested in your workplace. There are millions of options online in every color, design and scene possible. You can choose a motivational message, a calming outdoor scene, a picture of your family—or you can choose them all and have your background rotate.
10. Get personal, get inspired
It might not be your property, but it is your space. Surround yourself with images and trinkets that put you in a good mood and encourage you to work hard.
Your favorite mug, a card from a coworker, or a picture of your pet or your best friend are all ways to leave your mark on your space and help you infuse your personality into your work.