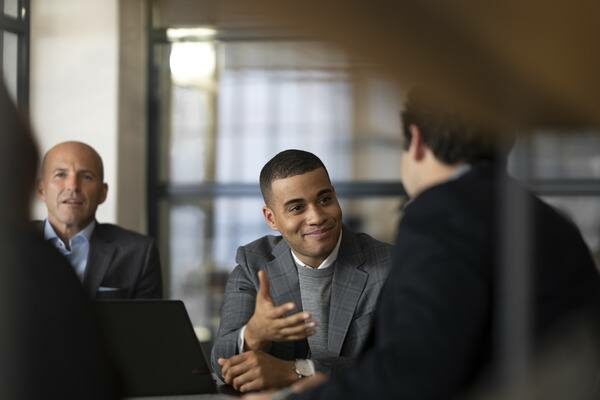 If you're entering the job market this year, things are looking good. In 2016, studies found that 60% of college graduates accepted a job one to six months after graduation, and 21% accepted a job before graduation.
As you set out to land your first job, you'll likely be called back for several interviews. This is the time to make a great first impression, and that often includes how you dress.
Whether the company's dress code is business professional attire or business casual, you'll want to make a good first impression. Here are some tips on what to wear to an interview:
Research the company
A business suit isn't necessary for every interview. Before picking interview clothes, research the company and its professional dress code. You'll wear different business attire for an interview at a casual tech company than you will to an interview at a corporate brokerage.
If the company has a relaxed dress code, your professional business attire can be relaxed, too. That's not to say you should go to an interview in a T-shirt and jeans, but you might decide to forego a suit coat and go with dress pants and a button-down shirt.
Wear solid colors
When it comes to interview attire for women and men, solid colors are a smart, professional choice. An interview isn't the time to wear a funky dress or a crazy tie. You'll have a lot of eyes on you during the interview process, and everyone has a different opinion on clothes. It's best to keep your outfit simple and save the brighter outfits to wear after you're hired.
Wear comfortable, simple shoes
Your interview outfit is not complete without the right pair of shoes. Some job interviews include a tour of the facility, lunch and several interview panels. You may need to prepare to walk around more than you would during a typical workday, so it's a good idea to wear sensible, comfortable shoes. An interview might not be the best time to wear new shoes that you haven't had the opportunity to break in.
Go easy on accessories and fragrances
As you narrow down what to wear for an interview, consider limiting your accessories. Keep earrings, necklaces, rings and bags to a minimum. You want people focusing on you and what you're saying. In addition, don't go overboard on cologne or perfume.
What you wear to work once you're an employee may be less formal than your interview outfit, but the right work clothes will give you the confidence you need to nail your interview. Learn more about how to succeed at your job in the first 90 days.