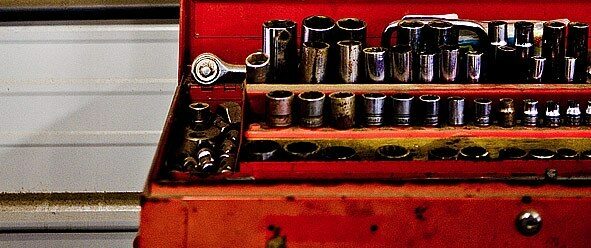 Appearance, reputation, cost and materials are the giveaways.
The only thing nearly as unfortunate as a car accident is a bad experience at a body shop. You're placing the keys (and your faith) in the hands of a business that could keep your vehicle for far longer than you expect. And the resulting bill may be worthy of a bank loan. Worse yet, the results may be less than acceptable. Given the stakes, it's best to consider these factors before choosing a body shop.
Factor in appearance
The look of a body shop is often an accurate reflection of the owner's commitment to customer service. Parking areas should be well-marked and the reception area and rest rooms should be clean. "Otherwise, look for clear signage and neatly dressed staff—all indicators of a serious operation," says Dale Delmage, a consultant with VeriFacts, which provides third-party quality-verification for the auto-collision and body shop industry. "The staff's manner also counts. If questions aren't answered promptly and courteously, then you're in the wrong place."
Check the buzz
In these days of ubiquitous social media, consumers have a big say in the reputation of a business, and experiences at a body shop certainly get people talking. You should especially solicit the opinions of family members and friends. "A company that has proven it constantly satisfies customers may not be the biggest or best-known in your area," says Phil Reed, senior advice editor with Edmunds.com, a leading automotive consumer site.
Gather several estimates
It's the best way to avoid overcharges. But don't go with the lowest quote without a clear sense of what will get repaired. "An extremely low quote could mean there's something they're not doing," Reed says. Also inquire about all warranty details, such as how long it extends and what it covers. A one-year agreement is often the minimum. Make sure the shop has a proper business license, as well as professional certifications.
Ask about materials
You'll want to know if they're new, used or aftermarket body parts. While new and used parts are usually fine, they may come with a mark-up. "Aftermarket parts can save a lot of money and can be just as good as the ones from the original manufacturer," Reed says. "And if paint work is involved, ask how many coats of paint and clear coat the shop intends to apply."
Avoid scammers
Beware of being approached outside a body shop by someone who notices the damage and claims they can fix it right then and there for a cut-rate price. A number of news reports have indicated that these offers are actually scams. The work involves substandard dent-filler material that looks shoddy, which then requires a trip to the body shop, incurring an extra cost. "The only way you can tell if these guys are a scam," Delmage says, "is if their lips are moving."
The On Your Side Auto Repair Network® includes only shops that are pre-qualified for the highest level of service. Look for a shop in our network.