Are you looking for a romantic getaway? If it's time for you and your partner to escape the hustle and bustle of everyday life, take a look at this list of 10 picture-perfect vacation ideas for couples. See the descriptions below the slides for a complete list of couple-friendly locations.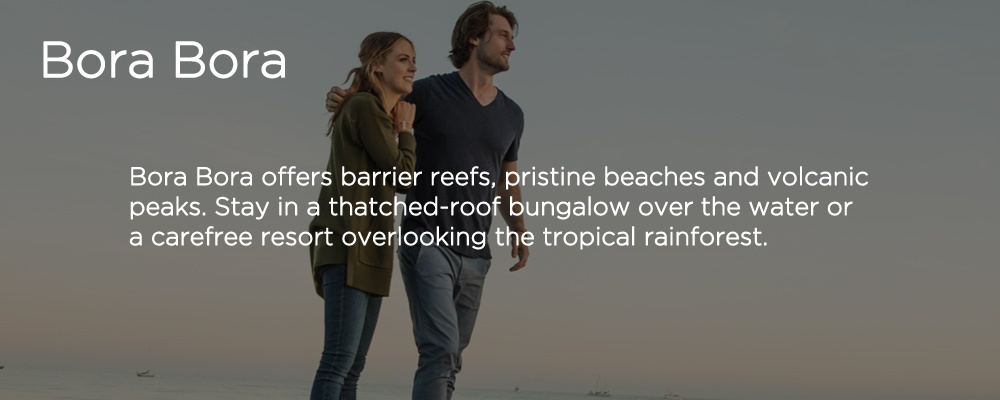 Bora Bora
Bora Bora offers barrier reefs, pristine beaches and volcanic peaks. Stay in a thatched-roof bungalow over the water or a carefree resort overlooking the tropical rainforest.
Kauai
Known as the Garden Island, Kauai is beautiful, rugged and less crowded than other Hawaiian Islands. With pristine beaches and lush landscapes, it's a great vacation for couples.
Aspen
With chalets tucked into the Colorado Rockies, couples can ski by day and cuddle by the fire at night. Even if you aren't a skier, the small city offers mom-and-pop shops and one-of-a-kind museums.
Paris, France
Take in the view of the Eiffel Tower, wander hand in hand down covered shopping arcades and indulge in fresh bread every day. Be sure to try the quaint cafes and street-stand crepes in the City of Love.
Dublin, Ireland
Shop along Grafton Street, a cobblestone road lined with great shops. Eat shepherd's pie from a local café and visit historic sites like the city's jail, Kilmainham Goal.
Napa Valley
Known for quaint wineries, mouth-watering French food and boutique bed and breakfasts, California's Napa Valley is a picture-perfect vacation for couples.
Venice, Italy
See iconic Italian landmarks; Saint Mark's Basilica and the Bridge of Sighs. Take a romantic gondola ride down the city waterway for a meal and follow it up with gelato. Check out a waterside bar near the Grand Canal, too.
Glacier National Park
Backpacking through the one-million-acre national park is a great Montana getaway for the outdoorsy couple. Hike along the Highline Trail, snap photos of mountain goats and pitch a tent under the stars.
Reykjavik, Iceland
Aside from beautiful spas and a funky flea market, Reykjavik is one of the best spots to see the Northern Lights during winter. Take a blanket and curl up together under the stars to see nature's dancing light show.
Sedona, Arizona
Hike along Devil's Bridge Trail and take in the red rock walls that shoot up from the ground, tour wineries and share a kiss with your favorite person in a hot air balloon over the Sedona sky at sunset.
Travel without worry
Any of these destinations would make a great getaway, but the best vacation for couples isn't all about the destination. It's about enjoying time together. When you're ready to make reservations, look into travel insurance packages that fit your budget to can help ensure your trip is worry-free.