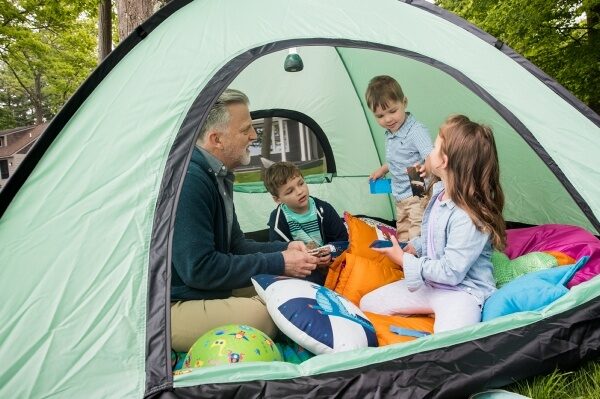 There's nothing like the great outdoors, and camping is a great way to enjoy the fresh air. If you don't want to pay campsite fees and travel costs, you can set up camp in your own backyard.
Check out these tips on how to go camping in your own backyard.
1. Set up camp
Just as you would in the wild, pick a part of the yard that's flat and free of rocks and branches. Add a seating area with lawn chairs, cushions, or a blanket.
2. Pitch your tent
Work as a family if the kids are old enough. Consider multiple tents if you're a big group. Make sure tent stakes are secured well. Tie downs can be a tripping hazard in the dark, so tie some eye-catching ribbon to them to alert everyone. Make the sleeping area comfortable with padding, an air mattress, or even sofa cushions.
3. Gather your supplies
Do it ahead of time to avoid going indoors any more than necessary. Remember items such as insect repellent, sleeping bags and bedrolls, pillows, and flashlights. Battery-powered lanterns or glow sticks are also good options.
4. Plan your food in advance
Stick with nonperishable items or make sure you have a big enough cooler with ice or ice packs to store food safely. Consider grilling on the barbecue or in a fire pit. You can also pack sandwiches or even order pizza. (It's not authentic—but there are advantages to being at home.) Don't forget snacks. If you're roasting food on a stick, prep your roasting sticks early so you are not whittling in the dark.
5. Build a safe fire pit or buy one ahead of time
If you don't want to spend time building a firepit, you can buy one before your backyard adventure at your local DIY or outdoor furnishing store.  But if you're up for building your own fire pit, choose an area that's downwind and at least 15 feet from your tent and house. Clear a circle 10 feet across and remove all flammable objects from the area. Dig a 12-inch-deep hole and surround it with rocks. Use dry wood for the fire and keep a bucket of water and a shovel handy. Keep kids and pets a safe distance from the fire pit. And when you put out the fire, be sure to douse it thoroughly with water and cover it with dirt to prevent embers from flaring up.
6. Plan some fun and games
A scavenger hunt, a few rounds of tag or a croquet game are all great family activities. You might also use crayons to take nature rubbings in your yard or press flowers and leaves into a scrapbook. Consider exploring your neighborhood, too. Set out with a compass, map or the GPS on your phone to trek trails or nearby areas you haven't visited before.
7. Prepare for nightfall
Try stargazing, singing songs around the campfire or telling ghost stories (don't make them too scary if you have little ones). Give up on setting a bedtime, especially if kids are sharing tents. They'll fall asleep eventually … and then you can, too.
Do you need extra coverage for your property? Ask your agent whether personal umbrella insurance is something you should consider. It's an added layer of protection for your assets in case a serious accident occurs on your property.