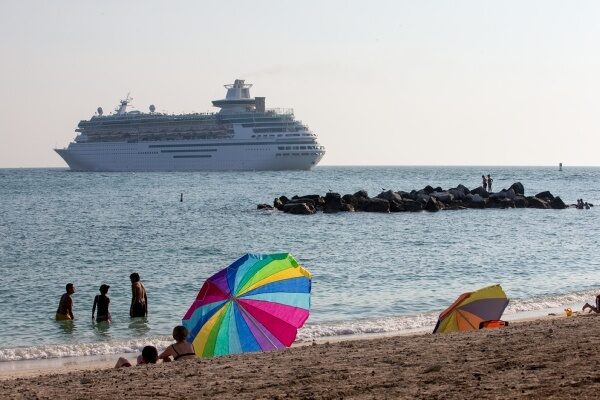 Cruises are a popular way for seniors to travel. More than 24 million passengers boarded cruise ships in 2016, and about half of them were seniors. [i]
Some seniors are living on cruise ships, or they're switching from cruise line to cruise line. That's because the cost of staying aboard a ship is sometimes comparable to, or even cheaper that, living in an assisted living facility. [ii]
Whether you're looking for an extended stay or just want to take a short break, senior cruises offer a lot of amenities for older travelers.
What seniors should look for in a cruise
When it's time to pick a cruise, you have a lot of options. Some of the best senior cruises and lines offer these amenities:
Upscale service
Cruises that offer upscale service tend to draw retirees. Cruises with luxury services aren't typically geared toward the younger generation that's more interested in parties and events and less interested in the quality of service.
Medical facilities
As you get older, your medical needs change. Look for a cruise ship that has a decided medical facility on board that can handle any special needs that you might have.
Mobility solutions
If you have mobility needs, look for cruises that offer wheelchair-accessible staterooms and staff that can assist you with moving about the boat.
In addition, look for senior cruises that offer a shuttle service from the boat to the port city. In some cases, getting to the main area of a destination can be a lengthy walk. Having a shuttle service may be a deciding factor for you.
No charge for non-alcoholic beverages
Some cruises aren't inclusive in ways that you expect. For instance, many charge you a fee for soda, water, coffee and tea – even if you paid for an all-inclusive package. Shop around for cruises that include all beverages and meals in the ticket price.
The best senior cruise destinations
Are you wondering where to cruise to? Here's a list of ideal cruise destinations for seniors:
Alaska
To see glaciers, waterfalls and breathtaking views, Alaska is a great place for seniors to visit — and you don't even need a passport. Alaska offers a variety of activities that are great for low-key days.
Florida
For another trip that's on U.S. soil, consider sailing to cities in Florida. Give Miami a try, or visit one of the Florida Keys like Key West. You'll find plenty of senior-themed activities in this state where golfing, fishing and fine cuisine are easy to find at every corner.
Caribbean
Surrounded by white sandy beaches, golf resorts and beautiful ocean views, the Caribbean is a must-see for seniors. Since it's fairly close to the Florida coast, seniors can book shorter cruises and experience all that the various islands have to offer.
Travel tips for senior cruises
No matter what cruise line you select or which destination piques your interest, there are a few tips to make the most of your travels:
Talk with your doctor before cruising
Before you sail, talk with your doctor about your plans. Be sure to get enough medication to bring for the entire trip and try not to store your medications in one place or with your jewelry. This can make it easier for thieves to get away with all your necessities. Also, bags can get lost while you're traveling. Pack three or four days' worth of medication with you in your carry-on or purse to make sure you have enough until you can contact your physician's office and have a new prescription sent to your destination..
Plan minimal shore excursions
To save money, you can plan shore excursions in advance, but you don't know how you'll feel on any given day. Consider planning a few activities for your trip, but keep your schedule open so you can do what makes sense for your comfort level.[iii]
Don't hang the "clean my room" sign on the door
When you're about to head out for the day, avoid placing the "clean my room" sign on your door handle. It not only signals for the cleaning staff to come into your empty room — it can signal your absence to potential criminals, too.
The sign serves as an open invitation for crooks that are looking for an empty room to rifle through. Most people leave extra money, passports and electronics in their rooms, which is exactly what criminals are after.
Instead of hanging up the sign, call the front desk and let them know your room is ready for cleaning. In addition, ask for a room near an elevator if possible. Not only will this make getting around easier if you have mobility limitations, but areas with higher levels of foot traffic can deter thieves who want to hide
Be mindful of fancy accessories
Criminals are on the lookout for easy, vulnerable targets and they take notice of expensive accessories and clothing. When you're sporting a fancy watch or an eye-catching diamond ring, it draws unneeded attention.
Leave luxury items at home. Don't travel with them. If you make a large purchase while you're traveling, try to wait until the end of your trip, or ask the store to ship the item home to you. If you can't wait, put it in your hotel safe until you leave and keep it in a purse or a carry-on that stays with you throughout the flight home.
Limit cash on hand
Research shows that 70% of baby boomers prefer paper currency to electronic payments.[v] Criminals know that this generation usually has cash in their wallets, which again, can make you a target.
Criminals can easily watch you shop and observe how you pay for merchandise, or even a meal. Each time you reach into your wallet to pay, a criminal can see you are carrying cash.
To avoid this problem, don't keep more than $50 total in cash in your wallet while you're out. Store cash in your in-room safe, even while you're in the room. Consider relying on one credit card for the entire trip if you're comfortable with it. Contact your credit card provider to verify what sort of protections are offered while you're traveling or using the card in a different country.
Skip the purse and wallet
Rather than using a traditional purse or wallet, consider a money belt that goes around your waist or a neck wallet that you can tuck into your shirt or coat. Doing so discourages thieves from nabbing your cash, credit cards and ID.[iv]
For more tips on what to bring, check out our cruise packing guide.
Consider senior travel groups
Being a single senior doesn't mean you have to travel alone. You can travel with other single seniors in the way of senior group tours, senior cruises, as well as senior travel clubs. Not only will you still be able to travel alone, you'll also get the opportunity to meet other single seniors as well.
Purchase travel insurance
A cruise is an investment, and it's important to protect it. Before you go, buy cruise travel insurance that covers port of call itinerary changes, ship-based mechanical breakdowns and delays in arrival or departure. A policy can help cover losses you experience if you need to cancel before your trip and while you're on vacation. Whether you lose your passport, luggage or fall ill, it's easier to relax in and explore your destination knowing that you're covered.Get a quote for cruise travel insurance from Nationwide today.
Above all, enjoy your time away. No matter which one of the many senior cruises you pick, you're sure to make lasting memories. Learn more about staying safe while you're traveling to enjoy the trip of a lifetime.
[i] "Ahoy Matey, More Folks Retiring on a Cruise Ship," CNBC (July 27, 2016).
[ii] "Ahoy Matey, More Folks Retiring on a Cruise Ship," CNBC (July 27, 2016).
[iii] "7 Top Cruise Tips for Senior Travelers," Cruise Critic (September 14, 2017).
[iv] "10 Travel Tips for the Elderly," Aging Care.