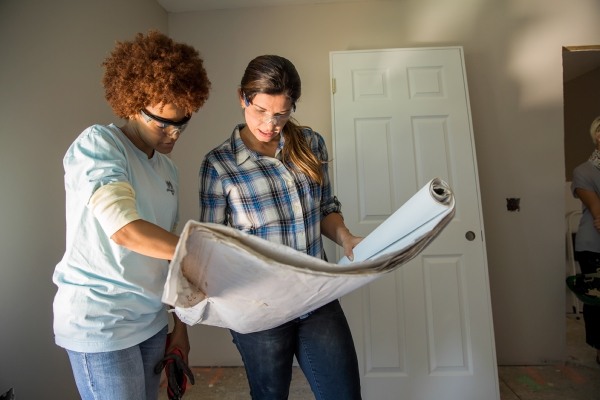 Many homeowners are making basement renovation ideas into major do-it-yourself projects. They're turning unused spaces into recreation rooms, offices and even extra bedrooms.
These projects frequently address specific individual needs. They can also help increase the value of the home. But like all DIY projects, a basement overhaul requires careful planning, including a firm idea of what you want to do.
If you need inspiration, here are a few basement remodeling ideas:
Remodeling ideas to create a finished basement
Sports cave: Is there a passionate sports fan in the house? Install laminate flooring, a leather couch, mini fridge and flat screen TV. Decorate with sports apparel, or go industrial with metal decor. Ensure there are plenty of chairs for game day guests.
Home theater: Transform your basement into a mini movie theater complete with inclined theater seating, a flat-screen TV and surround sound. Add a popcorn maker and a few movie posters.
Office: Create a sizeable, comfortable office. Buy a desk, furniture, file cabinets and bookshelves, or create built-ins. Ensure that your Wi-Fi and electrical systems allow you to work efficiently.
Tips to start your basement renovation project
Dry it out: Make sure your basement is free of water. Check below the grade-walls for signs of water damage, such as pooling and/or dripping.
Get permits: Check with your town or city to see if any permits are required for your project. Generally, if there's plumbing or electrical work involved, you'll need a permit.
Insulate it: Basements are inherently cold and damp, so adding insulation will help combat both these issues. Choose insulation that includes a vapor barrier to protect against moisture.
Ask for help as needed: Research what kind of projects you can handle yourself and accept that you might need a professional for some jobs. Do the parts you're comfortable with and hire a contractor to handle the rest. For example, remodeling a utility room, where the water heater is located, can be particularly tricky given required safety codes.
A basement remodeling job can provide a new space to entertain and expand your living area Be sure to contact your insurance agent to evaluate your homeowners policy and ensure your new space and belongings will be protected.