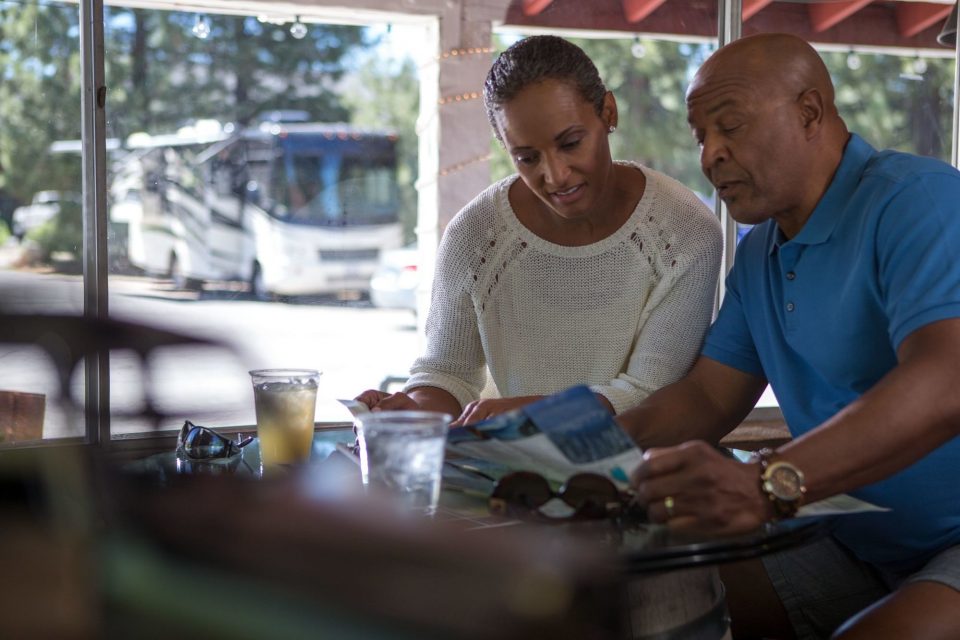 Two days after their youngest son graduated from high school, Jerry and Cynthia Winegard hit the road – and they barely looked back.
"We started off in a 19-foot travel trailer, moved up to a 30-foot travel trailer, then to a 24-foot Class C motor home," Jerry says. These days, they spend their winters in a conventional home – but live in a 20-foot Class B motor home the rest of the time. As part of a growing population that finds home on the road and at the nearest hook-up, Jerry says part of the appeal of RV living is unprecedented freedom.
"There are no property taxes, no yard to mow, no snow to shovel, no [homeowners association] to deal with," he says. "People realize that life is more than [owning] stuff, and living with less stuff is exhilarating."
My way is the highway
The attraction to this mobile lifestyle is evidenced by the increase of blogs like MyHouseHasWheels.com, DoItYourselfRV.com and Winegard's two blogs, RVRoadTrip.us and JerryandCynthia.com. Winegard's blogs alone receives as many as 100,000 visitors each month, and many of those visitors are people who are curious about how they can transition to a mobile lifestyle. While there are no exact numbers kept on the quantity of people living in recreational vehicles full-time, the audience is definitely growing. After bottoming out during the 2008 recession, RV sales rebounded by nearly 50 percent in 2013 – and have continued to grow each year. Today, more than nine million households in the U.S. own an RV.
And if you think the market is reserved for snowbirds and retirees, think again.
"There is no 'typical' RVer," Jerry has found. "You will find hippies, hipsters, families, retirees and more."
According to the Recreational Vehicle Industry Association (RVIA), the largest segment of RV owners are between 35 and 54 years old. But enthusiasts come from both sides of that demographic, with some already well beyond retirement age while others come from generations X and Y. With more than 16,000 campgrounds nationwide, RVIA reports, it's easy for RVers to find a place to park. In a world that is increasingly mobile, the RV lets us take our entertainment and communication devices with us everywhere we go. It's easier than ever to hit the road but still stay connected.
Start your engines
Those who want to check out the RV lifestyle would do well to approach it gradually, Jerry advises. His site offers several checklists and articles to help would-be RVers decide if it's right for them. Jerry recommends renting a camper for at least a week or two and living in it full time.
"You'll find out quickly if you like it or not," he promises. He urges people to test the waters first and make sure you have a home to return to – because it's definitely not something that's for everyone.
While the RV life is full of adventure, it can also hold many surprises. For one thing, Jerry says, it is often more expensive than expected – so make sure there's at least $5,000 in savings to handle emergencies such as breakdowns – and add to that fund whenever possible.
Fuel is another major expense, particularly if you keep moving. So RVers need a budget set aside for that. While some people can live a rather frugal life on the road, others struggle with it.
"We [live] quite easily on $1,500 a month, yet we've met people [living on] $10,000 a month who barely get by," Jerry says. "The answer is, it takes whatever you have."
RVers become accustomed to short showers and limited space. Clothing and shoes are kept to a minimum. Since there's so little space, putting away items as soon as you're done with them is essential. You'll need to shop for groceries every few days and will become an expert at downsizing and only buying "essentials." Planning for medical emergencies, keeping a first aid kit current and knowing your insurance coverage all are important aspects of life on the road.
Some of the biggest surprises for newbies – other than how short your showers are due to the limited water supply – are how often you have to dump your holding tanks and how friendly and welcoming other RVers are, Jerry says.
If you're uncertain about what type of RV would be best, Now from Nationwide has information that can help you decide.