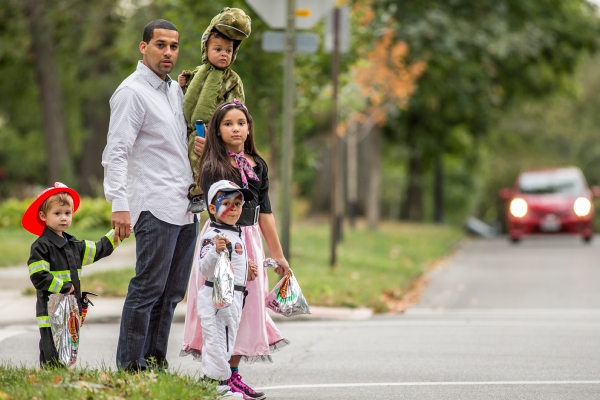 Children in spooky costumes, bags of good candy corn and scary ghost stories set the scene for an exciting night. With kids four times more likely to be involved in pedestrian-car collisions on Halloween, however, Oct. 31 can be one of the most dangerous nights for driving. Drive safely on Halloween with these tips from the National Safety Council.
Slow down
Drive below the speed limit in a residential area, especially during peak trick-or-treating hours, as there will be more children on the street.
Turn on your headlights
Make your vehicle more visible by ensuring that your lights are on, even during daylight. Having your lights on will also help you see children in dark colored costumes, which are difficult to see in the dark.
Eliminate distractions
Cellphone use can interrupt your concentration while driving, so turn it off or hit the mute button. The simple task of changing radio stations can also take your eyes off the road. Instead, have your passenger turn the dial for you or wait until you reach a red light if you're driving alone.
Have a designated driver
Halloween is not just for kids – adults can also join in on the fun. If you're planning to drink, make sure you already have a designated driver in mind before you attend that party.
October 31 doesn't have to be a frightful evening by following our safety precautions. If your teen is planning to drive to a friend's house party on Halloween, have him or her check out our safe night driving guidelines. For even more information, check out our general driving safety tips for any time of the year.