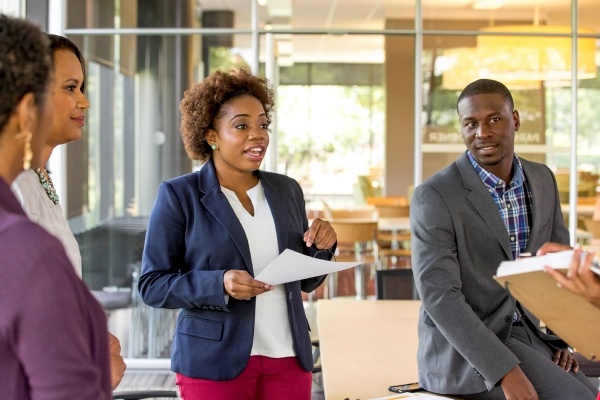 Having quality, engaged employees is vital to the success of a small business. Your staff is often the face of your company, be it retail, consumer or B2B, and it can have an outsize influence on customer relations and repeat sales.
At the same time, replacing good employees with people who have the skills and knowledge essential to your business can be a challenge. And it can be costly to continually train new hires.
How does a small-business owner attract and retain top talent while keeping staff engaged and motivated?
Recognize strong employees
Being aware of good employees and the value they bring to your organization is a start. It's also important for business owners to be open to adjusting their company culture, while building an effective strategy for finding and keeping the best staff possible.
Sell the vision
As a small company, you may not have the ability to compete with large corporations when it comes to salaries and compensation packages. But other qualities can make a job and company attractive to top talent, as long as the pay is fair and equitable with regards to responsibilities. Selling your company's vision can go a long way, as well as highlighting the importance of the job for the organization.
Provide positive reinforcement
Top talent may not need a gold star for every minor accomplishment, but giving recognition for a job well done lets good workers know they are not toiling in obscurity. The carrot of positive reinforcement gives employees something to aim for and makes for a happier environment than the stick of punishment. Call out good work at a staff meeting or some other public forum, and remind top employees how valuable they are to the organization.
Offer valuable feedback
Giving employees regular feedback helps them know they are on the right track and allows them to adjust their work accordingly if not. Thoughtful and timely feedback is important to enable employees to reach their job goals and should be part of any small business performance management program. Don't wait to give feedback all at once in an annual review. Regular or even casual feedback can boost motivation.
Make work more efficient
If there's a way to make your employees' jobs easier, do it. You could, for example, invest in a software program that automates a tedious task or streamline a work process to save time and headaches. If you can reduce petty annoyances and allow your workers to focus on more important tasks, the returns will more than make up for the cost. Taking this kind of action lets your employees know you are listening and you care.
Show your trust
For small-business owners, control can be an issue. You have built your business with a vision in mind, and handing the reins to someone else can be a scary prospect. But giving control to your top workers is a sign you trust them to do their jobs and use their talents to the fullest, a great motivator for good employees and a big contributor to job satisfaction.
Keep things interesting
Another strategy for retaining top talent and keeping them engaged is to avoid boredom. Look for new and challenging tasks to keep things interesting for your best employees, who might be eager to explore new areas and expand their skill set.
Better yet, ask them if there is any new challenge they would like to take on, or a facet of the business they would want to learn. You might be surprised by the results.
To insure your business and talented employees, you can rely on Nationwide's suite of business insurance solutions.