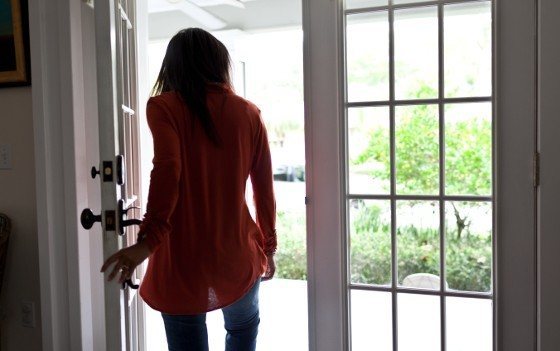 At Nationwide, being "On Your Side" isn't just about recovering from tragedies – it's about preventing them. That's why we conducted a survey* of homeowners to find out how protected Americans are against home burglary. Some of the results are surprising, but the good news is there are easy ways to improve the security of most homes.
Common home security mistakes
Here are a few results from the survey, and tips on how to reduce the chance that you'll be the victim of home theft.
Homeowners admit risky behaviors
One-quarter of homeowners (25 percent) acknowledge leaving the front door of their home unlocked when leaving the house at least once in the past year.
Four in 10 (41 percent) 18-34 year-old homeowners surveyed post social media photos/updates when they are on vacation.
While the National Burglar & Fire Alarm Association estimates nearly one-third of all burglars enter through the front door, just 15 percent of homeowners in Nationwide's survey correctly believe it's the most common entry point.
39 percent of homeowners admit leaving leave their doors unlocked about the same amount or more often as their parents did when they were growing up, despite a dramatic rise in thefts over the last 40 years.
Many homeowners tend to leave ground floor (35 percent) or second story and above (34 percent) windows unlocked.
Theft prevention tips
These simple tips can help reduce the chances of a home burglary.
Check windows and doors
Make sure doors are locked before leaving the home.
Install motion detecting lights
A burglar's best friend is a dark home. Motion-detecting lights can deter burglars from breaking into your home.
Install a home alarm system
Make sure to activate it every time you leave home.
Don't announce online that you're going on vacation
Burglars can use social media to find out who isn't home.
Stop deliveries
Put your newspaper and mail delivery on hold while you are away or have someone pick it up for you. A pile of newspapers or mail overflowing from your mailbox is an indicator to burglars that no one is home.
For additional home theft prevention tips, check out our infographic or take our theft quiz.
*Methodology
The survey was conducted online by Harris Interactive on behalf of Nationwide Insurance from May 21 to May 29, 2013. Respondents were comprised of 1,005 U.S. adults aged 18+ who have a homeowners insurance policy or a condo insurance policy with any insurance company. Results are weighted to the U.S. General Population adults ages 18+ in terms of age, sex, race/ethnicity, education, region and household income. Propensity score weighting was also used to adjust for consumers' propensity to be online. Research participants were drawn from the Harris Poll Online (HPOL) research panel. Because the sample is based on those who were invited to participate in the HPOL panel, we cannot calculate estimates of theoretical sampling error.