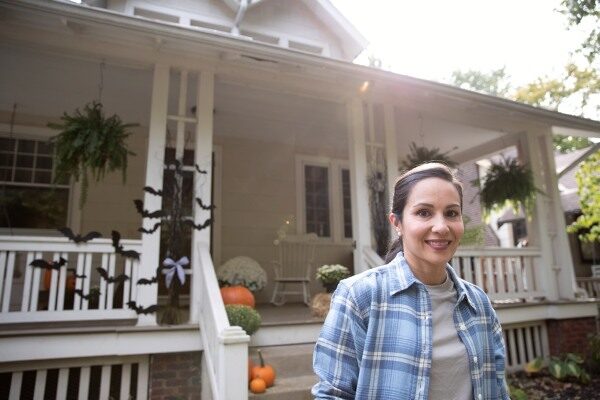 House flipping has become a lucrative market for many. And with number of shows dedicated to these endeavors, you may be interested in what it takes to flip a property.
But first, what does it mean to flip a house?
What is 'Flipping Houses'?
House flipping is an investment strategy in the real estate market. To "flip a house" means to buy a house that needs some work, then renovate it, adding value to the home, before putting it back on the market to sell at a higher price.
Renovations can include updates to key areas of the house such as bathrooms, kitchens, basement, and attics. But it could also be much more extensive including additions, tearing down walls, and even starting from the ground-up.
A report by ATTOM Data Solutions highlights that house flipping profits skyrocketed in the final quarter of 2020, providing more opportunities for investors new and old to enter the market and kickstart their journeys in house flipping.1
If you're interested in flipping but don't have any experience, there are a number of things to consider, including mistakes that can make or break a project. Before you dive head-first into flipping homes, it's important to know some common mistakes to avoid.
Flipping Homes: 5 Common Mistakes
1. Overspending or underestimating costs
One of the biggest mistakes people make when flipping houses is not budgeting correctly. Depending on the type of build and renovations, permits and location, costs can fluctuate extensively. It's always important when entering a house-flipping endeavor to budget accordingly – and this means adding into your plans the possibility for unexpected costs.
There's only so much information you can gather about a property, its potential, and its integrity from an initial inspection. Even if you involve several specialized inspectors, there are often issues beneath the surface that can crop up later.
For instance, plumbing, electrical, and structural issues aren't always immediately apparent. And often, these issues only surface once renovations are underway.
Before you settle on a property and make your offer, make sure you have the budget and the flexible capabilities to handle unpredictable financial obstacles.
2. Hiring underqualified professionals
When flipping a house, repairs are a necessity. It's these repairs, upgrades, and redesigns that turn a regular property into a house someone can truly see as their own.
But repairs cost time and money.
That's why it's important to work with licensed professionals with the specialized skills needed to complete these tasks up to proper standards.
It can be tempting to save money by hiring a cheaper, less-qualified professional. But work done by an unqualified person could lead to additional repairs down the road. It could also lead to work that takes longer to complete, resulting in additional costs when you can't sell the property within the original timeline.
3. Lack of time investment
Do-it-yourself shows might make it seem as though flipping a home is a quick and easy job, when the reality is flipping homes requires a large time commitment that can fluctuate greatly.
Flipping a home can be a time-consuming venture from your first offer, through inspections, contract battling, and closing. All of that happens before you get into the home to start renovations.
According to Zillow, only 55% of buyers actually finalize their deal on their first offer.2 Reaching a deal can take time. But first, you have to find the right property. This stage of the process could take weeks, and even months. It
depends largely on the market, available properties, budget, and liquidity of assets. It's important to be realistic about the job at hand, plan ahead, and leave buffer room in your timeline for unforeseen issues. In addition, you'll need time for the final inspections to make sure everything is up to code. And after everything has been cleared, you still have to sell.
According to Zillow, in 2020 homes sat on the market for an average of 25 days before going under contract3. In a National Association of Realtors May 2021 report, the time-on-market had decreased to about 17 days4, but this number can change greatly based on numerous factors.
A property can sit on the market for one day, 60 days, or longer before it's sold. And then, closing is not an immediate process. From accepted offer to close typically takes at least a month, and can take significantly longer depending on the seller's or buyer's situation.5
Housing market conditions are fluid and can vary greatly, even within the same geographic market.
Therefore, it's important to research your market and be realistic about how much time you can afford to spend on a project, being sure to factor in the selling process.
4. Not knowing the impact of housing market trends
When flipping a home, the housing market's trends and forecasts should be taken into consideration to understand profitability of a project.
What's a seller's market?
In real estate, a seller's market occurs when the number of home buyers exceeds the number of homes that are currently up for sale – in other words, the demand exceeds the supply. This means that house prices go up and competition increases between buyers, as the available inventory of houses for sale falls short of demand.
This can lead to bidding wars that drive up home prices, creating a lucrative market for sellers.
What's a buyer's market?
The opposite of a seller's market is a buyer's market.
In real estate, a buyer's market occurs when the number of homes exceeds the number of buyer's looking to purchase – supply exceeds demand. This requires sellers to lower asking prices, provide incentives, or give credits to buyers since they are in competition with the other sellers in their area.
These two concepts are incredibly important to understand for those flipping homes. It can be enticing to buy a home to flip when you're experiencing a buyer's market, but these trends can last months and even years, meaning you could fall victim to the same prices you benefited from when purchasing a property.
Similarly, it's important to pay attention to the Federal Reserve, also commonly referred to as "the Fed." The Federal Reserve can provide insights into interest rate fluctuations that impact the ability of buyers to get the loans necessary to secure purchases.
There are a number of factors that can impact the housing market – from elections, interest rate cuts, new legislation, and current events. If you're planning on purchasing a home to flip, be sure to have a good understanding of the dynamics of the housing market in order to inform the buying and selling process.
5. Not selling the home at the right price
A very common mistake for people new to flipping is setting the wrong price on a house.
Picking the right price can be difficult for anyone, especially for flipping newcomers. And a choosing the correct price depends on how much you've put into the house, and how much the market will pay.
Buyers consider factors such as, location, school district, local amenities, and taxes when purchasing a home.
If the price is too high, your property can sit on the market longer than you had hoped, costing you time and money chip away at potential profits. Additionally, leaving a home on the market for too long can send red flags to buyers looking to make a deal.
One way to ensure you're pricing a property appropriately is to work with an experienced real estate agent. A qualified and experienced agent often knows what it takes to sell a property and will have knowledge about the location and pricing on comparable homes that can be immensely helpful to beginners.
With these five issues in mind, you have a better understanding of some risks involved in flipping homes and how to help ensure the process is a successful and hopefully a profitable endeavor.
Want to learn more about house flipping? Check out our guide for first-time home flippers.
1https://www.attomdata.com/solutions/market-trends-data/home-flipping-report/, Accessed May 2021.
2https://www.zillow.com/report/2019/2021.
3https://www.zillow.com/sellers-guide/average-time-to-sell-a-house/, Accessed June 29, 2021.
4https://www.nar.realtor/research-and-statistics/research-reports/realtors-confidence-index, Accessed June 29, 2021.
5https://www.zillow.com/sellers-guide/average-time-to-sell-a-house/, Accessed June 29, 2021.
Disclaimer:
The information included is designed for informational purposes only. It is not legal, tax, financial or any other sort of advice, nor is it a substitute for such advice. The information may not apply to your specific situation. We have tried to make sure the information is accurate, but it could be outdated or even inaccurate in parts. It is the reader's responsibility to comply with any applicable local, state, or federal regulations. Nationwide Mutual Insurance Company, its affiliates and their employees make no warranties about the information nor guarantee of results, and they assume no liability in connection with the information provided. Nationwide, Nationwide is on your side, and the Nationwide N and Eagle are services marks of Nationwide Mutual Insurance Company. © 2021 Nationwide.