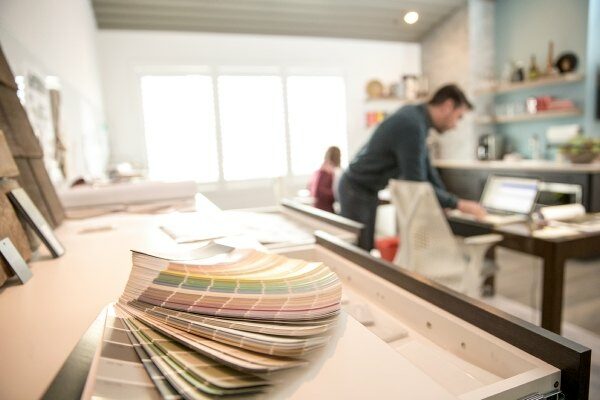 Ever get the urge to freshen up your humble abode? Whether it's new paint in the living room or trendy front yard landscaping, you can never get enough of those DIY projects. While do-it-yourself seems more fun and less expensive, it's not always the best option. Let's explore which home renovation projects are safe to do yourself and which ones are better suited for a professional contractor.
Refacing or refinishing kitchen cabinets – DIY
Cost: $250 – $500
Time: 2 days
Refacing or refinishing your cabinets is an easy way to give your kitchen a fresh look. For wooden cabinets, the process usually goes like this: disassemble each cabinet and use veneer and stain to reface the sides, drawers and doors. Next, stain the inside of each cabinet. Then, finish the cabinets with 3 coats of polyurethane to protect the wood from scratches and other damage. Reassemble cabinets to complete the makeover.
Paving your driveway – CONTRACTOR
Cost: $3 – $15 per sq. ft. depending on materials
Time: 1-2 days
No matter what the materials, paving a driveway is no simple task. If you choose to install paving stones, for instance, the stones need to be properly measured and positioned – a skill that a seasoned professional would have. The same goes for stamped concrete, as this material requires specific knowledge, precise timing, and a steady hand. When it comes to an asphalt driveway, there are typically certain tools needed, such as a roller, which is used to effectively compact the base soil and to compact the entire surface once the asphalt is laid down. The average homeowner does not possess this type of heavy equipment nor are they trained to operate it. Rather than run the risk of making a mistake or using a product that will deteriorate too quickly, this is a project better left for a pro.
Setting up track lighting – DIY
Cost: $200 – $300
Time: 2-4 hours
Adding track lighting can brighten up a room and can be done yourself, as long as you're careful and have basic electrical experience. Here's what you need:
Electrical tester
Wire strippers
Drill
Tape measure
Track light kit
Wire connectors
Electrical cable
Electrical tape
Now that you have these items, you're ready to begin the installation process. Check out this video to see the next steps:
Installing siding – CONTRACTOR
Cost: $7,512 – $92,010 depending on materials (based on 1,500 sq. ft.)
Time: 7-14 days
For siding to last, it must be mounted properly. If not, water can seep underneath and cause damage or even the siding to pull away from your house. This can ultimately damage the frame of your home and lead to bigger problems.
Adding a kitchen backsplash – DIY
Cost: $500 – $1,000
Time: 8-10 hours (typically over 2 days)
You can transform your kitchen just by adding a backsplash. First, make sure the wall surface is dry and flat. View this video to see the process:
Replacing or adding windows – CONTRACTOR
Cost: average of $4,500
Time: 2-3 days
Installing windows securely and making sure they're well-insulated is critical.  When replacing windows, contractors usually install exterior cladding – aluminum that seals against weather and matches the window color. While working with aluminum requires special skill, there are also certain tools needed to form the cladding. A professional is trained to use these tools and can better ensure they're installed safely.
Tiling your bathroom floor – DIY
Cost: $500 – $1,000
Time: 2 days
Updating your bathroom floor can be just the type of renovation you need for a fresh look. According to the DIY Network, start by thoroughly cleaning the floor and setting out the tiles in a pattern you like. Next, mix and spread the mortar. Then, you're ready to cut the tiles and press them into the mortar. Lastly, grout the floor.
Knocking down walls – CONTRACTOR
Cost: $500 – $4,000 depending on type of wall
Time: 7-8 hours
Removing a wall to change the floor plan may seem like a smart idea, but there's more to it than you think. For starters, you need to know if the wall is a partition wall, which simply divides space, or a load-bearing wall. Removing a wall that bears a load can cause structural damage to your home. A contractor knows what can be taken out and what needs to stay, as well as how to avoid damaging wiring and plumbing.
Adding wainscoting – DIY
Cost: $250 – $500
Time: half a day
Wainscoting can add an elegant accent to your walls. Installing bead board, plywood panels or decorative panels is basically the same process. First, remove the baseboards and lighting switch plates from your wall. Mark the desired height for your chair rail molding, then cut the rails and the wainscoting. Then, attach the panels, paint and add the trim.
Tree removal – CONTRACTOR
Cost: average of $557 (varies by height and number of trees)
Time: half a day
Cutting down a tree to change your landscaping may seem like no big deal, but doing it yourself can be extremely dangerous. Large branches usually need to be removed first so that once the tree falls; it doesn't hit your home, car or utility lines. In order to cut down a tree, you have to be aware of the angle of the ground, wind speed and the weight of each side of the tree – among other factors. The slightest error could result in serious injury or damage, such as the slipping of a chainsaw or hitting a power line. It's worth spending the money to have an expert complete the task in a safe manner.
If you're not sure about how to proceed on a DIY project, talk to a professional. Don't do anything that can compromise your safety or the safety of your house.
Home improvement projects are a great way to increase your home's value. Don't forget that renovating your home can increase property value, which means you should update your home insurance policy. Call Nationwide at 1-877-On-Your-Side to speak with a home insurance expert today.