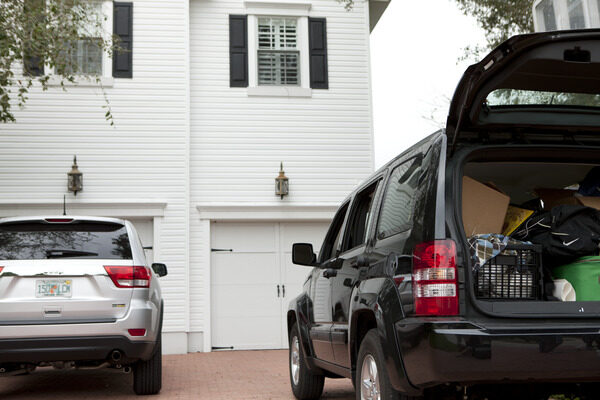 A garage often becomes a catch-all space in your home. Everything from tools and toys to brooms and bikes get stored here, which is why organization is key.
To help maximize space, try these six DIY garage organization ideas.
1. Declutter the space
Before you begin your DIY garage storage mission, start by getting rid of any unnecessary items you don't use or need. If the kids aren't playing hockey anymore, donate the gear. If you haven't fixed up an old lawn mower in the last year, it's time to give it to someone else or take it to your local recycling center.
If you have a large number of things to get rid of and your garbage service won't take it, consider using a private removal service. You can buy a giant canvas bag at a home improvement store, fill it with garbage and set up a time for a hauler to come and remove it. Fees apply, of course, but companies like this offer a simple way to rid your garage of junk.
2. Install a pegboard
A pegboard may be the most versatile of garage storage ideas. With a pegboard installed on a wall, you can hang just about every hand tool or gadget you have; seeing them out in the open makes them easier to find. Get a series of wire brackets to hang basic tools, and buy several hanging baskets that fit on pegboards. They're great for storing things like nails or bottles of glue.
3. Add a folding table
When you have two vehicles in the garage, there sometimes isn't enough room to do much else. Where do you work? Consider creating a drop-down folding table. Connect the table to the wall with hinges so you can fold the legs under and fold it up against the garage wall when you aren't using it.
4. Hang cans of spray paint
If you have a lot of spray paint, buy a hanging shoe organizer at a department store and use it to hold spray paint in your garage.
5. Utilize the space above your garage doors
There's a lot of empty space above garage doors that you can use. Consider installing wire shelves that attach to the ceiling as part of your DIY garage storage plan. Or you can try making some diy garage shelves. Either way, make sure the shelves are secure before you try storing anything on them.
Measure the available space before buying the shelf to make sure it will fit, and then buy durable tote bags that will fit on the shelves. It's a great place to store seasonal items, like holiday decorations, that you only need to access once a year.
6. Hang a utility rack
Rakes, shovels, hoes and brooms all take up space. Rather than lean them against the wall and trip over them, get a utility rack from a department store and hang up any tool with a long handle.
If space is an issue, you can buy individual hooks and hang them in tight spaces, such as between the garage doors, next to the tool bench or near the entrance to the house.
Also, check out this video for additional garage organizing ideas that can help you clean up your garage in no time.
An organized home — clean garage included — is a great place to spend time and make memories. Ensure your house is protected with homeowners insurance that gives you extra peace of mind.
Now that you know how to organize your garage, you might be inspired to tackle the whole house. Here are some tips and tricks to help you de-clutter your home.