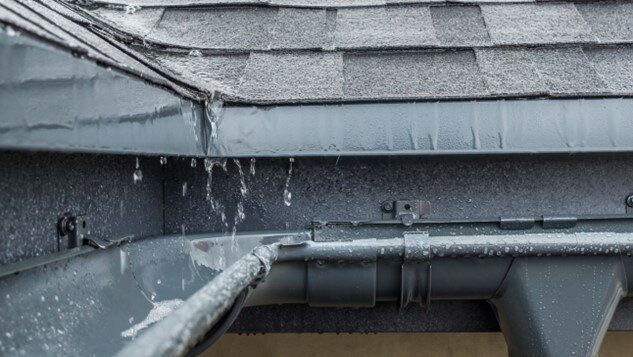 Many panic when they see water leaking from the roof. The first instinct may be to fix it yourself to save a few bucks. However, roof leaks can cause significant damage to a home if the underlying cause isn't discovered and repaired properly. Knowing how to prevent a leaking roof and what to do when your roof is leaking may save you time and money. Here are some important things to keep in mind if you encounter a roof leak.
Move things out of the way to prevent your belongings from getting water damage
Contain the water with buckets, garbage cans or anything else you can find
Relieve the water pressure by using a screwdriver to puncture the lowest point of the bulge hanging from your ceiling
Tarp the roof to cover the problem area
Take photos to document for insurance purposes
Call a professional roofing company to help repair the damaged area and assess other spots on your roof [1]
How to find a licensed roofer
Licensed roofers have experience learning how to identify different problems. They've also studied and learned the best ways to resolve them. You might think you can save some money by making the repairs yourself. But if the repairs aren't done properly, it could end up costing you more in the long run. When researching roofers, remember to seek out proper licensing and insurance, references you can contact, clear estimates on pricing, and most importantly, experience in your project and chosen material. [2]
Attempting to fix a leaky roof can be risky
Even with all the training roofers receive, they have one of the highest work-related death rates in the construction industry. About 50 roofers are killed on the job each year, mostly by falls. Residential roofers had almost twice the percentage of fatal falls from ladders compared to all roofers. These startling facts illustrate how dangerous it can be to work on a roof. [3]
Attempting to fix a roofing problem without the proper equipment and training is risky. What you save in money by hiring a professional may not be offset by the amount of time you spend and the tools and equipment you'll need to buy or rent to get the job done properly. Not only do professionals have the knowledge to get the job done right, but they also have the tools needed for whatever challenges your roof may possess. If you make a small or major mistake, it's necessary to call a roofing professional, which will cost you more in the long run. However, if the roofing company makes a mistake, they will come and fix the problem, usually at no extra cost to you. [4]
Contact your homeowner insurance agent if you're unsure about coverage
Often, homeowner policies cover the replacement of a roof if the damage is caused by an act of nature, such as winds, hail or the weight of heavy snow and ice. However, most policies won't pay to replace a roof that's gradually deteriorating due to wear-and-tear or neglect. Roofs that are over 20 years old often have limited coverage, if any. When the damage is minimal, even if caused by an act of nature, it might be classified as cosmetic damage and not be covered. See what's covered in your homeowner's insurance policy. [3]
Does homeowners insurance cover roof leaks?
If the leak is the result of age or lack of maintenance, your policy may not cover it. That's another reason you want to make sure you're maintaining your roof properly and only hiring qualified, licensed, insured professionals to do any necessary repairs. You'll want to review your insurance policy and see what's covered.
What causes a leaking roof?
There are numerous causes of roof leaks. Some of the most common are:
Clogged gutters. Gutters backing up with debris and causing water to soak through the roof.
Holes in the roof. Holes left behind in the roof after removing a TV antenna or other item that was mounted on the roof.
Excess moisture. Poor installation of upper roof gutters that saturates lower roof sections.
Missing shingles. Missing roof singles due to storms and high winds.
Damaged flashing. Loose flashing around a chimney or skylight that allows water to seep through. • Roof vents. Improperly sealed roof vents.
Old roof. Roofing materials are deteriorating due to age and weather conditions. The type of roofing material can affect how long your roof lasts. [5]
Knowing what might be causing your roof leaks is a good starting point. For example, if you realize your gutters are clogged, you can have them cleaned and see if that resolves the problem. However, if it's a bigger problem, you probably want to look at bringing in a professional to assess and repair the damage.
How to prevent roof leaks
Having a licensed professional inspect your roof every few years is a good way to find problems before you have a leak that can cause water damage inside your home. It takes a trained eye to detect the path of water and locate the source of the leak before it spreads and turns into a bigger leak with serious consequences.
Some roofing companies may perform these inspections at no charge because they're hoping to get your business in the future. Make sure that the company you choose to do the inspection is licensed, insured and in good standing with the Better Business Bureau. [6]
Here are some other things you can be doing to help prevent roof leaks. Check your attic for proper ventilation, inspect your roof's flashing, maintain your gutter system and keep an eye on trees close to your home. [7]
Other causes of water damage
Of course, a leaking roof isn't the only way that your home can suffer water damage. Water can also back up from your sewer and drains, which is not only dirty but is also a health hazard. Having water in your home in places it shouldn't cause a great deal of damage in a short time. As sewer systems age, the rate of sewer backups increases, according to the Civil Engineering Research Foundation.
You may be asking yourself: Does homeowner insurance cover water damage? The answer is to check your insurance policy to find out, but most of the time it depends on whether the water damage is accidental, sudden or gradual. Most policies may cover water damage from a leaking roof, however it's important to note that the coverage for water damage may not extend to backups from sewers and drains. Talk to your insurance agent to determine if you need an added endorsement to cover your home against these types of damage. [8]
Even the smallest leak in the roof can cause a big mess. Make sure your homeowner insurance has you covered and that you're doing proper preventive maintenance for your roof. Learn what you can do to prevent roof damage. Investing in it now can save you time and money down the road.
Sources:
[1] "7 Key Things to Do If Your Roof Is Leaking," aboveroofing.com/7-key-things-to-do-if-your-roof-is-leaking (June 23, 2020).
[2] "How to Find & Hire the Best Roofing Contractor," homeadvisor.com/r/hiring-a-roofer (Feb. 10, 2021).
[3] "Causes of Roofer Deaths," elcosh.org/document/1428/d000491/Causes%2Bof%2BRoofer%2BDeaths.html (Accessed July 18, 2022).
[4] "Why You Should Hire a Roofing Contractor Instead of Doing It Yourself," lifehack.org/articles/lifestyle/why-you-should-hire-roofing-contractor-instead-doing-yourself.html (Downloaded June 23, 2019).
[5] "Ten Common Reasons for Roof Leaks," homeguides.sfgate.com/ten-common-reasons-roof-leaks-84644.html (Accessed July 18, 2022).
[6] "Does Homeowners Insurance Cover Roof Replacement?" investopedia.com/ask/answers/111815/does-homeowners-insurance-cover-roof-replacement.asp June 28, 2021.
[7] "These Maintenance Tips will help you Prevent Roof Leaks and Prolong the Lifespan of your Roof," a-topconstruction.com/prevent-roof-leaks (March 25, 2020).
[8] "When You Can Claim for Water Damage Coverages on Home Insurance," thebalance.com/how-to-handle-water-damage-claims-3860314 (April 1, 2022).
Disclaimer: The information included is designed for informational purposes only. It is not legal, tax, financial or any other sort of advice, nor is it a substitute for such advice. The information may not apply to your specific situation. We have tried to make sure the information is accurate, but it could be outdated or even inaccurate in parts. It is the reader's responsibility to comply with any applicable local, state, or federal regulations. Nationwide Mutual Insurance Company, its affiliates and their employees make no warranties about the information nor guarantee of results, and they assume no liability in connection with the information provided. Nationwide and the Nationwide N and Eagle are service marks of Nationwide Mutual Insurance Company. © 2022 Nationwide