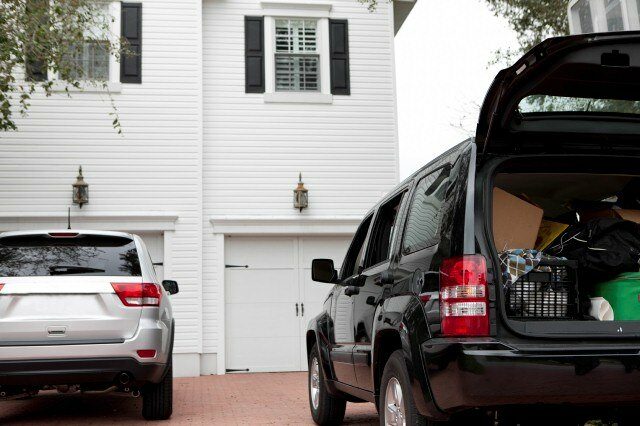 Your chateau-inspired house deserves semi-customized carriage doors for the garage. But, if your house is inspired by Bauhaus, custom glass and steel garage doors will look amazing. Mass-produced garage doors can look perfect for your mid-century modern home. With numerous choices available, your garage door can match your home's style as well as your budget.
There are three basic garage door types: customized, semi-customized and mass-produced. Most doors today are made of steel or wood but fiberglass, vinyl and aluminum options are also available. Many of these materials are designed to mimic the grain of wood to combine beauty with enhanced durability.
1. Customized garage doors
Customized garage doors help homeowners recreate classic antique carriage doors for heritage-inspired homes, sleek glass panels for Bauhaus designs or bold copper masterpieces, all with the convenience of roll-up doors. Every element of these made-to-measure doors can be customized, including materials, panel style, trim, color, windows and insulation.
With these high-end doors, expect heavy insulation, two-sided construction and weather seals along the bottom of the door and between panels, as well as caps at the top and ends to prevent the intrusion of wind and rain.
2. Semi-customized garage doors
Semi-customized garage doors are available in a wide range of door panel styles, window styles and colors. Typically made of 24-gauge steel, they are relatively lightweight and may include foam insulation.
When choosing semi-customized garage doors, you may need approval from your homeowners' association. Like custom garage doors, an installer will measure the door opening to ensure a suitable fit.
3. Mass-produced garage doors
Mass-produced doors are the least expensive option. These doors may have raised panels, but generally they don't include glass. They typically are made from thinner, 28-gauge steel or other material with limited or no insulation.
These doors typically are white and are available in only a few sizes.
Garage door materials
Homeowners can now choose from a variety of garage door materials, including:
Wood
Steel
Aluminum
Fiberglass
Wood composite
Vinyl
Each of these materials have multiple pros, cons, and features. Steel and paintable fiberglass doors realistically mimic the look of wood, providing elegant, light-weight options to homeowners. Vinyl doors are entering the market and claiming to be less susceptible to denting than steel. Modern steel doors boast baked-on finishes for both exterior and interior panels to increase durability and present a fresh look inside and out.
Wooden doors are most common in high-end carriage doors of cedar and fir, and in low-end tilt-up doors made from painted plywood.
At either price point, wooden doors require more maintenance than steel doors. Exposure to intense sunlight causes fading, and rain, salt and sand erode protective finishes. Therefore, the doors need periodic refinishing.
Garage door safety
Today's garage doors are vastly different from those made 15 years ago.Advanced glazes and insulation can help regulate the garage's temperature, making it more comfortable as a workshop. Insulation also dampens sound, making opening, closing and garage band practice a little quieter for you and your neighbors. One of the biggest safety issues, though, is older automatic garage doors that don't automatically reverse if they hit an obstruction, whether it's the trunk of a car, a bike or a child. The U.S. Consumer Product Safety Commission (USCPSC) strongly recommends that anyone with this type of automatic garage door replace it with a reversing opener.
Here are some other automatic garage door safety tips:
Inspect the garage door opener every 30 days. This includes all features, such as the ability to release the door from the opener to use it manually. Test the automatic reversing function by placing a piece of plywood in the door's path
Rely on a professional for repairs. If you even think something isn't right with the door or it doesn't pass the reverse test, don't try to do the work yourself—call a professional. Consider sticking with manual operation until repairs are complete.
Be sure you know how to safely operate the door manually. This is essential if your garage doesn't have a door into your house or a walk-out door to the yard, and it's just plain handy if there's a power outage.
Don't give children access to automatic controls. Keep the hand-held remote control where kids can't get to it and mount the in-garage controls as high up on the wall as possible.
Never run, walk or stand under a moving garage door. Even if the door has an automatic reverse function, it's not worth taking a chance that the door will come down on you. Always stand clear of any moving parts when operating the door—watch your fingers and toes.
Check the space between the garage ceiling and the open garage door before closing it. Pets and other animals have been known to sleep there and get tangled in the door as it closes.
Your choice in a garage door may be the only hint of your style that a passersby sees. Regardless of which style you choose, today's garage door options can help keep your home looking fresh and cared for while providing the enhanced functions that make your garage quieter and more comfortable.
For additional home upgrade ideas, learn about which home improvements can add the most value to your house.