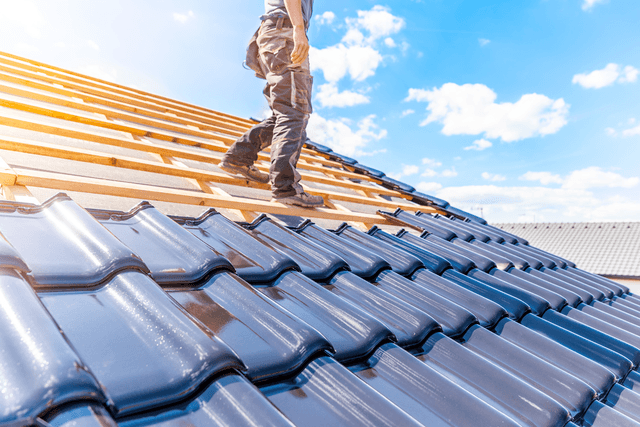 Homeownership comes with lots of responsibilities, and one of the most expensive is replacing your roof at the end of its life expectancy. But before choosing to replace your roof, there are some things to consider—and you should always consult a professional before making any decisions.
How often do roofs need to be replaced?
How often a roof will need to be replaced depends on a number of factors, such as the quality of the roof's installation, quality of materials used, and the type of roof. Generally speaking, this is how long a roof made of each material can last: [1]
Composition shingles: 12-20 years
Asphalt shingles: 15-30 years
Wood shingles: 30-40 years
Rubber roofs: 30-50 years
Metal roofs: 40-70 years
Clay tile roofs: 50-100 years
Slate tile roof: 75-200 years
Harsh winters and severe humidity can cause these materials to wear down faster. Looking at your roof after high winds and intense storms can help you keep your roof in top shape. Whether conducted by yourself or led by a roofing contractor, a twice-a-year inspection of your roof might also help you spot any damage before it becomes too great. [2]
Signs that a roof needs to be replaced
While there are a few things that can indicate your roof is no longer in its best shape, any one sign on its own doesn't necessarily mean your roof needs to be replaced. If you are worried about any visible signs of damage to your roof, a professional can help you decide whether a total replacement is necessary.
Loose, cracked, damaged or missing shingles
Missing, loose or damaged shingles can be detrimental to the integrity of your roof and can lead to problems such as water damage and lack of insulation. Finding exposed spots on your roof where shingles are missing or damaged can be difficult. Professionals are usually much faster at spotting missing shingles than homeowners. But if you'd like to take a look for yourself, you can safely do so with both feet on the ground using binoculars or with the help of a drone. You'll want to look at each shingle to ensure that they're sitting flat. Any shingles that are missing should catch your eye fairly quickly. If enough shingles are damaged or nails are exposed, patching your roof probably won't suffice; you will need a total replacement. [2][3][4]
Signs of water damage, mold, or rot
Boards of wood that span the trusses of your roof are known as roof decking or sheathing. Wet wood decking leads to wood rot, which can cause issues in additional areas of your home. Your roof probably has wood rot if the roof deck has dark spots, discoloration, crumbles, or cracks; feels spongy, or has a damp, musty smell. A roofer can also detect wood rot by stepping on shingles above the rot and feeling them give more than usual. If you suspect you may have wood rot, seek the help of a professional home inspector. Initial signs of water damage to your roof may go unnoticed until the damage becomes substantial. These are some signs of water damage to look out for: [5]
Fungal and mold growth, which can reduce air quality
Bulging or bowing, which will be visible on the roof from the outside; the shingles above this part of the roof might not work properly, and the roof decking can eventually fall in
Damage to wood in your home, including structural wood
Damaged insulation, which can increase the cost of heating and cooling your home
Damage to other home systems, such as your electrical system, particularly if wood rot goes unresolved
Damaged flashing
Flashing helps protect your roof from leaks. It's made of sheet metal, galvanized steel or aluminum, and you can typically find it around plumbing vents, skylights and chimneys. When working properly, flashing helps divert rainwater to the ground. However, when flashing fails, there are several noticeable signs: [6]
Cracks, dents and bends: This makes your flashing more prone to rusting
Rust: If your flashing has rust, it will need to be cleaned, sealed or replaced
Missing parts: Repairs should be made promptly if any of your flashing is missing
Holes: Sometimes small animals can create tiny holes in your roof that can result in leaks and should be sealed as soon as they are noticed
Leaks inside your house: You may find indicators of leaks around your fireplace, windows, skylights and attic
Mold or stains on fascia boards: If your flashing wasn't installed correctly, mold and water stains might develop on fascia boards
Damaged shingles or siding: This will look like bending or darkening on your shingles or siding near the flashing
A professional who is inspecting a roof for leaks or failed flashing will look out for loose nails, holes and broken seals at flashing edges.
Current roof was installed 20+ years ago
If your roof was installed 20 or more years ago, consult a professional home inspector or roofer. Roofs typically last about 20 years, and your roof may be reaching the end of its life span. [1]
Additional consideration: Are you planning on selling the house?
A new roof can be expensive, but one benefit is that it can add value to your home. While you may not necessarily recoup the cost of a roof replacement in the sale of your home, there are still several benefits to having a new roof installed. You may be more likely to get full asking price for your home, spend less time with your home on the market or have shorter negotiations. [7]
If you suspect your roof is damaged or you're nearing the end of your roof's life expectancy, consult a trusted professional before making any decision on repairs. Your roof is an essential part of your home, protecting the structure from leaks and damages. Furthermore, Nationwide is here with personal insurance plans to protect your home in case of disaster.
[1] "How Long Do Roofs Last? 5 Roof Types and Their Lifespans," fixr.com/resources/how-long-do-roofs-last (accessed June 2022).
[2] "How Often Should You Replace Your Roof?" roofadvisor.com/how-often-should-you-replace-your-roof (accessed June 2022).
[3] "Should I Replace My Roof? Here Are 21 Things to Consider" familyhandyman.com/list/should-i-replace-my-roof-here-are-21-things-to-considerfamilyhandyman.com/list/should-i-replace-my-roof-here-are-21-things-to-consider (accessed June 2022).
[4] "How Can I Tell If I Have Missing Roof Shingles?" hopewell-roofing.com/can-tell-missing-roof-shingles (accessed June 2022).
[5] "What is Wood Rot & When to Replace Roof Sheathing," io.com/na/pro/building-professional-tools/roofing-101/rotted-roof-deck-how-to-replace-roof-sheathing (accessed June 2022).
[6] "Roof Flashing Failure: Why It Occurs and Ways to Address It," negutters.com/blog/roofing/roof-flashing-failure-why-it-occurs-and-ways-to-address-it (accessed June 2022).
[7] "How Much Value Does a New Roof Add?" zillow.com/sellers-guide/should-i-replace-my-roof-before-selling (accessed June 2022).
Disclaimer: The information included here is designed for informational purposes only. It is not legal, tax, financial or any other sort of advice, nor is it a substitute for such advice. The information may not apply to your specific situation. We have tried to make sure the information is accurate, but it could be outdated or even inaccurate in parts. It is the reader's responsibility to comply with any applicable local, state or federal regulations. Nationwide Mutual Insurance Company, its affiliates and their employees make no warranties about the information nor guarantee of results, and they assume no liability in connection with the information provided. Nationwide and the Nationwide N and Eagle are service marks of Nationwide Mutual Insurance Company. © 2022 Nationwide