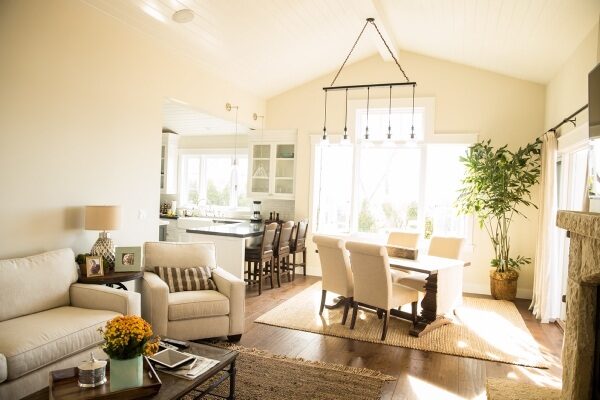 Remodeling with sustainability in mind is easier than you think, and may generate savings through reduced energy usage.
Going green, however, requires more forethought than money to make your home durable, healthy and pleasing. Here are just a few of the options and products you can use to make your remodeling projects more sustainable.
1. Counters and floors
In western Washington, Novustone Counters are a sustainable, local product. Manufactured in Seattle, recycled glass comprises up to 80% of the counter's components, and all ingredients originate within a 35-mile radius of the production facility.
Other sustainable counter options include PaperStone® and Caesarstone. Both rely heavily on recycling: PaperStone® is made from recycled paper, and Caesarstone recycles 97% of the water used during manufacturing.
Eco-friendly flooring options run the gamut from new, decorative cork tiles that insulate and cushion, to durable bamboo that can be harvested in about nine years rather than approximately 30 to 40 years for red alder or 90 years for oak trees.
Carpeting made from wool or recycled components is an alternative to hard floors. When shopping for carpets, look for natural fiber backing and adhesives that emit no VOCs or low levels of those ingredients.
2. Energy efficiency
In many ways, going green is all about energy efficiency. Generally, this means reducing energy consumption through more efficient building products. Controlling air leakage is one of the major goals. The most efficient, Net Zero homes (which generate as much energy as they consume), rely on tight seals and high performance mechanical systems to optimize airflow, efficiency and comfort.
Despite the mantra to "reduce, reuse, recycle," consider the tradeoffs between reusing and energy efficiency. Energy Star® appliances improve steadily, so replacing older models often saves money overall, particularly when energy rebates are included. Click the Energy Star Rebate Finder to identify rebates in your areas.
3. Windows and doors
When auditing your home for efficiency, remember to assess windows and doors. Low-E window coatings reflect interior heat back into the room during the winter, and in the summer reflect unwanted heat outside. Dynamic glass is another solution. Suntuitive Dynamic Glass, by Intuitive Innovations, automatically adjusts the window tint throughout the day, using only the heat from the sun. As it gets hotter outside, the windows darken to reduce glare and shield building occupants from UV light. Because birds are less likely to crash into these windows, the American Bird Conservancy has awarded the product "bird friendly" status.
Sustainable, recyclable materials are available for energy-efficient doors, too. Fiberglass, used for doors, windows and insulation, is one of the most energy-efficient materials available. Made mainly from sand, it requires little energy to produce. Because fiberglass doors don't need reinforcement they are lightweight, which means they require less fuel to transport. Those factors helped fiberglass earn Energy Star labeling.
Other sustainable door options include doors made from wood chips, reclaimed wood doors and dynamic glass doors that adjust to the sun.
4. Water
Water is an increasingly precious resource. To save water, homeowners can install low-flow shower heads and toilets, upgrade to more efficient water heaters and add hot water recirculation pumps so less water goes down the drain.
Toilets account for about 30% of homes' water usage.  Changing from the standard 1.6 gallon per flush models to EPA-certified WaterSense models, which use 1.28 gallons per flush, can save nearly 13,000 gallons of water and about $90 per year in reduced water bills. The new ultra-high efficiency toilets, use only 0.8 gallons and still provide powerful flushes.
Heat pump (also called hybrid) water heaters are another energy-efficient option. These heaters rely on ambient heat but switch to electric heat during periods of high usage.
Recirculating hot water throughout the house is another significant water-saving option. A study of homes in Arizona revealed that 23% of hot water was wasted each day waiting for it to arrive. Installing hot water recirculation pumps cut that to only 4% , for an annual savings of about 3,300 gallons and $61
5.  Air Quality
To improve indoor air quality, choose paints and finishes with low yields of "volatility organic compounds" (VOC), to minimize airborne toxins. In 2009, Consumer Reports said the best performing paints contained high levels of VOCs. That has since changed. Leading paint manufacturers such as Behr, Sherwin-Williams and Benjamin Moore, as well as eco-paints developers have launched paints that provide top performance and low or no VOCs.
Think locally when selecting building materials. Incorporating materials that originate in your region requires less energy than sourcing materials from afar. Watch for more new products and talk with eco-friendly builders to keep up on new ways to save resources for your planet and your wallet.