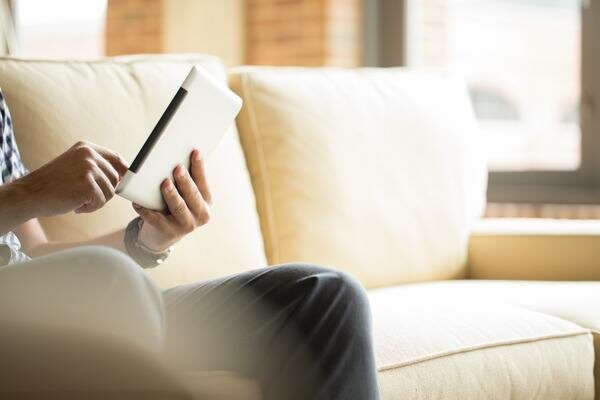 What is smart home technology?
Smart home technology allows homeowners to control gadgets, devices and home appliances using a smartphone or tablet through an internet connection. This helps with home security, convenience and even cost savings.
Home automation has been around for a long time, but the emergence of smartphones and Wi-Fi has made the technology more convenient and affordable. You can effortlessly control and receive notifications from home devices from anywhere using a connected device, such as a smartphone. [1]
Types of smart home devices
1. Smart home security system
Even when you're away from home, smart home security systems can let you get security alerts, access camera footage, lock doors, adjust lights and otherwise control home security.
If your home is supposed to be empty during your family getaway, many home security systems have the capability to notify you with a phone call, text or email if, for instance, a window is opened or a loud noise is detected on your property.
As a bonus, more advanced home security systems let you control "non-security" devices, such as smart plugs, which let you remotely control many household appliances. The systems also work with smart thermostats, which help lower your energy bills automatically. [2]
2. Water leak detection system
Another smart home device category homeowners are adopting falls under water leak detection. Consider this: You're away on vacation in the winter and a pipe in your home bursts due to freezing temperatures. If no one is checking on your home while you're away, you may come home and see a swampy mess.
Water-related incidents are very common and account for a significant amount of damage to homes every year.[2a]
Smart home leak detection systems may include water leak sensors that you place near higher-risk areas in your home, as well as devices that can be installed on your main water line to sense subtle and drastic changes to water pressure. These sensors and inline devices can notify you of water pressure changes or even shut off the water to the home if a significant leak is detected. Learn how you can make your home safer while saving on home insurance with the Nationwide smart home program.
3. Video doorbell camera
From the 1930s, when electric doorbells first came on the market, to 2012, when the first smart doorbell system was invented, doorbells have come a long way. Since then, smart video doorbells have taken off in popularity.
By 2020, 16% of homes in the U.S. had front door video doorbells installed. Video doorbells provide increased access and visibility to what occurs right outside your home. They allow you to accept important deliveries (even when you're not home), send unwanted visitors away conveniently and when combined with smart locks, let welcomed visitors in from anywhere in your home. Doorbell cameras also allow you to deter would-be criminals, protect packages left on your doorstep and communicate with strangers without exposing yourself or your home's interior. [3]
4. Smart plugs and smart outlets
With smart plugs or smart outlets, you can use your home Wi-Fi network to control lights with a smartphone or other connected device. This home automation technology can tell you how much power or energy you use on your electronics, giving you valuable insight into which electronics and appliances are costing you the most each month. Check out our summer energy savings guide for help cutting down on energy consumption from your electronics and more. [4]
4. Smart thermostat
Forgetting to adjust the thermostat when you leave your house can be a big waste of money. Smart thermostats offer convenient control of your home's thermostat right at your fingertips. The sophisticated automation technology can learn to preheat/cool your home based on your habits so that you're always comfortable. Of course, you can find a simpler device that allows you to set your thermostat manually over your smartphone, too. With a Wi-Fi enabled thermostat, you can take total control of your home's temperature settings.
Your thermostat is just one of many appliances you can control from a smart home app. Here's a list of smart appliances you may find helpful in modernizing your home. [5]
6. Smart irrigation controller
It's easy to forget to find someone to water your plants when you go on vacation. Fortunately, there's home automation technology that has your garden covered. Whether you're looking for complete Wi-Fi watering systems, moisture sensors, smart gardening apps and cloud platforms or gardening DIY and open-source systems, plant watering sensor systems can help. [6]
7. Smart smoke, carbon monoxide and electrical fire detectors
Fire and carbon monoxide are two of the biggest safety hazards in your home, so it's comforting to have the ability to monitor them from anywhere with a smart home app. Smart smoke alarms or carbon monoxide detectors will alert you when there's danger from smoke, fire or a malfunctioning appliance even when you aren't home. They can not only save your life, but also protect what is probably your single biggest financial investment. [7]
2022 Nationwide claims data shows a significant increase in the number of home electrical fires as well as the average cost to repair homes that are damaged by them. But now there are devices to monitor your home's electrical system and alert you to potential dangers, allowing you time to address issues before they escalate.[7a]
8. Smart light bulbs
More than just hands-free convenience, smart light bulbs can lower your energy bill because they use less energy than traditional incandescent bulbs. With the use of a smart app, you can link your lights to motion sensors to illuminate only when necessary and to ward off those who try to break into your home while you're away. Also convenient, you can program your smart bulbs to light up on a timer or when you enter the room. [8]
9. Smart locks
Smart locks give you a virtual spare key so you can leave your keys behind without needing to hide anything under your doormat. With this home automation technology, you can control your locks from anywhere with your mobile device. Many smart lock apps allow you to send virtual "keys" to friends, family members, visitors or service workers for a specified period of time so they can get in even if you aren't around. The app can also alert you who's coming and going and keeps a history of who goes in or out. [9]
10. Control your smart home devices from a single app
The best way to control your smart home is through a single device. A single smart home app can give you the capability of handling your whole home automation system. Apps such as Home Assistant, Apple Home, Amazon Alexa, Google Home and more turn your phone into a convenient pocket-sized control center and have the capability to prompt you when certain things need attention in your home in your home. [10]
Explore Nationwide's smart home insurance program
Discover a new, innovative way to better protect your home from water damage, break-ins, fires and more with the Nationwide smart home program. When you add this program you get a discount on your property insurance, additional peace of mind along with the potential for less damage with early detection and more. Please note that this program is offered only in certain regions.
Protect your home
While smart home apps may help make your home more secure or efficient, they don't protect your property or belongings if something unexpected happens. You'll need quality home insurance coverage to always enjoy peace of mind.
Sources:
[1] "What Is Smart Home Technology? A Guide for Absolute Beginners," makeuseof.com/what-is-smart-home-technology (Accessed Jan. 9, 2022).
[2] "Best Smart Home Security Systems of 2022," security.org/home-security-systems/best/smart-home (Accessed June 29, 2022).
[2a] "Facts + Statistics: Homeowners and renters insurance," Nationwide,.iii.org/fact-statistic/facts-statistics-homeowners-and-renters-insurance/ (Accessed April 3, 2023).
[3] "Doorbell Cameras in the U.S. – Statistics & Facts, 2021," safehome.org/doorbell-cameras/statistics (Accessed July 26, 2021).
[4] "Smart plugs: what they do and how to best use them," asurion.com/connect/tech-tips/smart-plugs-what-they-do-and-how-to-best-use-them-in-your-home (Accessed Aug. 11, 2022).
[5] "What is a smart thermostat?" digitaltrends.com/home/what-is-a-smart-thermostat/#dt-heading-what-exactly-is-a-smart-thermostat (Accessed Dec. 2, 2019).
[6] "What Is Smart Irrigation?" hydropoint.com/what-is-smart-irrigation (Accessed Aug. 11, 2022).
[7] "Best smart smoke detector to keep your home safe," techhive.com/article/583050/best-smart-smoke-detector.html (Accessed Feb. 28, 2022).
[7a] "Home electrical fires on the rise," news.nationwide.com/home-electrical-fires-on-the-rise/ (Accessed April 3, 2023).
[8] "9 things you never knew you could do with smart lights," tomsguide.com/how-to/9-things-you-never-knew-you-could-do-with-smart-lights (Accessed June 16, 2022).
[9] "What Is a Smart Door Lock – and Do You Need One?" hometips.com/buying-guides/smart-door-lock.html (Accessed Oct. 22, 2020).
[10] "The Best Apps to Control All Your Smart Home Devices," myintelligenthouse.com/the-best-apps-to-control-all-your-smart-home-devices (Accessed Aug. 11, 2022).
Disclaimer:
Availability varies by state, coverage selections and rating factors. The discount applies to fire, theft, and water coverages. Program criteria differ in California and Washington. The Smart Home monitoring system and related support will be provided by the third-party system provider. Nationwide is not responsible for the system or any home monitoring.
The information included here is designed for informational purposes only. It is not legal, tax, financial or any other sort of advice, nor is it a substitute for such advice. The information may not apply to your specific situation. We have tried to make sure the information is accurate, but it could be outdated or even inaccurate in parts. It is the reader's responsibility to comply with any applicable local, state or federal regulations. Nationwide Mutual Insurance Company, its affiliates and their employees make no warranties about the information nor guarantee of results, and they assume no liability in connection with the information provided. Nationwide and the Nationwide N and Eagle are service marks of Nationwide Mutual Insurance Company. © 2023 Nationwide