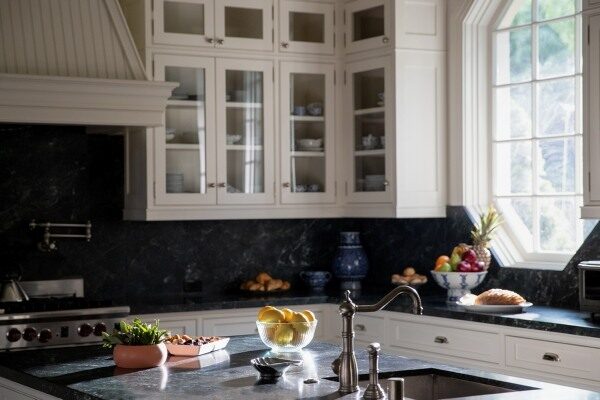 If you've never done a kitchen renovation, you probably know someone who has. Kitchens are the most popular part of the home to renovate, and it's easy to see why.1 Updating your home to better match your tastes and serve your required functionality can be a thrill, and it's also a way to add value to your home.
There are many ways to do it. A search for home renovations on the internet turns up several kitchen update ideas. You can keep the work to individual areas, such as cabinets or appliances, add features like kitchen islands, or even renovate the entire thing. With so many options, it can be hard to figure out details like how much to spend on your kitchen remodel. Remodeling a kitchen is a lot of work, but it is immensely rewarding, and we're here to help you get started. Here are six kitchen renovation ideas that you can use to revamp your space and increase its value.
1. Paint or refinish your kitchen cabinets
Painting or refinishing your cabinets is a cost-effective way to transform your kitchen space. Dented and dingy old cabinets sit at eye level in a kitchen and can cast a disproportionately long shadow on the overall look of the room. Always make sure you select a shade of paint or stain that melds naturally with the color scheme of the rest of your home.
Other kitchen cabinet update ideas can be as simple as replacing cabinet hardware, or as in-depth as replacing the whole thing. Like with the rest of your kitchen, small changes can go a long way.
2. Add a kitchen island
Few things can transform a kitchen like a kitchen island. Kitchen islands drastically open up the room by offering depth and making more efficient use of the space. They're also incredibly versatile. Kitchen islands can serve every role from food prep space to kitchen table. This is also a feature upon which you can spend as much or as little as you want. A freestanding table in the center of your kitchen can serve as an inexpensive island if you select a design that plays well with the rest of your layout. A more permanent island can cost anywhere from hundreds to thousands depending on the size, materials, and accessories it comes with.2
3. Install new energy-efficient appliances
There are plenty of ways to save on the amount of energy your home uses, and switching to newer, energy-efficient appliances in your kitchen is an excellent one. Refrigerators, washing machines, ovens, stoves, and smaller appliances like toasters all come in newer models that save on the amount of water and energy used. You can identify these appliances via the Energy Star label they come with, which certifies them as meeting or exceeding federal energy usage standards.3
New appliances are also a long-term investment that can boost home value. It seems obvious, but a home with newer kitchen appliances will have a value edge over a similar home with older appliances.
4. Consider updating your kitchen floor
Flooring is often forgotten about in the kitchen. With so many renovation options at eye level, it's easy to overlook the surface beneath your feet. However, kitchen floors take as much of a beating over time as any part of the room. Every time something spills, every time new appliances are dragged in, every time you cook with hot oil and it bubbles and spits, your floor gets dirtied and damaged. Over time, this can add up. Replacing your floor with new flooring that is more durable and easier to clean can be an investment that pays dividends down the road. Hardwood, artificial wood alternatives, and ceramic tile are all good choices for a floor that cleans up easily and lasts a long time. New flooring also adds a subtle polish to the room that can't be understated.
5. Install a backsplash
Installing a backsplash behind your stove is another excellent way to protect harder-to-clean surfaces. Besides making splashes of oil and other liquids easier to clean off the wall, backsplashes can also visually transform a space by adding additional color to the palette of your countertops and cabinets.
6. Update lighting
A dingy kitchen is made all the dingier by poor lighting. Updating your fixtures with energy-efficient LED bulbs can do wonders for the overall feel of the space. You can install track lighting and dimmers as well to further augment the space and help you control the way it feels on a situational basis. Besides the look of it, a well-lit kitchen is also important so that you can see what you're doing when you're cooking.
How much value does a kitchen remodel add?
Broadly speaking, there are two cost categories of kitchen renovation, major and minor.
The average minor renovation costs just over $23,000. As you might expect, this kind of renovation involves only partially remodeling, replacing only the cabinets, or just the countertop and floor.
The average major renovation costs just shy of $68,500. This sort of remodeling frequently involves gutting the entire space and replacing most, if not all, of the existing features.
The returns you'll get from each type of renovation aren't what everyone might expect. The highest ROI comes from the lower cost remodel, averaging a 77.6 percent return. Higher cost renovations, conversely, create average returns of 58.6 percent.4
So, how much value does a kitchen remodel add? It depends on how much you put in. The good thing about kitchen remodel ROI is that it's almost always going to be positive, meaning it's usually better to do something than nothing.
Whether you're renovating to increase home value or to bring your kitchen into the 21st century with smart appliances, it's always important to prioritize the most important parts of the job first. Replace faulty appliances and have serious maintenance issues attended to before getting into the fun stuff. And always approach every renovation with a safety-first mentality. Discover these home remodeling safety considerations to keep your family and construction workers safe while your project is underway.
1https://www.mymove.com/home-renovation/guides/most-popular-rooms-to-remodel/ , Accessed July 2021.
2https://www.thisoldhouse.com/kitchens/21018190/all-about-kitchen-islands, Accessed July 2021.
3https://www.energy.gov/energysaver/kitchen-appliances, Accessed July 2021.
4https://www.remodeling.hw.net/cost-vs-value/2020/, Accessed August 2021.
Disclaimer:
The information included is designed for informational purposes only. It is not legal, tax, financial or any other sort of advice, nor is it a substitute for such advice. The information may not apply to your specific situation. We have tried to make sure the information is accurate, but it could be outdated or even inaccurate in parts. It is the reader's responsibility to comply with any applicable local, state, or federal regulations. Nationwide Mutual Insurance Company, its affiliates and their employees make no warranties about the information nor guarantee of results, and they assume no liability in connection with the information provided. Nationwide, Nationwide is on your side, and the Nationwide N and Eagle are services marks of Nationwide Mutual Insurance Company. © 2021 Nationwide.