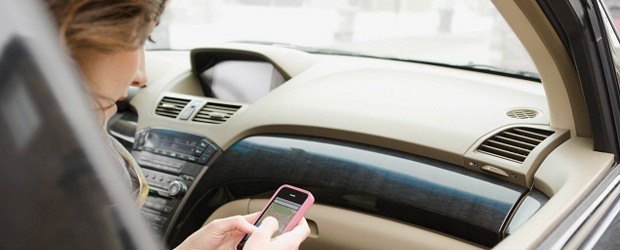 When it comes to texting and driving, the frequent distractions are turning deadly.
Overall, an estimated 421,000 people were injured in vehicle crashes involving a distracted motorist in 2012, according to Distraction.gov. Teens are particularly vulnerable, as 21% of drivers from age 15 to 19 who were involved in fatal crashes are distracted by the use of cell phones. "Distraction" covers all types of behaviors — from talking on the phone, to looking at the GPS, to eating a sandwich.
It's clear, however, that texting while behind the wheel is emerging as a leading concern within the discussion. In fact, motorists who text while driving are 23 times more likely to cause an accident than those who aren't, according to the Virginia Tech Transportation Institute.
Every time you text while behind the wheel, you have your eyes off the road for no less than five seconds — the time it takes to cross the length of a football field at 55 mph, according to the institute's findings. The practice also slows down your brake-reaction speed by 18%, according to the Human Factors and Ergonomics Society. "Taking your eyes of the road is extremely dangerous," says Bill Windsor, Associate Vice President of Consumer Safety for Nationwide. "That one time when a car comes out of nowhere or a child runs between two cars, it can mean the difference between life and death. No text message or email is worth hurting yourself or someone else."
You may think, "But I can't stop doing this." But you can. And it's easier than you think:
Set boundaries
We've become a society that craves constant tech connectivity. Research shows that the average person checks his or her mobile device nine times an hour. Still, you can establish boundaries with work colleagues, family and friends. You can politely let them know that you simply are not accessible while driving, and that safety is your foremost concern. "Enroll your family, friends and associates as part of this promise," says Dr. Nancy B. Irwin, a Los Angeles-based doctor of psychology and speaker who has addressed the issue of teen texting while driving. "Whoever violates the commitment will have to contribute a few bucks to the 'pool.' Then use the money to buy books on tape or other 'safe' products to occupy time on the road for the group to share."
Make it disappear
No, we don't mean chuck your device entirely. (Let's face it: For most people, it would be like going without oxygen.) However if the device is out of reach, you won't be physically able to respond to it, states StopTextsStopWrecks.org, a collaborative effort to raise awareness about the problem of texting while driving from the Ad Council, the National Highway Traffic Safety Administration (NHTSA) and a coalition of state attorneys general. Try placing your phone in the back seat or somewhere else beyond easy access, the site suggests. "To get home safely to your loved ones, put the phone away and focus on your driving," Windsor says.
Go "silent"
If you can't hear your phone, you won't get a steady stream of "chirps" and alerts that tempt you to pick it up and respond to a message. Turn the silencer on as soon as you get into the car. "We have been trained from birth to answer the phone when it rings," Windsor says. "We just cannot help ourselves. By putting the phone on silent, you remove this temptation."
Appoint a "designated texter"
If you have a passenger, hand off the device to him or her so you can still respond without using your hands, StopTextsStopWrecks.org advises.
Get an app
While it may seem ironic, there are plenty of tech products that address this issue. Textecution, for example, is an app that disables texting once it detects that you're moving faster than 10 mph.
Face reality
As indicated above, the numbers don't lie — texting while driving represents one of the most dangerous behaviors out there among motorists. You're six times likelier to cause a crash while texting than you would if you drive while intoxicated, according to LosAngelesDUILawyer.org. That means there's a simple but powerful reason to stop once and for all: It's the right thing for responsible citizens to do. (Besides, if you're a parent you'll set a better example for your kids.
"It is difficult for a person who has not been involved in an auto accident to understand the gravity of the situation," says Michael P. Perenich, a Clearwater, Fla.-based attorney who has represented clients in cases involving texting-related incidents. "However, you certainly do not want to be a defendant or have a lawsuit filed against you and you will never forgive yourself if you injure another person, or do something worse."
Nationwide values safe driving. If you sign up for Vanishing Deductible® your careful driving habits can help lower your deductible by up to $500.