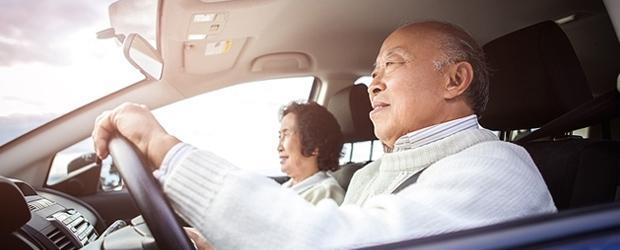 What adult children should look for and how to help.
When is it time for a senior parent to stop driving? It's a question many adult children don't want to think about, but they should.
In 2012, there were 3,616 fatal car crashes involving older drivers, according to the most recent data from the Insurance Institute for Highway Safety (IIHS). While the number of such annual incidents has decreased since 1997, more than five motorists 70 or older die for every 1,000 automotive accidents involving this age group, which is triple the rate of those age 35 to 54, the IIHS reports.
"When to stop driving is one of the most difficult conversations you can have with an older parent," says Bill Windsor, Associate Vice President of Consumer Safety for Nationwide. "From your parents' perspective, driving represents the gateway to their independence, a way to maintain control over their lives. But there are trouble signs that could increase the risk of a crash."
Here's a guide for adult children of seniors with respect to potential red flags, suggestions for adjustments and tips for having a difficult discussion about not driving any longer:
Cautionary observation
Diminished motor function, reaction times and cognitive abilities can all impact driving. Watch to see if the senior parent in question struggles to look over his or her shoulder to change lanes, or turn from left to right at intersections to check for pedestrians, suggests Helpguide.org, a site which specializes in mental health guidance and related topics.
"You can make assessments based upon talks with your parent's friends, or your own observations," Windsor says. "Are they having trouble with the basics? Are they getting lost frequently, or having near crashes?"
Expert opinion
Regular medical checkups are key – for vision, hearing, mental alertness and even whether the senior parent is getting enough sleep. "This checkup should include an exchange with the doctor about how your parent's condition is impacting his or her ability to drive safely," Windsor says, "as well as if there are any prescriptions being taken that are causing problems."
Back to school
There are many ways to extend longevity for fitness for the road. Daily exercise will improve strength, flexibility, conditioning and mental focus of older drivers. "A parent can also take a defensive driving course to sharpen skills," Windsor says. "In the process, he or she could earn a discount on insurance premiums."
When it's time to talk…
Here are some takeaways from Windsor and Helpguide about how to approach an elderly parent with concerns, including the possibility of giving up the keys:
Be respectful.

 You won't get anywhere with a confrontational manner or lots of accusations. To avoid backing your parent into a defensive corner, approach him or her with empathy. "Put yourself in their shoes by understanding how trying this kind of transition can be," Windsor says. "In a non-critical way, provide factual examples of what you and others have seen."

Enlist a detached professional party.

 If a driving specialist or the family doctor takes part in the conversation, the parent may respond more positively, as opposed to dismissively perceiving urgings from a family member as "nagging."

Ease in with a transition.

 Instead of asking a parent to go "cold turkey," you might suggest little adjustments at first, such as not driving at night or on busy freeways.

Have a plan.

 If you feel a parent really should stop driving, it's best to offer alternatives for getting around so he or she won't feel "trapped" and housebound. Options include public transportation, ride sharing, community shuttles, senior transit, taxis and walking. "Collect lots of information and come up with a viable action plan," Windsor says.
By adding Nationwide Roadside Assistance coverage to their policy, seniors can drive with peace of mind.