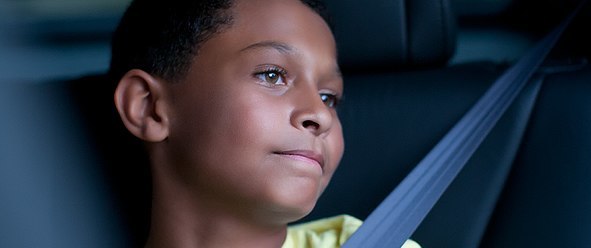 Protect your precious cargo on the go.
To help create a safe environment for your infant and/or young child, you need to pay as much attention to your vehicle as your home. Here's how:
1. Car-seat safety
Evaluate whether the seat is a proper fit for your car (not all are). The safety seat must be properly installed, too. You can often get assistance from a local firehouse, police station or another child car-seat inspection station where certified technicians are readily available. (You can find those stations here.)
As for how long to keep toddlers in a rear-facing seat? The American Academy of Pediatrics recommends until age 2, or until they've reached the maximum height and weight for their seat.
"This is challenging because many parents want their kids to face forward sooner," says Kellie O'Riordan, a health educator/certified child passenger safety instructor at Nationwide Children's Hospital in Columbus, Ohio, and instructor for the National Center for the Safe Transportation of Children with Special Health Care Needs. "They want to interact with them. But this increases the risk of trauma in the event of a crash. In a rear-facing seat, the shell of the car seat itself and the harness will absorb the crash force, and protect the head, neck and spine. When they're ready to face forward, keep them in a five-point harness as long as you can, until they reach the upper weight and height limits of that seat."
Also: Never place a child in a rear-facing seat in the front seat of a car with an active passenger air bag. During a crash, the bag would likely strike the back of the seat hard enough to cause a serious, or even fatal, injury.
2. Back-loaded
All kids younger than 13 should ride in the back seat. They should remain in a belt-positioning booster seat until they're 4 feet 9 inches tall. Industry research shows that protection is reduced by 40 percent when a child sits in the front. "Many parents want to 'reward' a child by letting him or her sit in the front seat before they reach these milestones, which creates risks," says O'Riordan.
3. Healthy thinking
Always have a first-aid kit in the vehicle, along with a manual, non-latex gloves, bandages, antiseptic wipes and an instant cold compress. Make sure the cell phone is charged and preprogrammed with emergency numbers, including your child's doctor's office.
4. Secured storage
As for that kit, as well as sporting equipment, groceries, laptops and other items, store them in an area like the trunk or the rear of the minivan/SUV. "You want to eliminate the possibility of these items becoming a dangerous projectile during a crash," O'Riordan says. "Put sports equipment like cleats, balls and bats in a big bag that is secured in the vehicle. Even a soccer ball has the potential of picking up great force during a crash."
5. Put it away
More than one-quarter of all traffic crashes are linked to drivers using cell phones and texting, according to the National Safety Council. Sending or reading just one text takes your eyes off the road for 4.6 seconds—at 55 mph, that's enough to drive the length of an entire football field blindfolded. The benefits here are twofold: You will elevate your sense of alertness while you drive. And you'll set a terrific example for your kids to remember when they become young drivers.
"Many of us are in a hurry, and consider our vehicle as an office and traffic lights as 'downtime,'" says O'Riordan, whose hospital has posted a "No Texting While Driving" pledge form. "But the data is clear. Even doing it 'just at a red light' is very risky. You're not paying attention to your peripherals. It's best to put the devices away, because nothing is more important than your family's safety."
Texting data sources:
http://www.nsc.org/Page/NSCestimates16millioncrashescausedbydriversusingcellphonesandtexting.aspx
http://www.distraction.gov/stats-research-laws/faq.html

Do You Have Kids Who Drive? Find out how the Nationwide Family Plan® allows you to share your insurance discounts with other drivers in your household, including your teenage drivers.