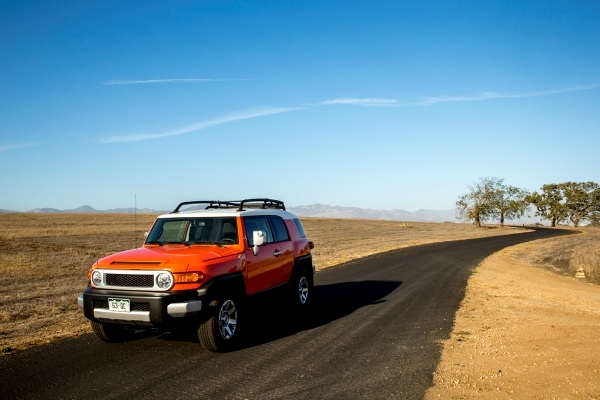 Your pleasure may be hiking, biking or kayaking. Perhaps you want to attend four baseball games in four towns over a long weekend, or you could be looking to lose yourself in a place you've never been.
Regardless of the intention, many of us love road trips — including the kind that are relatively spontaneous. According to a AAA survey, about two-thirds of Americans take leisure trips between Memorial Day and Labor Day, averaging 3.5 trips during the summer months. Just because you're heading out with only a few days to prepare, however, doesn't mean you should go entirely on the fly. Consider these simple steps so you get to your destination safely (and affordably):
Give your car a quick check-up
The experts at Valvoline Instant Oil Change and Champtires.com recommend these "to-do's."
Check oil levels and the filter. You may have burned through oil during the winter, as cold temperatures make fluids thicker and cause unwanted friction, so check the levels to make sure you're not low. Likewise, you should inspect the filter before a long trip, as it should be changed every 12,000 to 15,000 miles.
Power up. See if the battery needs to be replaced. A long, cold winter will drain a battery by up to 50% due to the increased power needed for defrosting, heating and windshield wiper usage.
Test wipers. Speaking of those wipers, you never want to travel with worn blades. Install a new set if they're not working properly and refill wiper fluid if needed.
Remember emergency essentials. An emergency kit containing a flashlight, extra batteries, water, flares and blankets should always be readily accessible.
Tread carefully. Don't head out with tires on their last legs. Otherwise, you may not be able to brake quickly and efficiently, and you run a greater risk of a potentially dangerous blowout. To check, put a penny into the tread. If Lincoln's head is visible, it's time to buy new tires.
Stay thrifty on the road
A spontaneous road trip doesn't have to be an expensive one. Last-minute lodging deals can be found at sites such as Kayak.com, Hotwire.com and Hotels.com. And no matter where you end up, you can stay on top of the closest, cheapest available fuel prices through sites like Gasbuddy.com and GasPriceWatch.com.
Keep the kids in mind
With infants, for example, you should take soft toys for the car that won't cause any hazards in case of a traffic mishap. (Toys with sharper edges can transform into projectiles during an accident.) With young children, you don't want small toys/games with lots of pieces. "Because the pieces will drop throughout the drive and you'll eventually lose them," says Corinne McDermott, founder of HaveBabyWillTravel.com. "Pack simple games and toys. You'll all be happier."
Temperatures will fluctuate during different times of the day, especially in spring/early summer. To keep the kids comfy, dress them in layers so they can bundle up in the early morning hours and peel off as the sun rises, McDermott says.
Carry gear carefully
In many cases, the highway is a gateway to a great outdoors adventure. If you're taking lots of gear, consider these tips from Thule, which supplies sporting equipment and other products for the active traveler:
For kayaks and canoes, use bow and stern tie-down lines. The stern line will stabilize the equipment in case of a sudden stop, and the bow line will help resist the upward force generated underneath the boat to prevent wind from pushing it off.
For bikes, only load as many as are suitable for the rack. Most manufacturers rate carriers according to the number of bikes and weight it can handle. For safe installation, always follow the manual instructions.
Hitting the open road in an RV? Make sure you have Nationwide RV insurance, which covers collision, theft and vandalism. Plus, bundling policies and completing approved RV safety courses can qualify you for a discount.