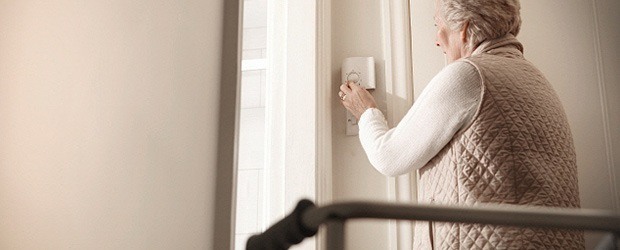 Make your living space safe and comfortable for older adults.
Many older people prefer the comforts of a home over the transition to a senior living facility. But the truth is that most homes are not as well equipped as those facilities when it comes to safety. If you make the decision to invite an older loved one to live with you, it's important to prepare your home accordingly.
These simple modifications can make any home safe and sound for elderly family members.
Prevent falls
Tumbles may seem like harmless accidents that could only cause minor problems, but falls are one of the leading causes of injury and death in adults over age 65.
It's important to take these steps to make your home walkways safe and clear for seniors:
Place non-slip mats in showers and bathtubs. Install sturdy handrails alongside tubs and toilets.
Make sure there is bright lighting throughout your home – especially on stairs. Plug in powerful nightlights for all bathrooms and hallways.
Remove potential trip hazards like extension cords and throw rugs. Replace raised doorway thresholds with flatter versions. And always keep pathways free of clutter.
Apply non-skid wax to floors. Be sure to wipe up all spills right away, no matter how small.
Install handrails on both sides of all stairways.
Add rubber tips to walkers, and use steel wool to frequently clean the bottoms of crutches or canes.
Encourage your loved one to wear supportive, non-skid shoes or slippers around the house.
Encourage independence
Older adults may need assistance and guidance – but they also need independence and privacy. Being able to take care of certain things by themselves is important for their mental well-being. Plus, allowing them to be in charge of some elements of their own care also reduces the workload for caregivers.
To help seniors be independent:
Purchase a shower chair or bench to help them bathe privately.
Replace any cabinet doorknobs or faucets that are difficult to use.
Keep frequently-used items within easy reach.
Buy user-friendly telephones and remote controls with large numbers.
Place a small refrigerator in their bedroom and fill it with water bottles and snacks.
Create comfort
Make sure your guest truly feels at home. Senior adults should feel safe, both physically and emotionally. To accomplish this:
Be sure doors are wide enough to accommodate a walker or wheelchair.
Place a sturdy table with a tip-proof lamp beside the bed.
Position a cushioned chair near the closet or bureau to make getting dressed easier.
Make sure your water heater temperature is low enough to prevent scalding.
Add a television or radio to the bedroom, if your loved one would like one.
Encourage your loved one to bring reminders of home, such as photos, pillows or other special items.
Invite your loved one to participate in household activities, like meal planning or movie night.
Check in from time to time to ask if there is anything else you can do to make your home more comfortable.