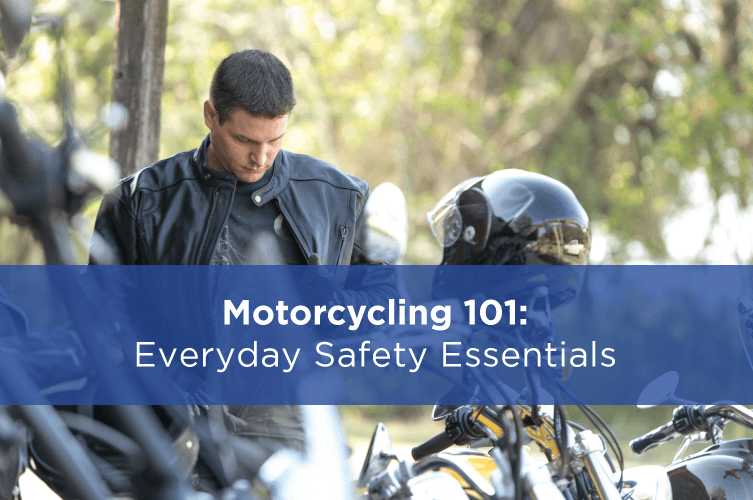 You've completed a motorcycle safety course and received your license. Now you're ready to take your skills to the open road. Just make sure you're equipped with the right riding gear first. Consider these equipment essentials:
The Must-Have Motorcycle Safety Equipment
Fitted Helmet
One of the most crucial motorcycle accessories is a helmet. Investing in a good helmet is an investment into your safety, so choose wisely.
Look for a full-face helmet for the most protection. According to a study, 40% of impacts occur directly to the face area and only .4% to the top of the head.
Check for the required Department of Transportation- (DOT-) approved sticker on the helmet – it's required by law.
Check the fit. A well-fitting helmet snugly holds your head without any distinct pressure points. It should also not be able to rotate independently of your scalp.
Consider an "ECE 22.05" certified helmet, which is the European Union's legal standard. These lighter helmets work to prevent concussions and are worn by racers in the MotoGP – the premier motorcycle racing world championship.
Secure Jacket
A jacket designed specifically to protect a motorcyclist's body is a must. Here's why:
Motorcycle jackets have doubled seams to better protect the stitching and prevent bursting.
They're designed to block cold air and have vents to let cool air in when needed.
Jackets have impact-absorbing material to protect fragile body parts. Make sure your jacket has a "CE" safety rating.
Protective Pants
Motorcycle riding pants should fit snugly, but also allow you to comfortably move your legs. Other considerations:
The pants should have CE-rated armor in the hips, shins and knees.
Before purchasing, test them out while sitting on a bike, if possible, to get an idea of how they feel.
Zipping your pants to your jacket offers more security. Look for pants that are made from the same manufacturer as your jacket. They will usually specify if the pair is compatible to zip together.
For even more protection, consider a head-to-toe motorcycle suit.
Sturdy Gloves and Boots
Don't forget to protect your other extremities with the right boots and gloves. Look for:
A wrist retention strap to keep gloves from sliding off.
Full coverage of your entire hand without any gap between the glove and your jacket. Skin should never be exposed.
Strong materials, such as Kevlar, which protects against abrasions and bursting.
Boots should be oil-resistant, offer good ankle support and have non-slip soles. Choose soles with a metal plate running through them to prevent twisting.
Make sure boots lace securely above the ankle.
Safety should be a priority for every aspect of riding – from your gear to your bike. Stay tuned for the final installment of our Motorcycling 101 series to learn about what to look for when purchasing your first motorcycle.