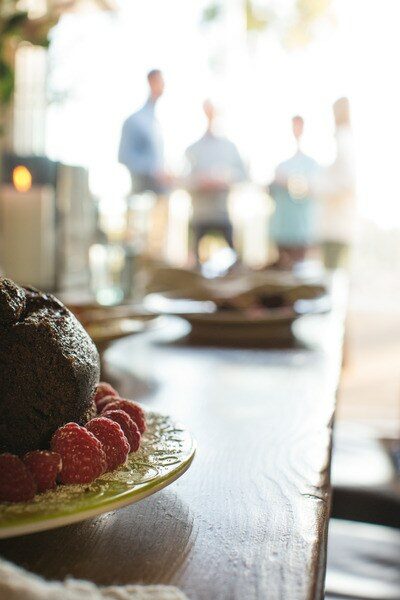 Hosting a party is a great way to celebrate special occasions like birthdays, holidays and promotions. However, it can get expensive if you don't set a budget and stick to it. With a thoughtful plan, you can throw a memorable party on a budget. Use these tips to know how to plan a party without overspending.
Plan your party
Choosing the time
Planning the time of your party can play a role in determining the cost. Not every party requires a full meal. Hosting a party in between mealtimes can lower your food budget. A party from 2 p.m. to 4 p.m. might include light snacks, while a party beginning at 8 p.m. might be a perfect setting for easy desserts.
Accommodating Guests
Money isn't necessarily what makes a party successful. "It's the people," says Cristina Verger, who runs an event planning company in New York City. "Who are you inviting and how will you make them feel welcome?"
Offer plenty of comfortable seating for older guests. If smaller children are coming, create a supervised play area for them and perhaps a separate buffet table with foods they enjoy, like mac and cheese or hot dogs. If your friends often get together, try co-hosting to cut down on the costs. Multiple people can share the costs of food, decorations and event-space rental, if needed. Or, each person can volunteer to cover a specific cost, with one person handling food and another doing the decorating. This typically works better — and is more equitable — if the budgets are around the same amount.
Sending Invitations
To save on invitations, use an online service that delivers information via email. Most people rely heavily on emails, and these services allow you to easily see who can make it. Email-invitation services can also send RSVP reminders. This not only saves on the cost of invitations and postage, but it also provides a more accurate head count. Using the reminders, guests can adjust their attendance if anything changes. You have attendee information compiled digitally, which makes planning easier.
Set the scene with simple party decorations
When decorating, less can be more. It's simple to create a visually impactful setting with just a few well-placed candles and flowers. One small bouquet of cut flowers in your entryway or on the mantel is enough to denote this is a special event. If your party is outdoors, gather flowers from your garden and put them into simple glass jars on each table. Twinkle lights over the buffet or beverage station bring a festive feel.
Chicago-based event planner Debi Lilly, whose clients have included Oprah Winfrey and jewelers Harry Winston and Cartier, suggests a "visual, exciting theme you can bring alive through a few large pops of decor – like covering your living room ceiling with dozens of affordable helium balloons in one single bright, fun color to surprise guests as they arrive."
Table settings can follow the same suit. Streamline and save by adding in accents that wow your guests without adding to the cost. Colorful tablecloths or runners, simple centerpieces and a sprig of greenery in each napkin roll add just enough detail to elevate the experience. Andrew Zill, design director of the award-winning Baltimore event-planning firm Feats, Inc, uses fabric and wallpaper remnants as tablecloths or table runners.
Party food ideas on a budget
From cocktail parties to formal dinner parties, the food is often a focal point. When planning your menu, consider options that are filling but lower in cost. Think a tapas-style party with kabobs mixed with cheese trays and a variety of crudités and dips.
A dinner party is traditionally more formal than a standard get-together. You can still serve an elegant sit-down meal on a budget by focusing on a lower-cost protein or a simple yet impressive pasta dish.
Offering a buffet at your party is an easy way to stretch your budget. Buffets allow you to offer a few options, and you can add in more economical dishes that help to stretch the budget. Serve expensive foods — such as barbecue meatballs or chicken cordon bleu bites in smaller portion sizes to encourage guests to try a little bit of everything. The time-honored potluck is gold standard for stretching a budget, too. Provide the main dish and ask your guests to round out the meal with their favorite sides and desserts.
Toasting on a budget
When thinking about drinks at your party, keeping it simple helps. For non-alcoholic options, set up attractive dispensers or pitchers filled with iced water with fruit slices, freshly-brewed iced tea and homemade lemonade. This is a cheaper option than bottles of water and sodas. It also cuts down on waste.
Adult beverages typically include beer and wine. Depending on the number of guests, a party keg can keep costs down. Making a sangria for the wine lovers stretches a bottle a bit further, too. Consider making a signature drink; it's a way to incorporate something that feels unique to the event without adding the expenses of many different liquors and mixers.
Start the party
While natural conversation is a main source of entertainment at any party, there are a few things you can do to liven it up. Create a music playlist that enhances the party theme – ask friends to bring their selection, as well. Stream songs from your computer through a wireless speaker. From background music for cocktail hour to dance-worthy beats, a playlist allows you to set it and forget it.
Card and board games are always favorites to get people talking and laughing. Create your own conversation starters by placing notecards throughout the party rooms that have fun questions for guests to ask one another. Or, create a scavenger hunt for groups to do together before dinner. These ideas are a little playful, but they'll have guests laughing and relaxing in no time.
Hosting parties doesn't have to be expensive, no matter the theme or time of year. If you're planning a party during the holidays, check out these holiday party ideas to start prepping. Want to see what else you can save on? Learn more about budgeting and saving money.