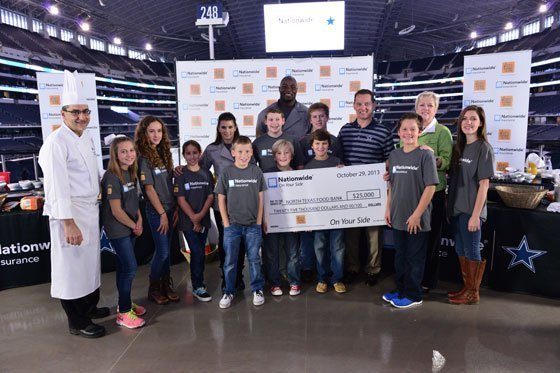 Star athletes and Nationwide Insurance members Danica Patrick and DeMarcus Ware competed in a healthy breakfast cook-off to help raise awareness about hunger and teach local children about the importance of eating a healthy breakfast.
"We all know breakfast is the most important meal of the day and it is definitely my favorite meal," said Danica." I love to cook, so I'm excited to get my competitive juices going and cook breakfast with these kids today."
The kids picked their teams—the girls chose Danica and the boys chose DeMarcus—and then chose their ingredients.
The competition
Danica scrambled eggs and egg whites to provide protein, while adding spinach for fiber and a little cheese for dairy. She also prepared french toast.
DeMarcus cooked an omelet with vegetables and a side of toast and jam. He also placed veggies on the plate to hopefully get some bonus points with the judges.
Both stars made berry smoothies to show the kids it's important to have fruit for breakfast too.
The results
The teams presented their dishes to the judges. After careful taste testing, the four judges huddled together to make the decision.
"Today we had two impressive efforts and delicious dishes from DeMarcus and Danica, but the real winner today is the reason we are all here – it is the North Texas Food Bank," said Blair Crossan, regional vice president of Nationwide's Central Plains Regional Operations as he presented a $25,000 check from Nationwide to the North Texas Food Bank.
Each dollar donated to the North Texas Food Bank provides three meals for the hungry. This donation will buy 75,000 meals for hungry North Texans.
"The opportunity to make a difference in the community is the best part about my job. I always jump at the chance to give back and support the city of Dallas and the state of Texas," said DeMarcus. "That's why I'm so glad to be working with a company like Nationwide who puts this much effort into awareness for issues like child hunger."
In Texas, 4.8 million people are food deprived (one in every six people). On average, the North Texas Food Bank provides access to 175,000 nutritious meals a day. However, on any given day of the year, nearly 300,000 meals are needed to feed hungry community members including children in North Texas.
Learn more about Nationwide's longstanding partnership with Feeding America.