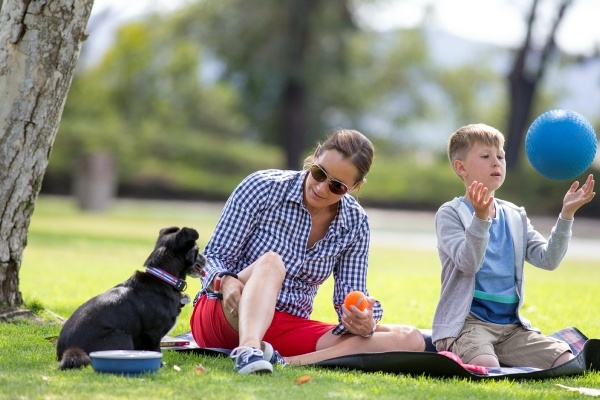 Thinking about ways to get in shape for summer? Don't forget your pet. Pets require good nutrition and exercise, too. And with summer here, there's more to consider. From vet visits to insurance coverage, it's smart to plan ahead so your 4-legged friend can put their best paw forward.
Get your pet in tip top shape
Help keep your pet in the trim by feeding them well-proportioned, nutritious meals, along with healthy snacks. Ask your vet for recommendations. Make sure their weight is in the range for their breed and age; otherwise, they may have serious health problems down the road. The main cause of obesity in pets is overfeeding, so don't fall victim to those puppy eyes (we know it's hard).
Protect your pal's skin
Think all that fur shields your pet from harmful ultraviolet rays? With skin cancer being the most common form of cancer in dogs and the second most common in cats, protecting their skin from the sun is vital. If your pet will be outdoors for an extended period of time, talk to your veterinarian about using a pet sunscreen on unprotected areas  like the nose and ears. Also, make sure they stay hydrated and in the shade.
Beware of bugs
Warmer months mean more fleas, ticks and mosquitos. Giving your pet preventive medicine will avert insects that can carry heartworm disease. Ask your vet about keeping your pet parasite-free. And stay up to date on vaccinations.
So fresh and so clean
You may notice more than the normal amount of hair around the house in the summer. Somebody's shedding their winter coat. Frequent brushing helps keep shedding under control. Other necessary grooming includes:
Nail trimming
Bathing
Dental care
Eye and ear cleaning
Don't forget pet insurance
For the same reasons you have health coverage, your pet should have pet insurance. No matter what type of pet you have or the size of your budget, there are coverage options to fit both your needs.
Learn about the wide range of plans available today from Veterinary Pet Insurance®.