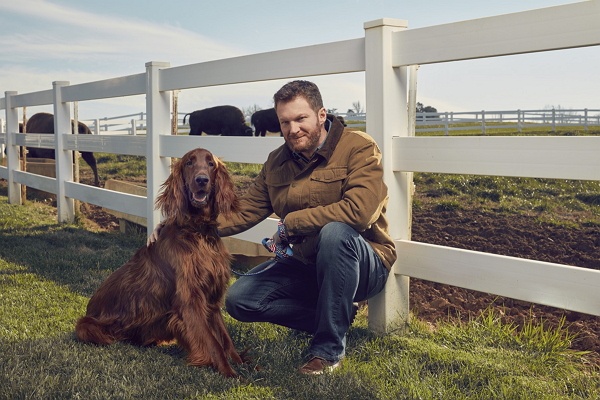 As Nationwide's current ad campaign highlights, Dale Earnhardt Jr. knows how important it is to insure and protect his "many sides" including his car, his small business, and his home. He takes that same protective approach to his beloved pets.
"Pets are great, because they're another personality in the house," he says. "They like to do things with you. Wherever you're at, that's where they want to be. I think we humans appreciate that affection and camaraderie."
In addition to enjoying his dogs' companionship, Earnhardt says part of his responsibility as a "pet parent" means keeping them healthy. Junebug, a Pomeranian, and Gus, an Irish Setter, are so much a part of the family that they even get to travel with him and wife Amy.
"They like to go to the beach, or anywhere there's a lot of grass for them to run around on," he says, adding that even when he's traveling for work, they can find a place for the dogs to play.
"Some of the tracks we go to have fenced-in areas and dog parks nearby where they can play."
Healthy = Happy
Maintaining good health in both dogs is a priority in the Earnhardt household. Both he and his wife, Amy, make sure that proper diet, exercise and veterinarian visits are part of the routine.
"Amy has a special food that she gets from the vet, and we take [the dogs] to the vet quite regularly, any time we notice something isn't quite right," he says. "They're always around us and we play with them a lot, so we can tell when they're not feeling well. We really try to stay on top of that."
That's where pet insurance can come in handy, he says, by helping defray costs of visits, treatments and, in case of a more serious disease, it can help cover the cost of surgical procedures.
"I had an 11-year-old Boxer named Killer [who got cancer] and we were hoping it was treatable, but it wasn't," Earnhardt recalls. "His treatment was very expensive. Having pet insurance gives me peace of mind, knowing if something like that happens, we have it covered."
While he has loved all of the pets he has had throughout his life – everything from hamsters, cats, dogs and even a rabbit – he says that the bond he has with Gus is unlike any other he has experienced.
"My connection with him is stronger than any pet I've had," he explains. "Keeping him healthy and safe is so important to me, and having pet insurance is critical to that."
If you're a pet owner, make sure you have a plan in place to protect your pet's health and safety. Learn more about the benefits of pet insurance.