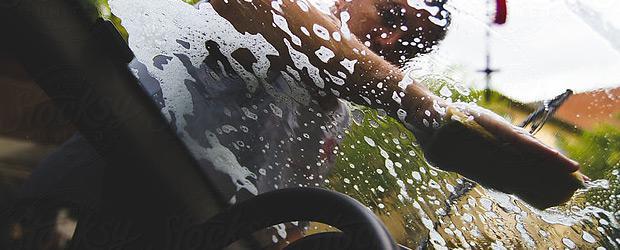 How to get detail-shop-quality results without breaking the bank.
Don't you wish your car could always look (and smell!) as great as it does the day you pick it up from being detailed? If you yearn for that pro-quality clean without the price tag that goes with it, follow these tips from master detailer Zach McGovern, of Attention To Detailing Peoria.
Keep your cleaning products . . . clean!
McGovern says that the most common mistake car owners make is using only a single bucket of water to wash a car. When the water gets dirty, the dirt goes straight back to the surface of your automobile: "Microscopic dirt particles act as abrasives and leave micro-scratches all over your paint, which lead to a dull, lackluster appearance over time," he explains. McGovern recommends using a three-bucket system, dedicating one bucket for cleaning the wheels and two for the body of the vehicle.
Use the right tools.
A firm bristle brush can work wonders on the interior carpets of your vehicle in conjunction with a vacuum, and leather that's sun-damaged can benefit from leather-cleaner and conditioner. When you wash the outside of your car, use shampoo rather than dishwashing detergent. "Detailing clay is a great product for DIYers to have, as it is very easy to use and creates a 'smooth as glass' look that is ready to be topped with a nice layer of protection," says McGovern. He also recommends investing in a plush wash mitt, microfiber towels and wheel-cleaning brushes.
Protect your car for the long haul.
If you shield your paint from the elements, you can avoid scratches and damage to your vehicle that will require professional attention to fix. McGovern recommends applying either a carnauba wax or polymer paint sealant. The difference? "A sealant will typically provide a longer lasting layer of protection (usually 4 to 6 months) while a wax needs to be reapplied more frequently."
Don't forget the little things.
There's a reason it's called "detailing." If you have access to a compressed-air hose, blast the dust out of your vents. Use a glass cleaner on mirrors and windows both inside and out. Plan out the order of how you'll attack your tasks – for example, if you wash the wheels before the body of the vehicle, then you can avoid getting tire grit or water spots on clean, dry paint.
When you're finished, all you have to do is decide if you're more excited about your pristine car or your full wallet!