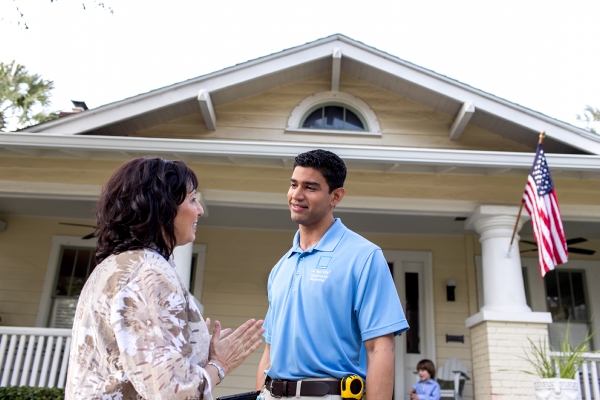 The residential solar panel market is soaring. The number of homes adding solar panels increased 66 percent in 2015 and is expected to increase more than 50 percent in 2016. But homeowners considering solar panels need to know more than just how to choose a good solar system. They need to know how to select a good solar installer.
Here are some of the most important questions to ask before hiring an installer:
Are you a certified solar panel installer?
Certifications for solar panel installers are offered by the North American Board of Certified Energy Practitioners and by Roof Integrated Solar Energy Inc. (RISE), an offshoot of the National Roofing Contractors Association. Certification requires training or work experience and passing a rigorous examination. Maintaining certification requires continuing education to stay current with industry best practices.
Certification is different from a certificate of training. A certificate of training, like the one offered by Solar Energy International, provides installers with the knowledge and worksite experience to pass a certification exam.
Can you provide references?
In addition to checking certifications, "Also check installers' references, insurance and years of experience installing solar panels," Joan Crowe, director of technical services for the National Roofing Contractors Association, says. The national average in 2012 was just over six years, according to the U.S. Department of Energy.
What warranties do you offer?
Manufacturers' warranties typically are 20 to 25 years on solar panels and five to 10 years on their power inverters, the devices that convert direct current (DC) into alternating current (AC) to power a house. Installers also should warrant their work, guaranteeing their installations won't cause leaks for a specified time period. To protect solar panels from fire, wind and other damage, add them to your homeowner's insurance policy.
How do you handle rebates?
 Solar installers should help you identify available rebates from the government and your local utility company. Even the U.S. Department of Agriculture offers solar rebates for ranchers and farmers. Most utilities require homeowners to be connected to the power grid to receive rebates. Homes that rely entirely on off-grid energy are not eligible.
Also, when choosing a solar provider, make certain the rebates are credited to you. Some solar providers lease solar systems to homeowners and keep the tax credits for their businesses.
Should I replace the roof before installing solar panels?
 Solar panels typically last about 30 years but lose between 0.4 and 0.96 percent efficiency each year, depending on their materials. "Because the service life of the panels is about the same as asphalt shingles, install them together," Crowe advises.
What are the major concerns with roof-mounted solar panels?
Preventing water damage is the most common concern with roof-mounted panels. "Installers should pay particular attention to flashing to ensure that mounting a system doesn't create leaks," Crowe says.
Installers also should consider structural issues. Photovoltaic panels increase weight on the roof and susceptibility to wind, which may require roof reinforcement. Failing to consider these issues may cause problems that may not become evident until years later.
How much will installation cost?
In 2012, a study supported by the Department of Energy found that 46 percent of installers based project costs on the watts per project. The average installation cost to the homeowner in 2014 was $4.27 per watt.  Typical residential systems generate between 3KW and 8KW. Total costs, including components, installation and permits, range from $15,000 to $40,000, according to Energy Informative.org.
The type of roof could affect installation costs. Clay tile and cedar shake are brittle and more susceptible to damage than asphalt shingles, and mounting photovoltaic panels on them takes more time. The extra caution needed can increase installation costs by as much as 25 percent.
How long will installation take?
 Installation may take between two and 10 days, depending on the size of the project, its location and obstacles encountered. For example, a small installation on a single-story house with an asphalt shingle roof will be faster than a large installation on a two-story house with a tile roof that needs reinforcement.
The biggest delay can be the permitting process. In 2012, permitting time averaged 38 days. Nationally, an average of two agencies performed on-site inspections. Some regions also require design reviews to ensure systems meet electrical and fire codes.
Solar energy can supply most of a home's energy needs or slightly reduce the monthly utility bill, depending on where you live and the system you chose.  To ensure the system doesn't create more problems than it solves, find an experienced installer.
Once you choose a solar panel provider, you're one step closer to greener living. Learn more about other eco-friendly energy options that might be right for your home.