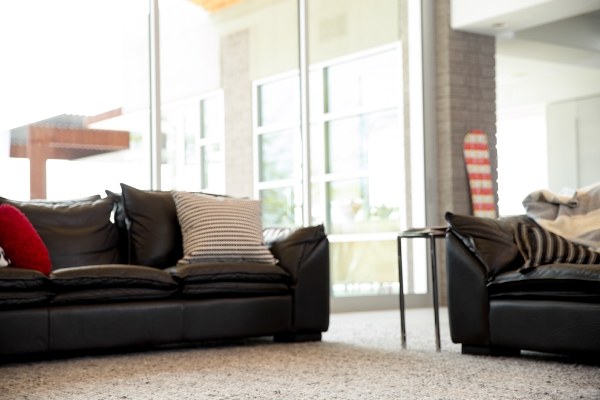 Many people are thinking smaller these days. Some are growing weary of the financial pressure, significant upkeep and social separation between family members who live in large homes. Others also are concerned about what they perceive as wasted resources.
This thinking is what spawned the "tiny house movement" that sprang to life a few years ago. This trend has seen individuals move into houses, and even RVs that are often only a few hundred square feet — the size of a large master bedroom suite in some houses.
Overall, small-space enthusiasts believe that they have ample room to address their comfort and needs, and that they've benefited by simplifying their lives. If you're looking to shift gears and adopt a small-space lifestyle, here are some interior design ideas to keep in mind as you're furnishing a small space.
Keep space-saving furniture simple
A small room can seem more spacious if you use certain design elements. Furniture for small rooms should be basic in both color and shape and should accentuate but not dominate a room. Think of light woods like ash and yellow pine, or stick with white-painted pieces to keep the room from feeling confined. Choose a loveseat instead of a full-size sofa; it'll give you the design look you love, but its proportions will be better suited to the smaller room.
Keep the larger furniture simpler, and choose accents that add personality while serving multiple purposes — a standout storage ottoman is a great example. An old steamer trunk is another, adding vintage flair to the space while allowing you to store extra linens or other items inside. To ensure you have enough room for your furniture, rely on lighting that attaches to walls or hangs from the ceiling to free up floor space.
Think up instead of out
If you do need to add some larger furniture, such as bookshelves, try to think up instead of out. Tall shelving units draw your eyes upward, which creates the illusion that the room is bigger and more open. Window treatments should emphasize the space of the room by remaining light and airy. Sheers in soft, gauzy cotton material work well at limiting light and providing privacy without creating visual heaviness. Choose whites, pastels or light neutrals to maximize the effect. Think "up" with these, too; hanging them high, even about 2" below the ceiling, can create the feeling of a larger space.
Plenty of mirrors lighten a small space
A large mirror on the wall of a small living room creates a focal point, especially if you place it behind a light source such as a pendant lamp or candle. Place your mirror across from a window, if possible, to reflect natural light and create the feeling of another window.
Accentuate a high ceiling
If you have high ceilings, decorate your small room so your eye is drawn upward. Floor-to-ceiling drapes work well for this, but again, it helps to choose lighter colors or fabrics that have small allover prints to keep the room feeling airy. If you want to add more color, punctuate the walls with small to medium-sized artwork, which puts the visual emphasis on the room's vertical dimensions to make it look bigger. Look for furniture that has more height than width, too.
Use furniture as storage
A huge coffee table can take up precious space and dominate a room. Instead, use a pair of cylindrical side tables, which create better flow and are easy to move.
Add storage to your seating and other furniture whenever possible. A corner banquette with a concealed space below the bench can double as a place to sit and as a place to store linens, files or just about anything that fits inside. Similarly, a desk can also serve as a dining room table, or vice versa. Double uses can help you create more space for moving around.
Small spaces don't always require smaller furniture. You might furnish your room with fewer pieces that are still relatively large. Remember that scale is most important. The number and sizes of your pieces of furniture should fit the room in a way that makes the space comfortable and ergonomic, with a good flow.
Living in a smaller space has many benefits, particularly when it comes to simplifying your life. It's easy to stay comfortable when you make some key design decisions and furnish your home with small-space pieces.
Now that you have some ideas for furnishing a small space, let's move onto the kitchen. Check out these 5 space saving kitchen tips that can help get your kitchen organized and looking good.