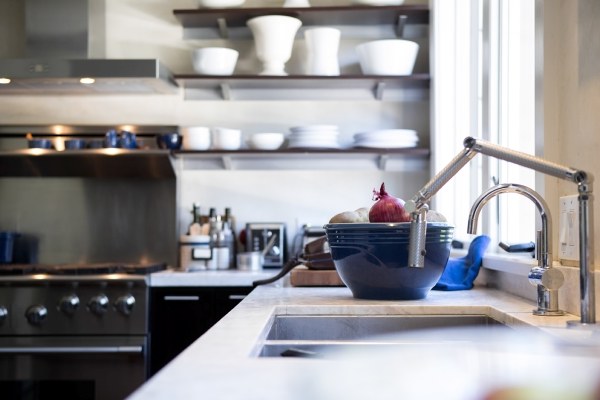 A place for everything and everything in its place is a great maxim, if you have plenty of space. Closets and drawers fill quickly, though. These innovative storage hacks will help you detect and use overlooked corners and surfaces, especially for hard-to-store items.
1. The over-the-door shoe caddy
The inside of doors – the surface you see when you're inside the room – are blank slates for storing small unbreakable items. An uncannily useful piece of gear is the inexpensive over-the-door shoe caddy, which is a hanging panel of small pockets.
While it's smart to avoid heavy and breakable items on a moving surface like a door, these caddies can corral a multitude of small things in nearly every room.
In the bathroom: Store cotton swabs, specialty combs, cotton balls, specialty towels, facecloths, unopened toiletries such as toothbrushes and razors.
In the hobby or craft room: Store interfacing, patterns, rolls of binding, skeins of yarn, bags of floss, packets of needles and small quilting templates and tools.
On the back of a pantry door: Store rags, clean towels, plastic grocery bags, specialty cleaning cloths like silver polishing cloths, new sponges, rolled-up placemats, folded cloth napkins,
On the back of a laundry or utility room door: Store folded clean microfiber floor-mopping pads; feather dusters, dust cloths, mini-blind cleaners, boxes of dryer sheets; specialty ironing supplies such as press cloths.
On the back of a coat closet door: Store gloves, mittens, earmuffs, small scarves, and winter socks.
2. Slivers of space in the bathroom
Declutter the medicine cabinet by finding a new home for small or rarely used items.
Slip ring-and-clip curtain rings onto the shower rod and hang small bottles of specialty products, such as shaving cream, inside the shower.
Install slide-out drawers beneath the bathroom sink to easily access cleaning and paper supplies.
Install plastic hooks inside the vanity doors and hang rarely used appliances and tools, like specialty brushes and curling irons.
Install inexpensive wire spice racks inside the vanity door and store bandages and first-aid supplies.
3. More space in the kitchen
Kitchen gear can overwhelm counters and drawers. Move some of the clutter out of sight to simplify work surfaces.
Install a wall-mounted paper towel holder inside the sink cabinet and use it for rolls of trash bags.
Create note-boards inside kitchen cabinets by sticking on magnetic strips to hold pens and clips for grocery lists and freezer inventories.
To free up the junk drawer for more kitchen gear, attach magnetic strips to the insides of several cabinet doors and use small clips and bins to hold keys, markers, tape, and other useful items.
Use rollout shelves under the sink to store cleaning supplies.
Mount small bars on the exposed sides of cabinets and hang tools from the bars.
4. Hang it up
A rod and a hook: This simple combination can transform closets, garage and basement space. For the bars, use tension rods (as for curtains or shower curtain); inexpensive towel bars; or storage rods supported with hooks.
For the hooks, use S hooks from the hardware store; shower curtain rings; or clips.
Things to hang from utility hooks on garage or basement walls: Wreaths, umbrellas, brooms, mops, rakes, loops of holiday lights.
Things to hang from S hooks or shower curtain rings in clothes closets: Daily lingerie, tank tops, bathing suits, belts, scarves, lightweight purses and totes.
Things to hang from S hooks in the laundry room: Lingerie (by straps), hose, yoga wear – all items that should air-dry.
5. Book it with custom shelves
Books and decorative items add warmth and style to rooms but can quickly overwhelm. Here are three ways to merge in more shelf space for functionality and fun.
Build in bookshelves overhead: Run a single shelf around the perimeter of a room, eight to 10 inches below the ceiling. Make sure it is sturdy enough to hold books. Make sure that only unbreakable, light things are above doors, just in case an items falls when a door slams.
Triangular shelves set in corners of hallways and entryways can hold an astonishing number of things: keys, mail, lists, sunglasses, gloves, hats.
Install a shelf above the bathroom door, inside the bathroom, to hold towels.
6. Corral toys
Toys are only fun when you play with them, which is why they are always underfoot. Use these techniques for quick pick-up.
Use large plastic picnic tablecloths (from the dollar store) as play mats. Kids can scatter Legos, blocks or puzzles across the mats; when it's time to clean up, pick up the corners of the tablecloth, folding the little pieces inside, and drop the whole thing in a plastic bin.
Store library and borrowed books in book bags that belong on the coat closet doorknob; it will be easier to remember them when it's time to return them.
Lay old open-wire CD racks on their sides to organize children's picture books.
7. Craft creative storage
Craft and creative inventories need to be clean, easy to find and ready to use when inspiration strikes. These tactics open the way for crafting success.
Stack spools of ribbon on an inexpensive freestanding paper towel holder.
If you need to store fabric in bins where it's hard to see and access, create a quick-reference swatch notebook. Staple a swatch of each fabric to pages of the notebook and jot down how much of each fabric you have. Take this with you when you shop – so you can buy complementary fabric or yarn and won't buy more of what you already own.
Hang a tension rod in your craft closet and use S hooks or shower curtain rings to store clear ziplock bags of fragile supplies, such as beadmaking wire and beads, templates and patterns, and specialty rulers.
Pick up a wine rack at a thrift or dollar store. Nestle found and repurposed containers into the rack and use them to sort and store buttons, beads, notions, markers, stickers, tools and other crafting and sewing supplies and tools.
Small organizational and storage projects can fit into corners of your schedule, too. Pick a couple of small projects for each weekend and you'll be organized in no time! Want to deep clean your space once it's organized? Check out these 20 spring cleaning hacks to simplify your life.