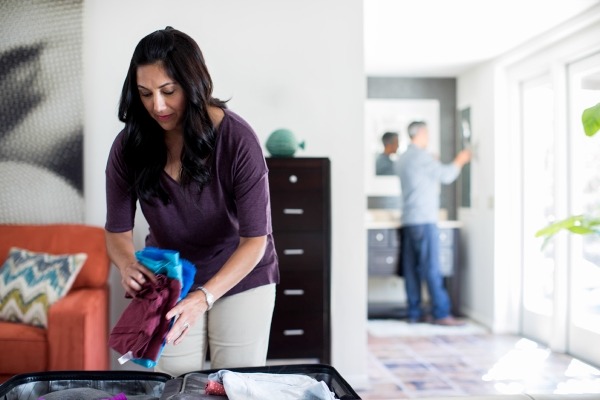 Many people are choosing to live in smaller spaces these days, whether they're young couples moving in together or older empty nesters downsizing to a smaller home.
Why is small popular? Smaller houses often are less costly, are easier to keep clean and have a reduced environmental impact than large homes. But while small homes offer many benefits, ample storage space isn't always one of them.
The lack of space can present some unique challenges, and you may need to be thoughtful about what you want to keep in your smaller space. There are ways to address your storage considerations without relinquishing anything of special value or meaning. Here are 5 tips to help organize your small space:
1. Cut the clutter
The first step in maximizing your storage space is to eliminate extra things you don't use or want. Your top priorities should be the items you require and use frequently, and any special sentimental items or keepsakes. Recycle or donate things that are neither. Discard bulky furniture that has seen better days, or objects that you rarely use. Yard sales and selling things online are opportunities to not only de-clutter but also to make additional cash.
2. Find a place for everything
Think of small spaces as a puzzle in which everything must fit together. Reorganizing can give you a clearer picture of what you own, enabling you to clear space and find things with ease. Consider concentrating items of similar sizes or functions — like small office supplies — by container, drawer or other storage space. If you're more ambitious, you might even create a color-coded system that groups objects by container color.
3. Use your walls
Shelves and built-in cabinetry can be particularly helpful when it comes to maximizing space. They free valuable square footage on the floor by making use of wall space. It's even better if storage units reach the ceiling to maximize the amount of room you have to keep necessary items. Everything can be stowed out of the way.
Another way to use this space for storage includes mounting hooks on a wall or from the ceiling. You can use these for tools and sports equipment, or for hanging clothing, jewelry or handbags, among other items.
4. Double-duty furniture
Double-duty furniture provides extra storage space even as it serves other functions. A dresser can function as a nightstand, a couch can fold into an additional bed, a shelf can serve as a room divider between your living and dining spaces, and a storage chest can double as a coffee table. Folding or extendable dining tables can give you the flexibility to put the table aside when you need room for exercising, socializing or other activities. Also, instead of having a table in your kitchen, consider using a cabinet with storage underneath and extra counter space on top. The counter space can even double as a small breakfast table.
5. Raise the bed
Your bed is likely among your largest pieces of furniture, but by raising it, you can create space underneath to house storage containers and things like out-of-season clothes. Or, you might purchase a Murphy bed that retracts into a wall-mounted cabinet to save floor space.
By taking advantage of these storage solutions, you can live comfortably in your smaller home and hold onto your favorite things. You'll enjoy the lower cost of living, less stress and other benefits that come from downsizing.
No matter how small your storage space is, you will still have things you want to protect. For those precious belongings of yours that remain, consider homeowners insurance or renters insurance to safeguard the value of your items.