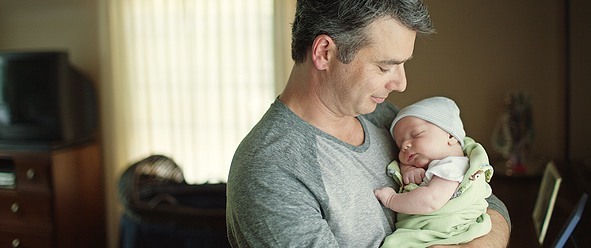 Before the baby arrives, make sure the room is safe and sound.
Getting ready to bring home baby? Outfitting the nursery is a pleasant way to pass some time while you wait for the arrival of your little one. Just think safety first. Home accidents send nearly 2 million children under the age of 4 to the emergency room every year, according to Safe Kids Worldwide.
"Whether you're picking out the perfect paint color or putting the crib together, there are simple things parents can do to make their nursery safe," says Kate Carr, president and CEO of Safe Kids Worldwide.
Best Bets for Bedtime
Babies under the age of one should sleep alone, on their back, in a crib, says Carr.
Use a safe, sturdy crib with slats no more than 2 3/8 inches apart, according to requirements set by the U.S. Consumer Product Safety Commission. The only thing in the crib with your baby should be a firm, tight-fitting mattress covered with a crib sheet. Use a sleep sack—it's like a wearable blanket—to keep your baby warm, if needed.
As tempting as it might be to let your baby sleep with you, pillows and comforters can be harmful if your baby rolls over onto them, says Carr. A better option is room sharing: Put your baby's crib in your room.
Fall Prevention
"Babies can suffer injuries from falls involving beds and changing tables, as well as stairs, high chairs, baby walkers and strollers," says Carr. "So for your rollers, wigglers and crawlers, make sure they're secure in their space."
Another tip from Carr: Place baby carriers on the floor instead of on top of a table or other furniture.
Also keep chairs, cribs and other furniture away from windows. Once your little one starts crawling and toddling, use a safety gate if there's a chance he or she could open the nursery door.
Decor Do's and Don'ts
You want your baby's nursery to be charming and comfortable, but think through your choices carefully.
Select cordless window coverings to prevent strangulation.
Buy toy boxes without lids, or use models with spring-loaded mechanical arms that won't come crashing down on your little one's arm.
Keep changing table necessities out of reach of children. Even baby products can be poisonous if ingested.
Use plug protectors on every electrical outlet.
Choose lightweight artwork that can't hurt your baby if it falls off the wall. Stencils and murals are the safest option.
Use water-based paint. Complete decorating in plenty of time to air out the room for baby—and steer clear of fumes yourself.
Preparing for a new family member is a big job. Let Nationwide help. An On Your Side® Review will make sure your insurance provides the proper coverage to keep everyone safe under your roof.