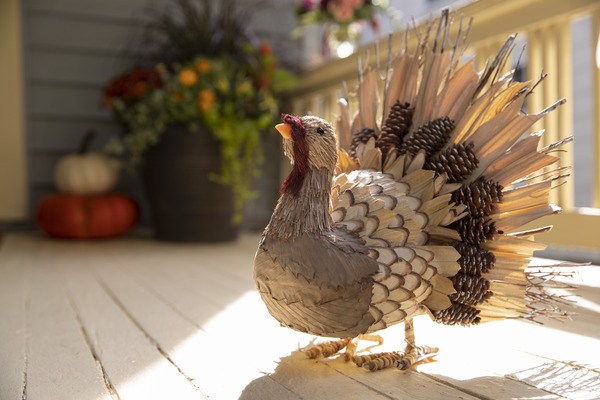 Thanksgiving is a day to remember only the things that are important in life: family, friends and good food. Excess can seem like it's the theme of the day, but it doesn't have to be (except for when it comes to that extra slice of pumpkin pie). Use these cheap Thanksgiving dinner ideas and give thanks for full bellies and a full wallet throughout the holiday season.
Plan your Thanksgiving menu early
Serious shoppers begin thinking about Thanksgiving dinner as soon as the Halloween costumes are put away. Creating a list that far in advance will help in two ways: it gives you time to find great recipes for simple dishes with minimal ingredients, and it allows you to look around for the best prices on anything that can be stored.
If you've been shopping with a grocery membership card, consider downloading their app. The stores often provide extra incentives to app users, and you can get customized coupons. Also, pay attention to circulars and coupons on groceries—there are plenty of deals during the weeks leading up to the holiday. You may even be able to score a free turkey if you spend a certain amount at your grocery store between now and mid-November.
Choose generic brands
With some dishes, there are no substitutes for the best ingredients. But there are instances when generic will serve you just as well as gourmet. Don't worry about going with the least expensive canned items like pumpkin, olives, peas and water chestnuts. Canned chicken broth is relatively inexpensive.
DIY the basics
If you plan to make a chicken dinner in the weeks leading up to Thanksgiving, you can use the bones to create homemade stock for just pennies (the cost of an onion, a carrot, a stalk of celery and some seasonings). It often tastes better than store bought broth. If you have the skills, you can also find savings by making your own dinner rolls and pie crusts.
Go to the local farmers' market
Building a menu around seasonal produce will not only save you money on your Thanksgiving meal, it will result in more flavorful and colorful food. If you're in an area that's still warm enough for harvesting produce, your local farmer's market is likely to have great deals on fresh seasonal vegetables like green beans, yams and Brussels sprouts. It's also a great place to stock up on inexpensive staples like white potatoes, onions and fresh herbs.
You can also use ingredients from your garden, if you have them. Canning is a good way to store summer surplus, and Thanksgiving is the perfect time to use what you've saved.
Brine the turkey
Your turkey is likely to be the costliest item on your menu, but how much you pay for the bird will vary greatly. You don't have to choose an organic, free-range turkey to get the best flavor. In fact, how the bird is processed is just as important—if not more—than how it is raised. All you need is a good brine.
There are countless brine recipes to choose from online, but they all center around a simple ratio of one cup of kosher salt per gallon of water, using enough water to submerge the turkey. To make storage easier: seal the bird, salt and water in an extra-large locking plastic bag and set it in a covered pan in the fridge for at least 24 hours.
Have a Thanksgiving potluck
If you are having guests, encourage them to contribute things like appetizers, desserts and wine. It will save you money and time, and it helps to make your visitors feel more involved. Ask them each to bring a dish with a story behind it or that is special to them. It will make for great dinner table conversation.
Get crafty with the decor
Thanksgiving is the kind of homespun holiday that allows for inexpensive decoration. Whether you make a casual centerpiece out of gourds from the farmers market or make festive turkey-shaped napkin holders out of construction paper, you can get away with a lot on a lean decorating budget.
Save more with Thanksgiving leftovers
Your Thanksgiving guests have gone home, doggie bags in hand. Yet you're still looking at a mountain of leftovers, mostly made of turkey. Consider these 7 Thanksgiving leftover ideas:
Turkey Gravy – Heat white meat turkey in turkey gravy. Serve over mashed potatoes or white bread.
Turkey Sandwich – Heat a French loaf at 350°F for 12 minutes, then slice it in half and spread with soft cream cheese. Fill with turkey strips, chopped walnuts and sliced seedless red grapes. Sprinkle with black pepper. Slice into individual portions.
Turkey Stuffed Peppers – Dig out Mom's recipe for stuffed peppers—but replace the meat with finely diced turkey.
Turkey Wrap – Spread a tortilla with cranberry sauce, top with turkey and stuffing, and roll it into a wrap.
Turkey Soup – In a large pot, boil chicken broth, parsley, thyme, bay leaf, salt, pepper, and diced carrots, onions, potatoes and celery for 10 minutes. Add strips of turkey and continue to boil until the vegetables are soft.
Turkey Burrito – Fold up turkey strips, black beans, cheese, salsa and black olives in a tortilla. Heat through in a skillet.
Turkey Appetizers – Mix finely diced turkey with a jar of sundried tomatoes or artichoke bruschetta topping. Spread on the fresh-baked focaccia.
While you can feed your dog or cat a little turkey meat safely, there are other traditional Thanksgiving foods pets should never get. Make sure to know Thanksgiving foods for pets to avoid. Want to see what else you can save on? Learn more ways you can save money.