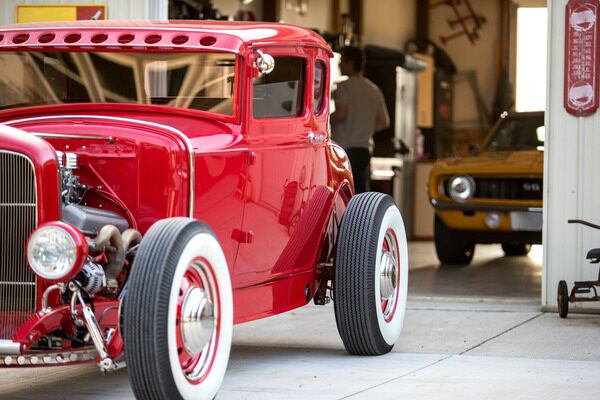 For some people, cars aren't just for driving; they become part of a collection. Whether it's a particular marque or vehicles from a certain era, collectors have different reasons for wanting to add more cars to their fleet – and oftentimes, it has little to do with driving them.
"I collect for a car's ability to appreciate in value, but it always has to be something that I want to enjoy owning," says Ron Sturgeon, a car collector based in Fort Worth, Texas. Sturgeon has been collecting high-end cars for more than 30 years, and over the years he has bought and sold everything from concept cars to Bentleys to vintage BMW Isettas.
Car collecting has become increasingly popular in recent years; according to the Knight Frank Luxury Investment Index, which tracks the performance of a number of different collectible categories, collectible cars have increased in value more than 450% from 2004 to 2014. (By comparison, collectible art increased 200%)
In 2015, the KFLII reported, classic cars were the world's top-performing luxury asset, growing 17% in the last year compared to wine, which was up 9%, and rare coins, which increased 6%.
But of course, there's an art – and a science – to creating a valuable collection of cars. Here is some insight on how to buy a classic car that, over time, will increase in value.
Look at the market value of a classic car
Sturgeon says an easy way to break down the profitability of a collectible car is to look at which ones already turn heads and turn a profit.
"Yesterday's collectibles, in most cases, will also be tomorrow's collectibles," he says. "Low production runs and beauty are also important. Most ugly cars that are rare or have low production runs will still struggle to be highly collectible."
When buying a classic car, doing your research is important because you can find out which cars are faring well as investments and which ones are clunkers. Through such publications as the Hagerty Price Guide, car enthusiasts can keep tabs on the performance of such cars and learn more about what they can expect to pay if they're considering starting a collection.
Buying a classic car with consistent value
Buying a classic car that is a consistent top seller will put you in a better position when it comes to increasing value. Historically, Ferrari has led the pack in getting top dollar as a collectible, and Mercedes-Benz isn't far behind. Following the market can keep you on top of trends; at the moment, other Italian cars such as Lamborghini and Maserati are gaining more traction, too.
However, it doesn't always have to be a sleek sports car; cars with a certain heritage can also gain a following, which contributes to a higher price tag. Muscle cars, VW camper vans and classics such as a vintage Ford Thunderbird all have a place in the collector market. They hold the advantage of being more affordable than some of the sports car models
Get involved in the classic car community
Joining a is another way to learn more about what's going on in the market; it can also provide more insight into the cars, introduce you to other collectors and help you better decide on what direction you want to go. Studying which cars are undervalued but are gaining in popularity can help you develop a strategy.
"You should read the price guides and car magazines to learn all you can, and spend some time at auctions," Sturgeon advises.
There's no sure thing when buying classic cars
Of course, as with any other market, there's no guarantee that your collectible car will increase in value. Buying a classic car that needs a lot of restoration work could actually turn into a money pit instead of a cash cow, and Sturgeon says it's important to go in with your eyes wide open.
Buying a car you have coveted since your youth, or a new one that you haven't been able to get out of your mind since you first saw it, means that even if you don't make a mint, you have invested in something you enjoy.
Once you pick out the perfect car to buy, you want to protect your investment. Classic car insurance offers specialized coverage that meets the needs of car collectors. Find out more about classic car insurance.