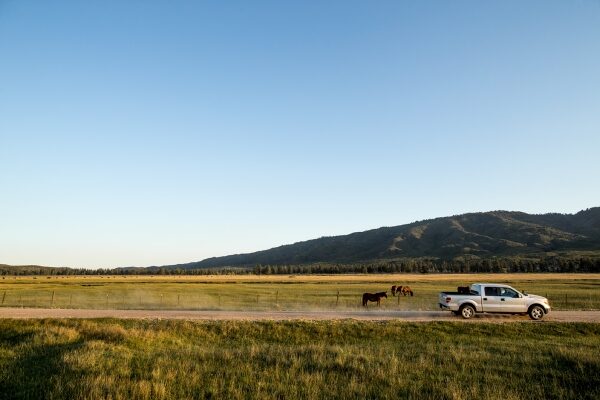 Whether you're securing bundles in the back of a pickup, hauling them on a flatbed truck or strapping them on to the roof of your car, it's important to always make sure you have the right materials for the job. Keep in mind that, just as the items you're transporting may be very different, so are the types of straps you can use to keep your cargo secure.
While there are many good products on the market, not all might be suitable for your particular task. If you're transporting smaller, lighter-weight items, you might be able to use fabric straps or bungee cords. Heavier items will call for more durable straps. Taking time to learn a little bit about what's available – and what's best for you – can save you a lot of time in the long run.
Types of cargo tie-down options
When it comes to securing and transporting objects, some common tie-down materials include:
Nylon rope
Ratchet straps
Cam straps
To help you decide which type is best for the job, let's take a closer look at what each one offers.
Nylon ropes
These ropes are affordable and can be found at most hardware stores. Look for rope that is at least one-fourth inch thick to make sure it's up for the task. Avoid other types of rope, such as twine or braided rope, as they are more likely to fray and break. If you're going to use rope, nylon rope is your best bet for strength, stretch and all-around durability.
Ratchet straps
Ratchet straps are a great way to secure cargo. Wrap a strap around your load, then use the ratchet crank handle to tighten the strap to make sure it is secure. You can get straps with hooks on the end, which will secure the strap to a trailer or any other secure fixture, or you can get them fitted with e-tracks, which can be secured onto the track of a trailer or storage unit.
One of the most important things to remember with ratchet straps is to make sure they are compatible with the weight and size of your cargo. Ratchet straps can be found at hardware and home improvement stores.
Cam straps
These straps have a spring-loaded cam that locks onto the webbed strap. Then, the strap is pulled to increase tension and ensure the cargo stays in place. While it is easier to work with than a ratchet strap, it can't provide the same amount of tension – so for large loads such as ATVs or motorcycles, a ratchet strap may be preferred.
Each kind of tie-down has its advantages, and you will have to evaluate how you're going to use it before making a final decision. Most important, however, is to remember that unless you tighten the strap properly, you are putting your cargo and those around you at risk.
So always inspect your tie-downs to make sure they're secure before you hit the road, and check them again whenever you make a pit stop to ensure they haven't become loose.