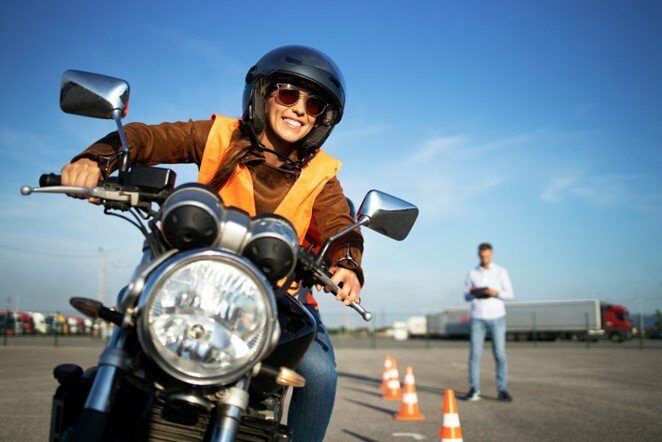 You've officially decided you want a motorcycle, but where do you begin? It's easy to get overwhelmed with the costs, different state requirements, safety courses, permits, exams and more. We can help you navigate the road from permits and practice to riding gear and choosing a bike.
The cost of a motorcycle license
After passing the necessary tests, you'll probably pay a fee for the license or endorsement. The fee to test and to get your license can vary per state. For example, in Alabama, it costs $5 to test and costs $36.25 to get your license. However, in Idaho, it costs $3 for the written exam and costs $15 to get your license. [1]
Don't be discouraged if you don't pass on the first try. You can retake the test after a specific period of time set by your state.
Once you've received the proper education and license, you're on your way to becoming a knowledgeable rider. [2]
Motorcycle safety course
A class will introduce you to the world of motorcycling, as well as teach you the most critical lesson of all: how to be a safe rider. Motorcycle riders who take safety classes are less likely to be in an accident than those who don't. In fact, an estimated 90% of motorcycle riders involved in a crash had no formal training, according to the Alliance of Bikers Aimed Toward Education (ABATE). [1]
The Motorcycle Safety Foundation teaches courses across the country, so finding one in your area should be easy.
The Basic Rider Course offers beginners both classroom and hands-on training. You'll also learn about motorcycle laws and rules of the road, proper riding gear and how to inspect your bike. In some states, completing an approved safety class may exempt you from taking a road test and may also make you eligible for discounted motorcycle insurance.
A lot of training courses can be found online. If you're looking for more options, your local motorcycle dealer will probably know about training classes.
Find out your state's motorcycle requirements
Once you've picked a course, contact your state department of motor vehicles to find out whether you need a motorcycle license or an endorsement. A motorcycle license is similar to a driver's license but meant only for motorcycles. An endorsement, however, is an addition to your current driver's license that allows you to legally operate a motorcycle as well as an automobile.
The requirements may vary by state. For example, in California, to legally obtain a motorcycle license you must get a motorcycle learner's permit, and complete your rider training course or schedule a driver's test. However, to legally get a motorcycle license in Hawaii, you must complete a Motorcycle Safety Foundation rider course, earn a motorcycle instruction permit, pass a road skills exam if you opt out of the MSF course and pay a fee.
Learn more about state-specific motorcycle requirements to know what steps to take to obtain a license in your state.
Important questions to think about:
Age requirements – What is the minimum age to obtain a motorcycle permit and a license?
Motorcycle training requirements – Do you need to take a motorcycle safety course? If so, does your state waive the road test for passing this course? (It's always smart to take a motorcycle safety course even if it's not required by your state.)
Motorcycle permit test requirements – Are permits mandatory?
Motorcycle license test requirements – Will you need to pass a written, vision and road test?
How to get a motorcycle permit
While requirements vary by state, it's important to obtain a permit before getting a motorcycle license.
First, you must pass a written test and eye exam at your local motor vehicle office. Most DMVs require a 70% passing grade. (You may improve your chances of passing by taking a practice test online). The written test includes questions about basic motorcycle techniques, rules of the road, motorcycle terminology, safety best practices and state laws. Once you pass, you can legally ride a motorcycle on the street with some limitations that vary per state. [3]
A permit typically lasts 6 to 18 months. Once you receive your permit, it's important to practice as much as possible for your own safety and to prepare for the license exam. Get comfortable with starting, stopping and using the clutch without wearing it out; and practice using turn signals as well as hand signals.
The practice time required before taking the motorcycle license exam varies from state to state. For example, in New York, it's recommended you practice for 30 hours at your own pace, whereas in California, it's recommended you practice for 6 months before taking the exam. [4]
Motorcycle road test
You'll then take a road skills test. As mentioned earlier, if you pass a beginners' course, you may not need to take the road test.
Choose a motorcycle for your test. Cruiser models are generally recommended because of their low seating and low center of gravity, but there are more factors to consider when buying a motorcycle. The bike you take your test on must have a valid license plate, registration and insurance.
The test consists of 4 riding exercises that help measure your control and hazard response skills. Some typical skills to perform are cone weaving, normal stopping, U-turning, turning from a stop, quick stopping and obstacle swerving. You will be scored according to time and distance standards. [5]
How long it takes you to get your motorcycle license or endorsement depends on how you go about getting it and whether you pass your test. For example, an adult rider who completes a state-certified training course might be able to get their motorcycle license over a weekend. [4]
Remember, having the right insurance to protect you and your motorcycle is essential. Learn about Nationwide's motorcycle insurance coverage options today.
Sources:
[1] "How to Get a Motorcycle License in Your State" brainbucket.rumbleon.com/how-to-get-a-motorcycle-license
[2] "How to Get a Motorcycle Permit?" motorcyclelarry.com/knowledge-hub/how-to-get-a-motorcycle-permit
[3] "How to get your motorcycle permit and license" revzilla.com/common-tread/how-to-get-your-motorcycle-permit-and-license
[4] "How to Get a Motorcycle License: How Long it Takes, and What it Costs" valuepenguin.com/how-to-get-motorcycle-license
[5] "Motorcycle Rider Skills Test Instructions" motorcycle.ohio.gov/information-for-riders/resources/motorcycle-rider-skill-test-instructions
Disclaimer:
The information included here is designed for informational purposes only. It is not legal, tax, financial or any other sort of advice, nor is it a substitute for such advice. The information may not apply to your specific situation. We have tried to make sure the information is accurate, but it could be outdated or even inaccurate in parts. It is the reader's responsibility to comply with any applicable local, state or federal regulations. Nationwide Mutual Insurance Company, its affiliates and their employees make no warranties about the information nor guarantee of results, and they assume no liability in connection with the information provided. Nationwide and the Nationwide N and Eagle are services marks of Nationwide Mutual Insurance Company. © 2022 Nationwide