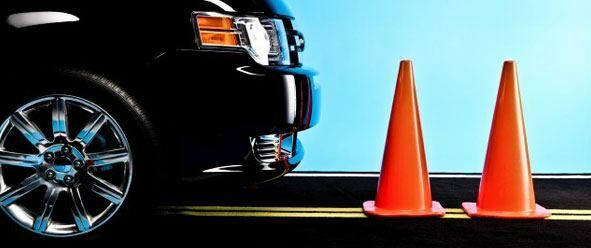 "In a race car, I feel invincible because I have all this equipment—helmet, six-point harness and safe walls around me," says NASCAR Nationwide Series™ driver Brad Keselowski. "But when I get in a regular car, I've only got a seat belt and no helmet, so I don't have that same comfort zone."
On the track, you'll see the Penske Racing team member behind the wheel of the No. 22 Discount Tire Dodge Charger. But here, he offers a few tips to help you stay safe in daily traffic:
1. Maintain your ride
Do a quick walkaround before you get into your vehicle. And ensure your tires are inflated to the pressure (PSI) noted in your car owner's manual.
2. Put down the cell phone
Keep distractions to a minimum when driving. And don't even think about texting or glancing at smartphone apps.
3. Use your seat-belt
In 2009, 84 percent of the population wore seatbelts, according to the National Highway Traffic Safety Administration. But that means 16 percent of people didn't.
4. Factor in road conditions
Proceed cautiously after a rainstorm, in loose gravel and in the heat of summer, when oils from the blacktop may create a hazardous driving surface.
5. Exercise caution
Routinely glance at your mirrors and look for open spots in the lanes ahead of you in case you have to change your path quickly. Also, stay at least two seconds behind the car in front of you so you can stop safely.
"One of the biggest things you can do to keep yourself out of danger is to be aware," Keselowski says. "You need to know what the next guy is going to do before he does it. But you also need to share responsibility for safety."